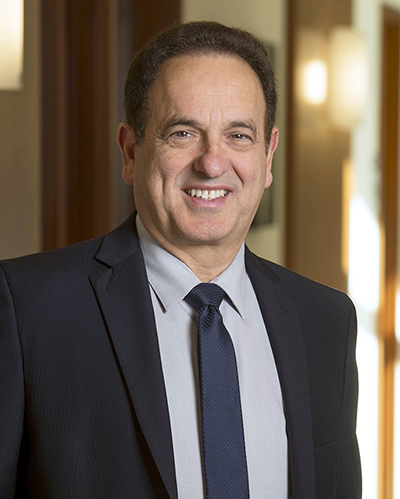 Bruce Haffty, MD, MS, is chair of Radiation Oncology and associate vice chancellor for Cancer Programs at Rutgers Cancer Institute of New Jersey and system director of Radiation Oncology at RWJBarnabas Health  His medical school, internship and residency training was at Yale. He spent the initial years of his academic career at Yale, where he was Professor of Therapeutic Radiology, residency program director from 1992 through 2004, Vice Chairman and Clinical Director from 2002-2005. He moved to Rutgers Cancer Institute of New Jersey in 2005.    
Dr. Haffty has a long and successful record in clinical and translational research in radiation oncology. His work has centered on molecular/genetic factors as they relate to radiation resistance and outcomes in patients undergoing radiation. His original work on BRCA1/2 in conservatively managed breast cancer, published in Lancet, document high rates of second primary ipsilateral breast cancers and has impacted clinical practice. Additional studies, based on valuable tissue microarrays with annotated databases he has created demonstrate novel factors associated with outcomes paving the way for molecular targeted therapies in combination with radiation. Initial studies on outcomes in triple negative breast cancers led to collaborative laboratory studies demonstrating that the loss of 53BP1 was associated with resistance to DNA damaging agents in triple negative BRCA1 deficient cells. Subsequently, his laboratory demonstrated higher rates radiation resistance and local failures in triple negative breast cancers with loss of 53BP1.
Dr. Haffty is also a leader in national clinical trials. He has coauthored a number of national clinical trials papers in high impact journals. He is currently co-investigator on several national clinical trials through the NRG and Alliance cooperative groups. He has published more than 350 peer-reviewed articles, 30 book chapters, and numerous editorials and letters. He is consistently listed as one of the country's leading physicians and best doctors through national registries.   
In addition to a busy clinical practice, Dr. Haffty has served on numerous national committees related to research and education in breast cancer and radiation oncology. He is a Past President of the American Radium Society, past Chairman of the Residency Review Committee in Radiation Oncology, past President of the American Board of Radiology, and past President of ASTRO. He recently was elected to the RSNA Board of Directors as the Science Liaison. He is currently an Associate Editor of the Journal of Clinical Oncology and serves as Chairman of the Board of ASTRO. He recently served as Interim Director, Rutgers Cancer Institute of New Jersey before being named Chief of Staff.