Research by Rutgers Cancer Institute investigator focused on identifying new therapy target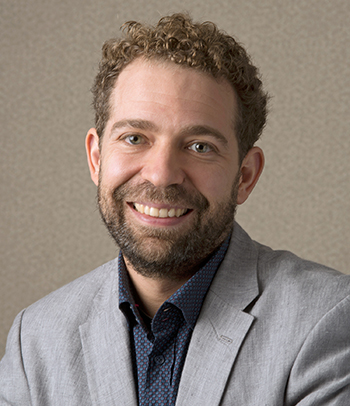 New Brunswick, N.J., July 17, 2019 – More than $2 million in grants recently awarded to Rutgers Cancer Institute of New Jersey resident researcher Daniel Herranz Benito, PhD, will support examination of potential treatment targets for a rare and aggressive blood cancer. T-cell acute lymphoblastic leukemia (T-ALL) is a type of ALL that impacts both children and adults. Most forms of ALL stem from early development of B-cells in the immune system.  T-ALL develops from early formation of T-cells, which also play an important role in the body's natural defenses.
Cure rates for T-ALL in recent years have increased due to novel advances in treatments; however, up to half of patients have disease recurrence (Hunger, Mullighan, New England Journal of Medicine, October 2015). Current therapies are not effective in these relapsed cases, thus prompting a need for new treatment options. Recently awarded grants from the following entities are supporting Dr. Herranz Benito's work in this area:
National Cancer Institute: $1,791,572 for "The role of glutaminolysis as a therapeutic target in T-ALL" (R01CA236936)
Gabrielle's Angel Foundation for Cancer Research: $225,000 for "The role of SIRT1 in the pathogenesis and treatment of T-Cell Acute Lymphoblastic Leukemia"
Children's Leukemia Research Association: $30,000 for "SIRT1 metabolic and transcriptional effects in T-ALL"
Alex's Lemonade Stand Foundation (The Million Mile Research Grant): $11,131 for "Exploring novel therapies in T-ALL"
T-ALL is caused mainly by activating mutations in a gene called NOTCH1. Previous research by Herranz suggests that inhibition of NOTCH1 has extreme metabolic consequences in leukemic cells. Herranz is now examining the role of a metabolic master regulator known as Sirt1 that affects a number of cellular processes. Using advanced leukemia mouse models, he aims to analyze the mechanisms by which Sirt1 promotes resistance to NOTCH1 and its ability to serve as a treatment target for T-ALL. This work is supported by the Gabrielle's Angel Foundation for Cancer Research as well as the Children's Leukemia Research Association.
In a complementary project, which stems from Herranz's original discovery of glutaminolysis as a critical metabolic pathway for leukemia survival (Herranz et al., Nature Medicine, October 2015), the Herranz lab will explore the mechanisms of resistance to glutaminase loss, dissect the impact of glutaminolysis in leukemic stem cells, and identify synthetic lethal interactions with glutaminase inhibition that might result in improved treatment options for T-ALL patients. This work is supported by an R01 grant from the National Cancer Institute.
"With some 20 percent of pediatric T-ALL patients and up to 50 percent of adult patients with the disease suffering relapse, there is a great need to discover novel therapeutic targets to more effectively treat this population. I am grateful to the many entities who are supporting this critical work," notes Herranz, who is a member of the Cancer Pharmacology Program at Rutgers Cancer Institute and an assistant professor of pharmacology at Rutgers Robert Wood Johnson Medical School.
About Rutgers Cancer Institute of New Jersey
As New Jersey's only National Cancer Institute-designated Comprehensive Cancer Center, Rutgers Cancer Institute, along with its partner RWJBarnabas Health, offers the most advanced cancer treatment options including bone marrow transplantation, proton therapy, CAR T-cell therapy and complex robotic surgery.  Along with clinical trials and novel therapeutics such as precision medicine and immunotherapy – many of which are not widely available – patients have access to these cutting-edge therapies at Rutgers Cancer Institute of New Jersey in New Brunswick, Rutgers Cancer Institute of New Jersey at University Hospital in Newark, as well as through RWJBarnabas Health facilities.
Along with world-class treatment, which is often fueled by on-site research conducted in Rutgers Cancer Institute laboratories, patients and their families also can seek cancer preventative services and education resources throughout the Rutgers Cancer Institute and RWJBarnabas Health footprint statewide. To make a tax-deductible gift to support the Cancer Institute of New Jersey, call 848-932-8013 or visit www.cinj.org/giving.
###
For journalists – contact:
Michele Fisher, Public Relations Manager
732-235-9872
michele.fisher@rutgers.edu
For patient appointments/inquiries – contact:
732-235-8515