Story by Maryann Brinley  •  Portraits by John O'Boyle         View the complete magazine | Subscribe to Cancer Connection

A diagnosis involving a second adrenal tumor for Hemabahen Parikh initially led to some confusion, but after consulting with Rutgers Cancer Institute of New Jersey's Endocrine/Neuroendocrine Tumor Program, things became very clear.  
There is often drama in medicine, especially when the word cancer is used. But for the Parikh family of Jersey City, the dramatic twist between life and death went beyond the ordinary. In February 2018, sitting in an oncologist's office near their home, Nima, our 27-year-old narrator; her mother Hemabahen, our 49-year-old patient; brother Rushiraj or "Rushi;" and father, Mayur, received "the worst possible news. It couldn't have gotten any worse," Nima recalls. "We were told that Mom was not going to be with us for much more than a year, maybe a year and a half, that she had stage 4 malignant cancer. We were all going through so much stress. It was awful."
Hemabahen's children used their terror to move full speed ahead researching tumors of the endocrine system while looking for the best expert they could find. "Mom had had a pheochromocytoma, a tumor removed from inside the left adrenal gland in 2014. Last fall, she had been experiencing pain in the abdomen which one doctor thought was a hernia. And it was a hernia but when she got a CT scan, there was an indication of something else growing. That mass was thought to be an enlarged lymph node which could be a sign of lymphoma, cancer of the lymphatic system, so a biopsy was done," Nima recalls. "It didn't click at first that it was another adrenal tumor. Now, this oncologist just said that cancer had come back, and it was spreading all over according to his analysis of the biopsy report. It was scary, very scary, like hitting rock bottom. So, my brother and I both went online, and I told him, you research doctors we can consult. I'll look into treatment options. I wanted to take Mom to a big, university hospital with good programs, where they have their own experts on staff." That's when Rushi came across Amanda Laird, MD, FACS at Rutgers Cancer Institute of New Jersey.
Nima, who earned her undergraduate degree and then an MBA in finance works on Wall Street, and Rushi, who just graduated in engineering from Rutgers in New Brunswick, are products of their parents' dream in the power of education and American ingenuity. Both stay close to home. As Nima says, "This is the way our culture is. The daughter is always home and so is the son though Rushi did reside in the dorm during college. Mom has always been the source of our family's strength," Nima explains. "I was 13 when we came to the United States in 2004 from Gujarat in India and my brother is four years younger. Some of my dad's family members were already here. But it's Mom who has been our pillar of strength, getting us here, making us study hard, go to school and achieve, supporting my dad who is starting his own business and working to succeed. She always knew we were supposed to be here. She goes with the flow and is always positive. She's our rock and the one I turn to first when it's crisis time. I don't know what I'd do if I didn't have her to talk to." Even when she was in severe abdominal pain last fall, Hemabahen tried to brush it off as indigestion. She was taking tablets for acid reflux, explaining it all away as just something she had eaten.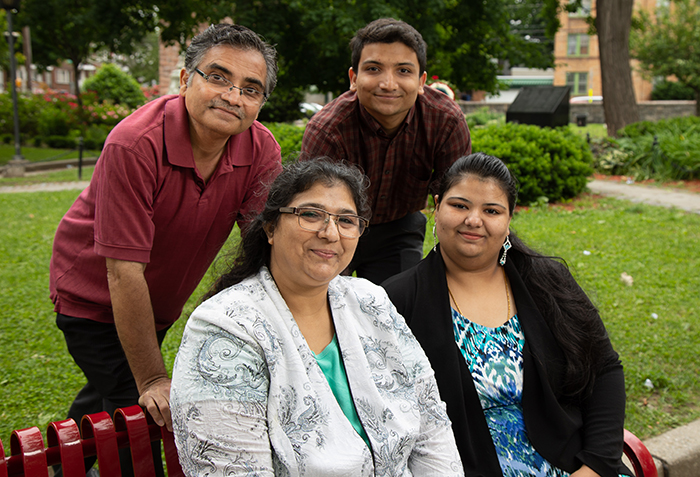 Support system: Hemabahen Parikh (lower left) with her husband and children.
"I remember working from home one day last fall and finding Mom really upset and in pain," Nima explains. "She showed me her stomach and I could see a definite ball there. This was not normal. If you have a stomach ache from something you've eaten, you are bloated, your entire stomach is bloated, not just one part." This is when the family's search for answers became serious. A local primary care doctor suspected a hernia caused by the initial surgery performed three years earlier. He explained to Nima that hernias, bulges in the abdominal wall caused by tissue or organs poking through, can develop after the type of surgery her mother had. The muscles in the belly are weaker. "When I asked him what could be done, he said that there wasn't anything except more surgery."
Months of frustration and pain for Hemabahen brought the entire family to the point in February when they found Dr. Amanda Laird's name on the Internet. Rushi called her office in the Endocrine and Neuroendocrine Tumor Program at Rutgers Cancer Institute asking for the earliest appointment they could get for Mom. 
"Our appointment was set for 9:30 am the very next day," Nima says with wonder. "Can you imagine that quickly? Usually if you are trying to see a specialist you have to wait months." Even in that first telephone exchange with Dr. Laird's office, a relief began to settle upon this family in crisis. "Every time I think about this experience, I remember how wonderful Dr. Laird and her entire staff were. We did our homework, looking her up, reading her profile, her history, her medical experience and it was all just wonderful," Nima says.
Hemabahen understands English, but because it is a second language, "She's a little shy about speaking it," her daughter explains. "It's more of an issue of speed in comprehending for her."  But there was no misunderstanding on the morning of her first meeting with Amanda Laird, MD, FACS, chief of endocrine surgery at Rutgers Cancer Institute and associate professor of surgery at Rutgers Robert Wood Johnson Medical School.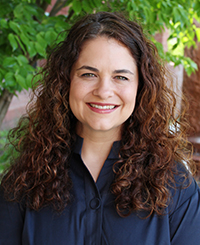 "I see tumors like the one Mrs. Parikh had quite a bit. At the end of the day, knowing that we have helped patients find the right answer is what I love about my work," notes Hemabahen Parikh's surgical oncologist, Amanda Laird, MD, FACS.  Credit: Debbie Vogel
Drawn to this particular area of medicine because "It's more challenging than some fields," she describes it as a lot more cerebral than others. "The operations are technically challenging and there is not a 'one size fits all' approach to the care of my patients. Taking care of thyroid, parathyroid, adrenal, endocrine, gastrointestinal and pancreas tumors is like doing detective work." She works closely with a multidisciplinary team that includes surgical oncologists, endocrinologists, medical oncologists, nuclear medicine radiologists, nurses and genetic counselors. Dr. Laird admits that she may also have leaned towards her specialty because "I have Hashimoto's thyroiditis," an autoimmune condition that requires medication. 
What makes endocrine tumors so unique is that "We often don't know if they are cancerous or not," Laird says. "Even having the pathology report on a tumor is not enough to say it is or isn't cancer. Only time, let's say up to 10 years down the road, will tell if an endocrine or neuroendocrine tumor is malignant. That's one of the reasons we always follow patients indefinitely with screening and tailored care plans. And this is exactly what I told the Parikh family." Nima remembers how "Dr. Laird put us at ease immediately with her expertise and her mannerism. Even before Mom's surgery was scheduled, she told us, 'You can't call this cancer.'"
Hemabahen had a history of a pheochromocytoma, a tumor of the adrenal gland, and had now developed a paraganglioma, a tumor outside the adrenal gland, actually comprised of the same type of tissue but you couldn't describe either of them as malignant at that point. In fact, Laird says, "I suspect that she has a genetic mutation but one that we have not been able to identify. For her to have two of these tumors without a genetic mutation" isn't logical even though the genetic testing she ordered was unable to confirm the link. (See  below)    
Though Hemabahen herself didn't experience hormonal side effects, these tumors are uniquely different and may secrete hormones in excess. The adrenal glands sit on top of each kidney and regulate many of the body's hormones, so a tumor can cause a wide range of confusing symptoms, including high blood pressure, anxiety, bouts of fight or flight response with hearts racing, shakiness, sweating, flushing and more. "A lot of my patients have been to see multiple doctors" trying to get the correct diagnosis so they routinely breathe sighs of relief when they sit down in her office and learn what is really wrong. "I see tumors like the one Mrs. Parikh had quite a bit, especially in her age category. I think I've cared for four or five of them just in the last few months. No single doctor would treat this many unless it was his or her specialty. And at the end of the day, knowing that we have helped patients find the right answer is what I love about my work."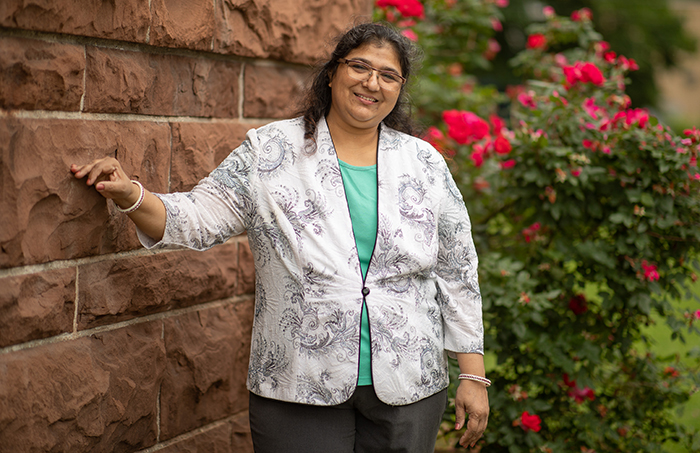 Hemabahen Parikh
Surgery was performed on Hemabahen in March 2018 at Robert Wood Johnson University Hospital New Brunswick, an RWJBarnabas Health facility. "Everything went well," according to Laird, who was able to repair the hernia and remove the paraganglioma. "The tumor was 3 to 4 centimeters and this patient was in and out of the hospital in record time." Even a member of the surgical team on the day of Mrs. Parikh's operation spoke her native language. It was a coincidence but really helpful. 
"Mom has hearing aids," Nima adds, "and when she takes them out, you have to speak loudly. So, without her hearing aids on that day of surgery, having someone on that team who spoke Gujarati right there, close by, was so nice and helpful for her comprehension." 
Recovery has been relatively smooth but even when questions have come up, Nima reports, "I call Dr. Laird's office." Her nurse practitioner, Elina Dykne, APN, always gets right back to me. Nima laughs, "My track record is such that something always happens on a weekend or holiday. But Elina even checks her messages then to put us at ease." 
Nima reports, "Mom is back in the kitchen again. Thank goodness because she is a fabulous cook." Then this daughter adds with emotion, "Mom and I have been through so much, juggling everything, and going to so many doctors for evaluations. Honestly, people keep praising me for being by her side through all this, but I say to you, I am selfish. I need her. She is everything to me." ■
Genetic Connection?
Sandra D'Elia, MS, CGC, is the genetic counselor at Rutgers Cancer Institute who sat down with the Parikh family to sort through their mother's as well as the entire family's medical history looking for a link to a genetic mutation that could have prompted the growth of her tumors. D'Elia explains, "Most often when genetic testing is pursued we do not find a genetic cause." But even a negative result as in the Parikh case, doesn't mean there isn't a connection. "Current technologies which are constantly evolving and advancing might not be able to identify the mutation. It's also possible that the patient's diagnosis is related to an unidentified or new, unknown gene." Only 5 to10 percent of cancers that are diagnosed will be related to an inherited predisposition syndrome. "We always encourage patients to keep in touch with our office and contact us, so we can share new, updated testing options," D'Elia says.
Yet, all knowledge is power and genetic counseling helps patients and families understand familial implications of disease and take control of any risk that might be identified. The HOPE program at Rutgers Cancer Institute allows for a comprehensive and collaborative approach to a patient's care where all specialties can weigh in, including genetics, medical oncology, surgical oncology, nutrition and social work. As Nima says, "It was scary but informative and comforting." The in-depth discussion took them through personal risks of cancer or a genetic syndrome based on family history, appropriate genetic testing and the chances of finding a mutation, the fully informed consent prior to the genetic testing, a personalized, risk-based screening and prevention options, and all the support resources available for families like the Parikhs. For some in a high-risk category, finding a link has allowed them to prepare ahead of a diagnosis with increased surveillance and preventative measures.