Story by Maryann Brinley  •  Portraits by Nick Romanenko         View the complete magazine | Subscribe to Cancer Connection
Two miles. Spiro Drecolias, a high-spirited father of three and lung cancer survivor, lives and works just two miles from Rutgers Cancer Institute of New Jersey in downtown New Brunswick. He owns and operates an auto body shop and towing service in Somerset.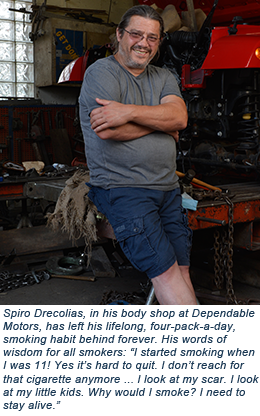 Treated for cancer in June 2015, Drecolias credits his surgeon, John Langenfeld, MD, co-director of the Lung Cancer/Thoracic Oncology Program and associate professor of surgery at Rutgers Robert Wood Johnson Medical School, who relied on "the gold standard operation to remove a lobe in his right lung. It's not trivial surgery but since it was early stage and he is relatively young at 50, hopefully he will be fine." No follow-up treatment, just regular monitoring, is required. For 16 years, Dr. Langenfeld has devoted his career to improving the survival of patients with lung and esophageal cancers as well as to finding a genetically-linked cure for lung cancer, the leading cause of cancer deaths in the world. "I think we are getting closer," he says describing his lab's understanding of a bone morphogenetic protein that can be targeted to suppress cancer growth. If "lung cancer wasn't so poorly funded, we might be closer to using this compound in humans."
When Spiro Drecolias showed up in his office last spring and said, "Doc, you've got to take care of me. I've got two little kids to raise. I owe them at least 10 more years," Langenfeld, who is ordinarily low-key and always straightforward, recognized a guy whose story had more drama than most. "He was an interesting patient."
"I could tell that this doctor was good right away," Drecolias says. Feeling fine just four weeks after surgery and going back to work just a few days after the procedure. He has left his lifelong, four-pack-a-day, smoking habit behind forever — "I started smoking when I was 11!" And, he has a medical prognosis that would make any survivor shout with joy. Unfortunately, he can't help but look back and wish the same for his wife, Vicki. "If only she had stayed in New Brunswick, right here in our own neighborhood, she might be alive today."
Vicki's Story
Vicki Chugranis Drecolias died in November 2011 from complications after a diagnosis of lung cancer. They met at a club when she was a student at Rutgers' Douglass College and he was working in New Brunswick. "We'd go dancing." They were married on Feb. 24, 1985, had their first of three children in July 1987 and bought their business, Dependable Motors, 20 years ago, together, always together. "She was from Greece too. Hey, I came here in 1968 to find the American dream," he says. "Vicki was very smart. She was my right hand. She was my best part, my mouth piece, my business partner, my phone answerer. She was my best friend. In losing her, I lost a lot. The only thing that keeps me going now are my kids." Their oldest son, Michael, has finished law school and is launching his career, but Joy Stella is 9 and Perry, "short for Periclese, my brother's name," is only 8. They still climb into bed with their father early in the morning. "Her death has been real hard for them. Christmas time is especially difficult."
His wife's stage IV lung cancer came as a shock in June 2011. She'd had no symptoms and seemed perfectly healthy. "We were cleaning out one of the houses we own and rent to Rutgers students when she collapsed in the yard," Drecolias recalls. Misdiagnosed at first with pain in her kidneys from a possible stone, his wife eventually had a CT scan that revealed lung cancer. She had been a longtime smoker, too. "When my wife took a drag of her cigarette, she would inhale deeply and enjoy taking that hit. For me it was more the habit of lighting up and holding the cigarette. The doctors tell me that it doesn't make any difference though. Even second-hand smoke will get you. The cancer isn't going to be worse if you inhale deeply," Drecolias admits.
After a medical consultation and lots of family debate, a group decision was made to take his wife into Manhattan to be treated by what they referred to as the "best of the best" doctors. "Never mind New Jersey," Drecolias says now, regretting the route they took. "Every time we wanted to see the doctor, we had to travel 40 miles and it was the middle of the summer when these big guys were all on vacation. She wound up with whatever staff doctor happened to be on the hospital floor at the time." A chemo-sensitivity test to determine the best chemotherapy for her type of cancer cost $7,500 out of pocket when insurance wouldn't pay and the procedure to take tissue samples from her before sending them to a West Coast facility for cell typing, cost her dearly. During tissue-sampling surgery, her colon was unknowingly nicked.
To Stop Cancer Growth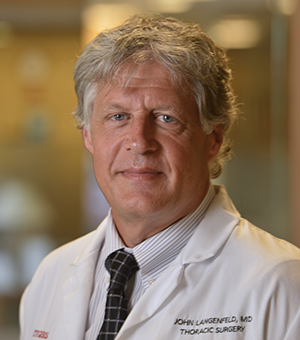 "More patients die from lung cancer than breast, colon, prostate and kidney cancer combined," according to John Langenfeld, MD, co-director of the Lung Cancer / Thoracic Oncology Program at Rutgers Cancer Institute of New Jersey and lung cancer researcher. And while "lung cancer initially responds to chemotherapeutic agents, eventually it develops resistance to therapy." To work around this devastating disease, Dr. Langenfeld has been looking at a novel expressed gene for many years and has published numerous research studies in scientific journals since 1991 as well as co-authoring book chapters, including, "Bone Morphogenetic Proteins and Angiogenesis in Developing Tumors" (Humana Press 2008). He also speaks regularly at conferences on this topic including the American Association for Cancer Research.
First distinguished for their ability to jumpstart the formation of bone and cartilage, bone morphogenetic proteins (BMPs) are located throughout the body and orchestrate all kinds of tissue architecture. They are embryonic, in fact, crucial to start of life itself. "They are also highly expressed in human lung carcinomas," Langenfeld explains. His research now demonstrates that primary and metastatic lung tumors correlate to the presence of BMP-2. "Our long term goal is to use BMP-2 targeted therapy to prevent the progression of lung cancer." And working with Director of Molecular Design and Synthesis David Augeri, PhD, at Rutgers, they developed novel BMP inhibitors to accomplish this. "You can induce cell death in cancer cells with these molecules. We hope to develop the perfect BMP inhibitor to be used to treat patients with cancer. We are so close, but in relative terms, with the appropriate financial support it could be a short time away."
To consider making a gift to Dr. Langenfeld's BMP research, visit cinj.org/giving or call the Development Office at Rutgers Cancer Institute at 848-932-8013. ■
Drecolias remembers how anxious she was to get out of the New York hospital and home to the kids then. "So they gave her chemo and discharged her," her husband says. Back at home she developed sepsis when the contents of the damaged colon slowly seeped into her abdominal cavity, poisoning her. "I rushed her the two miles up to Robert Wood Johnson University Hospital" (the flagship hospital of Rutgers Cancer Institute of New Jersey) "where she went into a coma and lived a little longer but it was not good. I would go to visit her every day and the little kids saw her just once."
All Over Again
Four years of emotional healing and hard work followed in the wake of his wife's death. Then, a minor car accident and a broken rib sent Spiro Drecolias right back into his worst nightmare: lung cancer. This time, it was his. He's thankful, however. If it weren't for the accident, he might never have had the CT scan that detected cancer in one nodule. In and out of the hospital in three days for the surgery, he kept the truth from his little ones. "I told them I was having a sleep apnea test because I snored," he laughs. Funny but he isn't snoring anymore.  "Daddy," they say, "you don't snore anymore."
Early CT screening, especially for smokers like Vicki and Spiro Drecolias, is high on Langenfeld's to-push list. The Lung Cancer/Thoracic Oncology Program at Rutgers Cancer Institute participated in the National Lung Cancer Screening Trial that showed early detection was more effective with a CT scan and saving lives than a traditional chest X-ray. "This is all going to happen with insurance changes now. We were part of that national trial and are now collaborating with the University Radiology Group and Robert Wood Johnson University Hospital on a lung cancer screening program for smokers, especially those in the 30 pack years category (a pack a day for 30 years). "Most people are symptom-free for a long time and as soon as they do show symptoms, it's almost too late," Langenfeld explains.          
A Lifetime of Work
Ranked as a top physician through the years by numerous entities, Langenfeld is not the kind of physician who boasts about honors and awards. You have to pry it out of him or look closely at his CV. He has been recognized for outcomes for esophageal cancer in New Jersey and has been voted a Top Doc by New Jersey Monthly magazine for many years. A teacher at Robert Wood Johnson Medical School, he lectures medical students and supervises general surgery residents.
"In large part, I chose thoracic because it would allow me to budget my time between surgery and research," he explains. He shares the fact that his mother died of lung cancer at age 56, a very personal incentive for choosing his specialty. "I've stayed within this University system because of the encouragement to do research along with patient care."
Research however, is clearly his passion. Since 1999, Langenfeld has spent countless hours studying bone morphogenetic proteins (BMPs – a group of factors critical for growth from the embryonic stage and throughout life) and looking for novel therapeutic strategies to treat lung cancer. When asked about a "eureka" moment in the lab, he answers quickly, "I am personally having one right now (with BMP-2)." (See sidebar "To Stop Cancer Growth")
John Langenfeld is brilliant, of course, but Spiro Drecolias is gifted with a natural wisdom. "It was just the two of us when we met. Not a lot of opinions or competing voices were there. I could hear what he was saying and he could explain in direct terms. I could talk to him without interruption. And he heard me…saying, 'Keep this guy healthy.'"
Sitting in the gritty front office of Dependable Motors, customers coming and going, noise from the street and the body shop in back, no pretentions are possible. This father of three laughs about all that he has gained from not smoking cigarettes: his words are real wisdom for all smokers. "Yes it's hard to quit." He smoked right up to the day of surgery on June 2 but he's off the nicotine patch already. "It used to cost me $35 a day.  That's hundreds of dollars a week. My hands were yellow. Look at them now," he asks, holding fingers up. Not yellow. "Your teeth are awful. Your whole body smells. Food is starting to taste good. It's going to take a while for my lungs to heal. The kids are happy. My house doesn't stink. I don't reach for that cigarette anymore. I look at my scar. I look at my little kids. Why would I smoke? I need to stay alive." ■