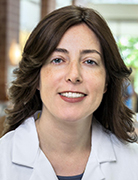 Aliza Leiser, MD, FACOG
Gynecologic Oncologist
Associate Professor, Rutgers Robert Wood Johnson Medical School
I joined the Gynecologic Oncology Program at Rutgers Cancer Institute of New Jersey in 2014 and am an Associate Professor in the Department of Obstetrics, Gynecology and Reproductive Sciences at Rutgers Robert Wood Johnson Medical School. I treat tumors of the gynecologic tract including uterine, ovarian, cervical and vulvar cancers.  Since 2017 I have served as Director of Robotic Surgery for the Division of Gynecologic Oncology and am involved with clinical and research initiatives for minimally invasive surgery. 
It is a privilege to have devoted my career to caring for women with gynecologic cancers and I am committed to providing exceptional and compassionate care for patients and their families. My expertise is in the surgical management of gynecologic cancers including radical tumor debulking surgery as well as advanced minimally invasive and robotic surgery.  I have a particular interest in intraoperative HIPEC (heated intraperitoneal chemotherapy) for ovarian cancer and am leading our division's multidisciplinary team with a new HIPEC ovarian cancer program.  While postoperative intraperitoneal chemotherapy has been utilized for many years, it is only recently that larger studies have reported benefit for HIPEC. Our ongoing research aims to incorporate translational markers and immunotherapy paradigm to see which patients may benefit best from this modality. I am invested in continuing research as I feel this is the best way advances are made that benefit our patients and improve survival.
I also see patients who require complex benign gynecologic procedures. In addition to surgical management, our Program provides chemotherapy and adjuvant therapy when required and I actively work with our patients to ensure they have access to the latest treatment options including clinical trials.
Prior to coming to Rutgers Cancer Institute, I practiced at Beth Israel Medical Center in NYC following a three year developmental therapeutics research fellowship at Memorial Sloan Kettering Cancer Center and a three year clinical gynecologic oncology fellowship at Yale New Haven Hospital.  Throughout my training and career, I have performed clinical and basic science research. I have authored or co-authored articles in peer review journals and presented at national meetings. My professional memberships include the American College of Obstetricians and Gynecologists, the American Society of Clinical Oncology and the Society of Gynecologic Oncologists. 
Rutgers Cancer Institute is a unique institution that provides world-class care in the heart of New Jersey. As large as the center is, there is a truly collaborative multi-disciplinary team of surgeons, oncologists, radiation oncologists, geneticists, nurses and researchers that I am honored to work with. I am proud to be able to provide this quality of care to my patients who constantly continue to inspire me. 
Dr. Leiser sees patients at both Rutgers Cancer Institute and Saint Peter's University Hospital in New Brunswick.
Clinical Expertise
Ovarian cancer, endometrial cancer, cervical cancer, gynecologic cancers, vulvar cancer, HIPEC (heated intraperitoneal chemotherapy), robotic and non-invasive surgery for complicated cancers, and clinical trials.