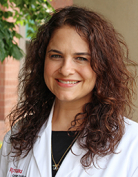 Amanda M. Laird, MD, FACS
Chief, Section of Endocrine Surgery
Endocrine Surgeon
Rutgers Cancer Institute of New Jersey
I am an endocrine surgeon, Chief of the Section of Endocrine Surgery at Rutgers Cancer Institute of New Jersey as well as an Associate Professor of Surgery at Rutgers Robert Wood Johnson Medical School. I treat endocrine tumors of the thyroid, parathyroid glands, and adrenal glands. These tumors are uniquely different as they may secrete hormones in excess and may occur as a part of a familial genetic syndrome. I also treat neuroendocrine tumors which have similar characteristics and may occur anywhere throughout the body. 
What I love most about the field of endocrine surgery is that there is not a "one size fits all" approach to the care of my patients – an individualized treatment plan is developed for each patient and their tumor type. My expertise is in both traditional open surgical techniques as well as minimally invasive surgery techniques.
Working closely with a multidisciplinary team that includes surgical oncologists, endocrinologists, medical oncologists, nuclear medicine radiologists, radiation oncologists, nurses, and genetic counselors, I provide coordinated care for my patients that results in improved outcomes. I track my patients' outcomes as part of my clinical research that helps guide advancements in treatment options.
Prior to joining Rutgers Cancer Institute, I was an Assistant Professor of Surgery at Montefiore Medical Center and Albert Einstein College of Medicine where I was Director of Endocrine Surgery. I serve on several committees for both the American Association of Endocrine Surgeons and the Association of Academic Surgery. My clinical research has yielded peer-reviewed publications, reviews, book chapters, and both national and international presentations. 
After graduation from Louisiana State University and Louisiana State University Health Sciences Center in Shreveport, Louisiana, I completed my residency in general surgery at Wake Forest University in Winston-Salem, North Carolina. I then completed the Norman Thompson Fellowship in Endocrine Surgery at the University of Michigan.  
Clinical Expertise
Endocrine tumors, neuroendocrine tumors, carcinoid tumors, thyroid surgery, parathyroid surgery, adrenal gland surgery, adrenocortical cancer, pheochromocytoma, paraganglioma, multiple endocrine neoplasia, minimally invasive surgery, and clinical trials.