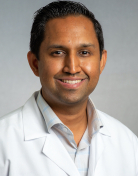 Ankit Shah, MD
Hematologist/Oncologist
Assistant Professor, Rutgers New Jersey Medical School
I am excited to join the faculty at Rutgers Cancer Institute of New Jersey at University Hospital as assistant professor in the department of hematology/oncology at Rutgers New Jersey Medical School. I received my medical degree from St. George's University School of Medicine in Grenada and completed my residency training in internal medicine at the Drexel University College of Medicine program at Hahnemann University Hospital. Subsequent to this, I completed a fellowship in hematology/oncology at the Zucker School of Medicine at Hofstra/Northwell.
My goal as an oncologist is to offer state-of-the-art, comprehensive and compassionate cancer care to patients in New Jersey. I treat all types of hematologic and oncologic conditions with a special clinical and research interest in blood cancers. At Rutgers Cancer Institute at University Hospital, I am working with colleagues to provide our patients access to the latest in clinical trials.
Beyond this, I am passionate about medical education and enjoy teaching medical students, residents and fellows. Outside of medicine, I have an interest in musical performance and recording and graduated from the University of Pennsylvania with a Bachelor of Arts in Music.
Clinical Expertise
General Hematology/Oncology Hematologic Malignancies
Contact Information
For appointments at Rutgers Cancer Institute of New Jersey at University Hospital, please call 973-972-5108.
For all other inquiries about Rutgers Cancer Institute of New Jersey please call 732-235-2465.