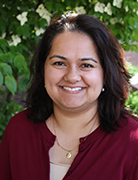 Archana Sharma, DO
Pediatric Hematologist/Oncologist
I have been at the Cancer Institute of New Jersey since 2011 after completing both my residency and fellowship in pediatric hematology/oncology at Robert Wood Johnson Medical School.
While I evaluate all pediatric cancer patients, I have a clinical interest in leukemia treatments and how pediatric cancer treatments affect patients as they reach adulthood.  Along with assistance from the multidisciplinary team within the Pediatric Hematology/Oncology Program at the Cancer Institute and the Cancer Institute's LITE Program, I help educate patients and their families on treatment options and late effects so that they can make informed decisions.
I also have a community-based research interest in the South Asian population.  I am currently involved in research programs that target the South Asian population and how they are affected by cancer and blood disorders.  By having the resources available that can only be found at a National Cancer Institute-designated Comprehensive Cancer Center, our team is able to translate these research findings and directly apply them to patient therapies.
I am also interested in complementary medicine and its integration into standard chemotherapy for interested patients.  I have an interest in ayurvedic medicine, yoga, acupuncture, and herbal remedies.
Clinical Expertise
Pediatric cancer, hematology, blood cancers, anemia disorders, sickle cell disease, cancer treatment late effects, cancer survivorship
Honors
Chief Pediatric Resident 2007-2008