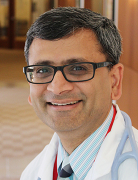 Biren Saraiya, MD
Medical Oncologist
Associate Professor of Medicine, Division of Medical Oncology, and Section of Solid Tumor, Rutgers Robert Wood Johnson Medical School
My first understanding of treating the "whole" patient and not just the disease came early in my career. As a first-year medical student, I took part in a program that paired me with an elderly South Asian female patient with gynecologic cancer. My experiences with her visits for treatments and doctor's appointments, hospitalizations and eventually her death, made a lasting impression on my development as a physician. From that time, I knew that good communication between doctor and patient was a critical aspect in providing comprehensive care. 
I joined The Cancer Institute of New Jersey originally in 2008 as an assistant professor of medicine with a focus on thoracic oncology and hematologic malignancies following a fellowship in hematology/oncology at UMDNJ-Robert Wood Johnson Medical School. I trained in internal medicine with a focus on research and skill development in palliative care. 
In 2011, I became the medical director at the Cancer Institute of New Jersey's program at RWJ Hamilton, where I was responsible for developing and maintaining a patient-centered cancer treatment, prevention and screening program tailored toward both patient and family. I left Rutgers Cancer Institute in 2015 to join Summit Medical Group as the Division Chief of Medical Oncology and Hematology where I guided the expansion of the cancer program as well as cancer research program. After being away from academic medicine for a few years and missing that culture, I rejoined Rutgers Cancer Institute of New Jersey's Genitourinary Oncology Program in 2018. 
Looking to continually improve my physician-patient relationship skills I have completed training through Oncotalk, now VitalTalk, an NCI sponsored research study and also completed Oncotalk Teach, a faculty development program. Knowing that today's physician training is key to how patient care is delivered and communicated in the future, I have contributed to the Oncotalk Teach program.  Sharpened communication skills continue to allow me to care for my terminally ill patients with compassion and patience.
I am board certified in palliative care and continue to teach the principles of palliative care to medical students, residents, fellows and practicing physicians. I started palliative care rotations for medical students at RWJMS, an annual Palliative Care Symposium for the Department of Medicine and a teaching program for residents. 
I continue to be amazed by the teaching my patients give me each and every day by "living with cancer."  They have taught me that the most important things in life are the people I am surrounded by every day - my family, my colleagues and my patients. It is my continuing goal to remain abreast of the latest treatments, technologies and communication aspects, so that I can provide the best care to the Central Jersey community. As part of that commitment, I also work with closely with basic research scientists and clinical researchers at Rutgers Cancer Institute to develop new therapies for genitourinary cancers. 
Clinical Expertise
Prostate cancer, kidney cancer, testicular cancer, bladder cancer, and palliative care
Honors
Sister Marie DiPazzi award for Scholarship, Humanism and Professionalism, 2005 
Research Mentorship Award, 2011-12