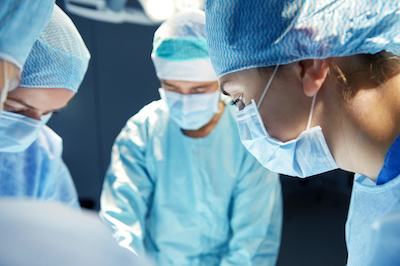 Oncologists have been tasked with meeting the ongoing needs of cancer patients while navigating the coronavirus. This includes safely resuming surgical treatment for patients.
Cancer patients might still have heightened concerns over rescheduling a postponed surgery or scheduling a new surgery right now due to COVID-19. Rutgers Cancer Institute of New Jersey together with RWJBarnabas Health have instituted extra safeguards to ensure the utmost safety of patients and medical staff at their facilities. 
These include instituting extra precautions in our operating and recovery rooms and testing all patients, surgeons and other staff involved in surgical care for the coronavirus prior to procedure. Additionally, rigorous cleaning and disinfecting practices have been concentrated on surgical and recovery room spaces, frequently touched surfaces, exam rooms, and terminals. 
The surgical oncologists at Rutgers Cancer Institute and RWJBarnabas Health combine the expertise of fellowship training with advanced technologies to treat benign and malignant tumors with complex procedures that are often a hallmark of a National Cancer Institute-designated Comprehensive Cancer Center, such as ours.
Rutgers Cancer Institute and RWJbarnabas Health will continue to provide robust clinical operations in an enhanced safe environment. Patients are encouraged to speak with their surgical oncologist or call 844-CANCERNJ to schedule an appointment or visit rwjbh.org/beatcancer.  Now more than ever, Rutgers Cancer Institute and RWJBarnabas Health are poised as the state's resource for safe, efficient, state-of-the-art cancer services. 
H. Richard Alexander, Jr., MD, FACS, is Chief Surgical Officer and Division Chief of Surgical Oncology at Rutgers Cancer Institute; and Regional Director of Surgery for Monmouth Medical Center, an RWJBarnabas Health Facility.