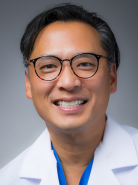 Chan (Richard) Park, MD
Associate Professor, Department of Otolaryngology-Head and Neck Surgery
Director of Transoral Robotic Cancer Surgery (TORS)
Director of Microvascular Reconstruction of the Head and Neck
University Hospital Newark
Dr. Chan (Richard) Park is the Director of Transoral Robotic Cancer Surgery and the Director of Head and Neck Microvascular Reconstructive Surgery at Rutgers New Jersey Medical School. He spent five years training at Mount Sinai Hospital in New York City. Through the American Head and Neck Cancer Society (AHNS), he spent an extra year obtaining advanced fellowship training in Head and Neck Cancer Surgery and Microvascular Reconstructive Surgery, as well as Transoral Robotic Surgery (TORS).
Specializing in the treatment of complex Head and Neck Oncology as well as Microvascular Reconstruction, Dr Park's clinical interests are in the treatment of throat cancers. He has expertise in treating a wide variety of benign and malignant tumors of the head and neck, including those of the salivary glands, thyroid, tongue, lips, throat, and skin cancer. He performs the most thyroid surgeries within the Rutgers system through minimally invasive techniques garnered during his training in New York City. Dr. Park has established the first Microvascular Reconstruction program in New Jersey at Rutgers New Jersey Medical School and is also the director of this program. He is also the Director of Transoral Robotic Surgery (TORS) and uses this minimally invasive technique to remove tumors of the throat. With the newest FDA approved robot at his disposal, he can offer patients this minimally invasive surgery at various hospitals in New Jersey.
In addition, Dr. Park has been a very active researcher and has published numerous articles relating to outcome and treatment of Transoral Robotic Surgery, Microvascular Reconstruction, Thyroid Cancer Surgery and Head and Neck Oncology. He has published over 60 peer reviewed articles in the field of otolaryngology and has presented over 150 abstracts at both national and international meetings. He has published several chapters in textbooks and is an active peer reviewer himself in many otolaryngology journals. He is the director of several medical school course at Rutgers New Jersey Medical School, including an advanced head and neck cadaveric dissection course as well as the otolaryngology acting internship course. He is also very active in training residents to perform complex head and neck cancer surgeries both with and without the assistance of the robot, as well as to use 3D printing to aid in major reconstructive surgeries of the head and neck. He is fluent in both English and Korean.
Clinical Expertise
Head and neck cancer and tumors, thyroid and head and neck endocrine tumors, salivary gland tumors, robotic surgery, head and neck reconstructive surgery