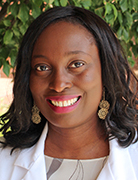 Coral O. Omene, MD, PhD
I am a medical oncologist with a passion for women's health who is dedicated to the care of treating and managing a diverse pool of breast cancer patients.  I am committed to taking care of the whole patient and believe that the relationship between doctor and patient is a journey that we take together and is lifelong. I care deeply about the wellbeing of my patients and work with a multidisciplinary team at Rutgers Cancer Institute including medical oncologists, surgical oncologists, radiation oncologists, nurses, social workers, pathologists, radiologists among others to ensure that the best care possible encompassing the medical, social and emotional aspects are achieved for each patient.  I believe that clinical trials are an important tool to improve patient outcomes and I routinely discuss clinical trial options with my patients.
I began my career upon completion of a combined MD/PhD degree at Columbia University College of Physicians and Surgeons. Interestingly, although I started out in an immunology laboratory, I subsequently obtained a PhD studying the functional characterization of the interaction between the breast cancer gene product, BRCA1, and the protein BARD1, which was discovered in our laboratory, in an effort to understand the mechanisms of tumor suppression by BRCA1. This turn in my career set the path for my lifelong interest in breast cancer.
Since then, I have dedicated myself to studying the translation of novel laboratory observations and discoveries to the care of patients. I completed my Internal Medicine residency at New York Presbyterian Hospital-Columbia University Medical Center. During residency, I became fascinated by the challenging breast cancer subtype, triple negative breast cancer and the lack of effective therapies, especially given its aggressive nature, poor prognosis, its complex biology, and its cruel predilection for young African American women. After residency, I pursued a fellowship at NYU School of Medicine, in the field of Hematology/Oncology, with a special interest in the area of breast cancer. At NYU, I continued my pursuit in combining clinical and research training and was awarded the Dean's Scholar-NYU Physician Scientist Training Program grant, and later subsequently was the first recipient to receive the Breast Cancer Research Fellowship at NYU Langone Medical Center.
In recent years, I have been working on a NIH K08 research project aimed at modifying the risk for developing triple negative breast cancer using a natural compound derivative. This research has the potential to be readily translatable as chemoprevention in the clinical setting for triple negative breast cancer patients and populations at high risk.
I actively participate in local, regional and national scientific conferences including the American Society of Clinical Oncology, American Association for Cancer Research and the San Antonio Breast Cancer Symposium. 
Clinical Expertise
Breast cancer, triple negative breast cancer, translational research, clinical trials
Honors
Jonas E. Salk Award, 1994
Dean's Scholar, Physician Scientist Training Grant (PSTP), 2009
Matthew Harris Breast Cancer Research Fellow, 2010
AACR Minority Scholar in Research Award, 2011
NIH/NCI K08 (Clinical Scientist Research Career Award), 2012
Gerald Weissmann Young Scholar Award, 2015
Certificate of Excellence for Scientific Presentation, CRCHD, NIH/NCI, 2016