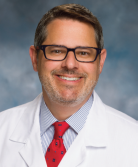 Daniel L. Feingold, MD, FASCRS, FACS
Chief, Colorectal Surgery
Colorectal surgery is Dr. Feingold's passion. Double-board certified in general surgery and colorectal surgery, Dr. Feingold graduated Finch University of Health Sciences/Chicago Medical School. He trained in surgery at Barnes-Jewish Hospital at Washington University and at NewYork–Presbyterian Hospital at Columbia University, where he was chief resident in charge of resident education. He completed advanced surgery fellowships in surgical oncology at the National Cancer Institute and in colorectal surgery at Robert Wood Johnson Medical School in 2004.
Most recently, Dr. Feingold served as The Stanley Edelman, MD-Stephen Jarislowsky Endowed Chair in Surgery at Columbia University where he had been on faculty for 15 years. He previously served as interim chief and director of clinical trials of the Division of Colon and Rectal Surgery at the College of Physicians and Surgeons and has been named a Castle Connolly Top Doctor every year since 2012. Over 200 physicians and nurses have chosen Dr. Feingold to be their surgeon. 
With the goal of providing exceptional, comprehensive care, Dr. Feingold's practice focuses on preserving function while reducing post-operative pain and complications. Dr. Feingold specializes in minimally invasive colorectal surgery for colon and rectal cancer and in sphincter preservation so that patients can avoid having a permanent colostomy. 
A nationally recognized researcher and author, Dr. Feingold has published more than 90 peer-reviewed articles and book chapters, edited two colorectal surgery textbooks (Advanced Colonoscopy and Endoluminal Surgery, Colorectal Surgery Consultation: tips and tricks for the management of operative challenges), and lectured extensively. He currently serves as a member of the editorial board of Annals of Laparoscopic and Endoscopic Surgery and as the national committee chair of the Clinical Practice Guidelines Committee of the American Society of Colon and Rectal Surgeons. 
Clinical Expertise
Colon surgery, rectal surgery, colon cancer, minimally invasive surgery, inflammatory bowel disease, and diverticulitis