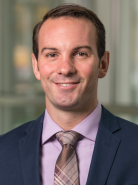 Dylan Roden, MD, MPH
Assistant Professor, Department of Otolaryngology-Head and Neck Surgery at Rutgers New Jersey Medical School
Director of Robotic Surgery Committee, University Hospital Newark
Surgical Oncologist
Dylan Roden, MD, MPH, is a head and neck cancer surgeon at Rutgers New Jersey Medical School. He has expertise in transoral robotic surgery and is the Chair of Robotic Surgery at University Hospital.  He works as a member of the multidisciplinary head and neck team and is expanding the head and neck cancer clinical trial portfolio at Rutgers.  He is also a reconstructive surgeon, adept at microvascular free flap, regional flap, and local flap reconstructions.  
He completed medical school at the Icahn School of Medicine at Mount Sinai in Manhattan where he completed both Doctor of Medicine (MD) and Masters of Public Health (MPH) degrees.  He then completed his surgical training in the Otolaryngology - Head & Neck Surgery residency program at New York University (NYU) where he was recognized with multiple research awards. At NYU he expressed a particular interest in the care of head and neck cancer patients, and moved to Philadelphia to complete a fellowship in advanced Head & Neck surgical oncology and microvascular reconstruction at Thomas Jefferson University.
Dylan has a passion for international surgical education and care, and is a member of the American Head & Neck Society (AHNS) Global Outreach Service. He regularly travels around the world to volunteer and provide free surgical care to those in need.
 
Clinical Expertise
Head & Neck Surgical Oncology, Transoral Robotic Surgery (TORS), HPV related Oropharyngeal Cancer, Microvascular Reconstructive Surgery, Free Flap Surgery, Sentinel Lymph Node Biopsy, Thyroid/Parathyroid Surgery, Parotid/Salivary Gland Surgery, Sialoendoscopy, Local and Regional Reconstruction, Open Skull Base Surgery, Voice and Swallowing Disorders, Zenker's Diverticulum
Contact Information
For appointments at University Hospital in Newark or at the Barnabas Ambulatory Care Center in Livingston call 973-972-2548.
For all other inquiries call 732-235-2465.