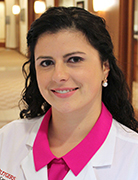 Eugenia Girda, MD, FACOG
I am a Gynecologic Oncologist at Rutgers Cancer Institute of New Jersey and an Assistant Professor of Obstetrics, Gynecology and Reproductive Sciences at Rutgers Robert Wood Johnson Medical School.  I completed my gynecologic oncology fellowship at the University of California Davis.  Prior to that, I completed my residency training at Albert Einstein College of Medicine/Montefiore Medical Center and my medical school education at the State University of New York, Stony Brook School of Medicine.
Throughout my training, I have developed special interests in minimally invasive surgery, such as advanced laparoscopy and robotic assisted surgery, which allows patients to have smaller incisions and quicker recovery.  I also perform more complex surgeries that are often required for patients with oncologic diagnosis.
A cancer diagnosis is an extremely challenging time in a patient's life and I am committed to being their advocate, while providing personalized and comprehensive patient care.  I aim to focus on improving the patient's quality of life, not only during the initial aspects of surgical and medical treatment, but after completion of active therapy and throughout survivorship.
Clinical research is one of my passions and I conduct clinical trials which study novel targeted therapies in an early phase setting.  I became a primary investigator of several Phase I and II clinical trials in our institution.  I believe that participation in such trials allows patients access to cutting-edge treatment, while helping to establish the standard of care for the next generation of women.
I am the author or co-author of several publications and present at national meetings on gynecologic cancers and early phase clinical trials.
I also speak fluent Russian and conversational Spanish.
Dr. Girda sees patients at both Rutgers Cancer Institute and Saint Peter's University Hospital in New Brunswick.
Clinical Expertise
Ovarian Cancer, endometrial cancer, cervical cancer, vulvar cancer, and clinical trials.