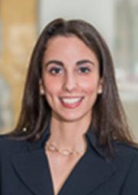 Evelyne Kalyoussef, MD
Director of Comprehensive Otolaryngology-Head & Neck Surgery, University Hospital Newark
Associate Professor, Department of Otolaryngology-Head and Neck Surgery at Rutgers New Jersey Medical School
Dr. Kalyoussef received her M.D. from the University of Medicine and Dentistry of New Jersey's Robert Wood Johnson Medical School in 2007. She joined the faculty of the Department of Otolaryngology-Head and Neck Surgery at Rutgers New Jersey Medical School in August 2012 as an academic general otolaryngologist, caring for adult and pediatric patients.
Dr. Kalyoussef specializes in Thyroid and Parathyroid Surgery, Sialendoscopy, Transoral Robotic Surgery, Head and Neck Oncology, Sleep Disorders, Voice Disorders, minimally invasive surgery as well as a broad spectrum of pediatric otolaryngologic pathologies. She has a special interest in cancer survivorship care. She speaks fluent Spanish and Arabic and is committed to providing outstanding care and expertise to patients, as well as timely communication with referring physicians.
Clinical Expertise
General Adult And Pediatric Otolaryngology, Thyroid And Parathyroid Surgery, Head And Neck Oncology, Transoral Robotic Surgery, Sialendoscopy, Laryngology And Sleep Medicine
Contact Information
For appointments at University Hospital in Newark or at the Barnabas Ambulatory Care Center in Livingston call 973-972-2548.
For all other inquiries call 732-235-2465.