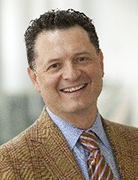 Joseph Benevenia, MD
Musculoskeletal Oncologist
Rutgers Cancer Institute of New Jersey at University Hospital
I am an Orthopaedic Surgeon at the Rutgers-North Jersey Orthopaedic Institute known for my clinical expertise and investigations in the field of limb preservation. Specifically, I have been a leader in the science and application of allografts and endoprosthetic reconstructions to treat musculoskeletal tumors, and have lectured nationally and internationally. I have numerous publications in peer-reviewed journals. I also serve as Professor and Chair, in the Department of Orthopaedics at Rutgers-New Jersey Medical School.
I am active in a number of professional societies, serving as President-elect and a member of the Executive Committee of the North American Musculoskeletal Tumor Society, and with the American Academy of Orthopaedic Surgeons, where I serve as a Board of Specialty Societies committee member, as well as on the Central Evaluation Committee. Other organizations where I am active include the American Orthopaedic Society, the Musculoskeletal Transplant Foundation, the New Jersey Orthopaedics Society, the International Society of Limb-Salvage, the Connective Tissue Oncology Society, and the Pediatric Orthopaedic Society of North America.
Clinical Expertise
Musculoskeletal Oncology and Limb Salvage
Contact Information
For appointments at Rutgers Cancer Institute of New Jersey at University Hospital, please call 973-972-5108.
For all other inquiries call 732-235-2465.