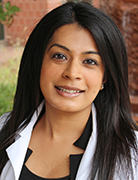 Malini Patel, MD
I consider it a privilege to care for patients in my home state of New Jersey and within the same institution where I completed my undergraduate degree – Rutgers University.  I joined Rutgers Cancer Institute of New Jersey after completing a Hematology and Medical Oncology Fellowship at Loyola University in Maywood, Illinois. Prior to this, I completed an Internal Medicine residency at Mount Sinai West and St. Luke's Hospital in New York City, where I had the honor to serve an additional year as Chief Resident. 
As a member of both the Lung Cancer/Thoracic Oncology Program and the Head and Neck Oncology Program, I work in partnership with multidisciplinary teams consisting of radiation oncologists, surgical oncologists, radiologists, pathologists, nurses, nutritionists, social workers, speech pathologists, and neuropsychologists where we tackle cancer in a patient-centered approach, by formulating an individualized treatment plan for each patient. My goal is to make sure that my patients and their caregivers are provided clarity regarding their diagnosis and treatment options which can often be difficult to navigate.  I am committed to be my patients' advocate and work my hardest to provide them with effective treatment options that incorporate the latest and most advanced research and technology available, ensuring alignment with their personal goals and preferences. 
In addition to seeing patients, I am actively involved in clinical research and the development of clinical trials for lung, and head and neck cancers. With the resources available at the state's only National Cancer Institute-designated Comprehensive Cancer Center, patients have access to early phase clinical trials that may not be available elsewhere. 
Finally, I am a member of the American Society of Hematology and the American Society of Clinical Oncology, enabling me to stay current of the clinical and research findings in both the national and international arena.  
Dr. Patel sees patients at Robert Wood Johnson University Hospital Hamilton. 
Clinical Expertise
Lung cancer / thoracic oncology; head and neck; all solid tumor cancers, and clinical trials