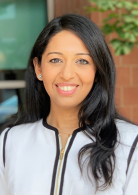 Mansi R. Shah, MD
Hematologist-Oncologist
Assistant Professor of Medicine, Division of Blood Disorders
It is my honor to join the faculty in the Division of Blood Disorders at Rutgers Cancer Institute of New Jersey and Robert Wood Johnson Medical School. 
I received my undergraduate degree from New York University following which I matriculated from Rutgers Robert Wood Johnson Medical School. I completed an Internal Medicine internship and residency at Thomas Jefferson University Hospital in Philadelphia and returned to New Jersey to complete a fellowship in Hematology and Medical Oncology at Rutgers Cancer Institute of New Jersey/Robert Wood Johnson Medical School. During my fellowship, I was elected to serve as a chief fellow and participated in the Botswana-Rutgers Global Oncology Fellowship, with which I remain actively engaged in longitudinal curriculum development. 
Navigating a new diagnosis of cancer can be overwhelming and life-changing for patients and their families. As a hematologist-oncologist, it is my privilege to advocate for my patients by not only helping them understand their diagnosis and treatment options but also by providing support and guidance. Being part of an NCI-designated Comprehensive Cancer Center in New Jersey allows me to provide my patients with personalized, state-of-the-art care through access to novel therapies and clinical trials to achieve the best possible outcomes.
My practice focuses on blood cancers including plasma cell disorders, leukemias, and bone marrow disorders. I have honed my interests by successfully participating in clinical research and am the author and co-author of numerous publications, reviews, abstracts, and presentations. I am actively involved in the development and execution of clinical trials. As a member of the Hematologic Malignancies Program, I am committed to providing comprehensive care with a patient-centered approach in collaboration with an exceptional multidisciplinary team of healthcare providers.
Clinical Expertise
Blood Cancers, Multiple Myeloma, Plasma Cell Disorders, Acute and Chronic Leukemias, Myelodysplastic Syndrome, Myeloproliferative Disorders