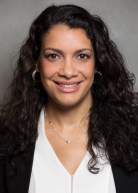 Melissa M. Alvarez-Downing, MD, FACS, FASCRS
Surgical Oncologist
Colorectal Surgeon
University Hospital Newark
Melissa M. Alvarez-Downing, MD, FACS, FASCRS is a board certified surgeon in both colorectal and general surgery. After receiving a medical degree from Mount Sinai School of Medicine in New York City, Dr. Alvarez-Downing completed her general surgery residency training at Cooperman Barnabas Medical Center in New Jersey, now part of the RWJBarnabas Health System, where she was the administrative chief resident for resident education. During her chief year, she also won both awards for outstanding chief resident by her peers and faculty. She went on to complete two advanced fellowships – first in surgical oncology at the National Cancer Institute Surgery Branch and an additional clinical fellowship in colorectal surgery at Cleveland Clinic Florida. 
Dr. Alvarez-Downing's clinical interests include all aspects of benign and malignant colon and rectal diseases, colon cancer screening and minimally invasive surgery. In fact, she is the sole colorectal surgeon at University Hospital who offers all of her patients advanced minimally invasive robotic surgery. Postoperatively, she manages her patients with an enhanced recovery after surgery (ERAS) program, which she created, as a way to improve their recovery after major abdominal surgery. As a compassionate surgeon, Dr. Alvarez-Downing aims to decrease recovery time with less pain and discomfort for her patients and is the only surgeon at University Hospital who utilizes this modern approach to postoperative care for her patients. In addition, she is committed to advocating for her mostly minority patient population by improving their experience and navigation through the healthcare system, both possible with her fluency in Spanish. Her commitment to the community of Newark is evident through the numerous town halls, Connecting with the Community Facebook live events and talks she has given for University Hospital on cancer screening and awareness.
In her administrative roles, she chairs the Rutgers NJMS Department of Surgery's Diversity, Equity and Inclusion Committee; serves as the Clerkship Director for the Rutgers NJMS 3rd year surgery clerkship and is an Assistant Program Director for the RBHS-North general surgery residency. She is a fellow of the American College of Colon & Rectal Surgeons and American College of Surgeons. She is involved in several national organizations including the American Society of Colon & Rectal Surgeons Diversity, Equity and Inclusion committee; Association of Surgical Education Diversity, Equity & Inclusion Task Force; The Society of American Gastrointestinal and Endoscopic Surgeons; Association of Women Surgeons and has recently been named the National Hispanic Medical Association Council of Surgery Co-Chair. She is actively involved in teaching and mentoring of medical students, surgery residents, nursing students, underserved Latinx pre-med students and has trained several colorectal surgery fellows.
Clinical Expertise
Colon cancer, rectal cancer, anal cancer, minimally invasive robotic surgery, colostomy, ileostomy, benign colon and rectal diseases