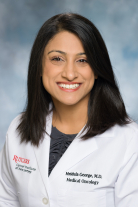 Mridula George, MD
I am a medical oncologist in the Stacy Goldstein Breast Cancer Center at Rutgers Cancer Institute of New Jersey. As part of these multi-disciplinary teams, I am committed to providing the most advanced and comprehensive care to my patients. I completed my Hematology/Oncology Fellowship at Rutgers Robert Wood Johnson Medical School and thereafter joined the faculty as an Assistant Professor of Medicine. Prior to that, I received my undergraduate degree at Rutgers University and my medical degree from Rutgers Robert Wood Johnson Medical School. I completed my internal medicine residency at the University of Massachusetts.
As a medical oncologist at New Jersey's only NCI-designated Comprehensive Cancer Center, I provide care to patients with all stages of breast cancer—the most common cancer diagnosed in women. Cancer is a scary diagnosis for any person, irrespective of age or ethnicity. It is a multi-faceted disease and hence, the treatment should be personalized for every patient based on their tumor's characteristics. With the advent of precision medicine, the wide array of novel therapies and the availability of next generation sequencing of tumor cells, the treatment of cancer has undergone significant improvements in the past decade. In collaboration with pathologists, surgeons, radiologist, radiation oncologists and nurses, I hope to provide my patients with the most advanced treatment options including precision medicine, immunotherapy and clinical trials in a compassionate and welcoming environment. I feel it is very important to also understand the individual needs of the patient beyond their disease and employ the philosophy of treating the "whole patient" and not just their cancer.  
In addition to clinical care, I also conduct clinical trials and I am excited to be part of a team that develops and provides cutting-edge therapies for our patients.

Dr. George sees patients at both Rutgers Cancer Institute and Robert Wood Johnson University Hospital Somerset.
Clinical Expertise
Breast cancer and clinical trials