Upcoming Events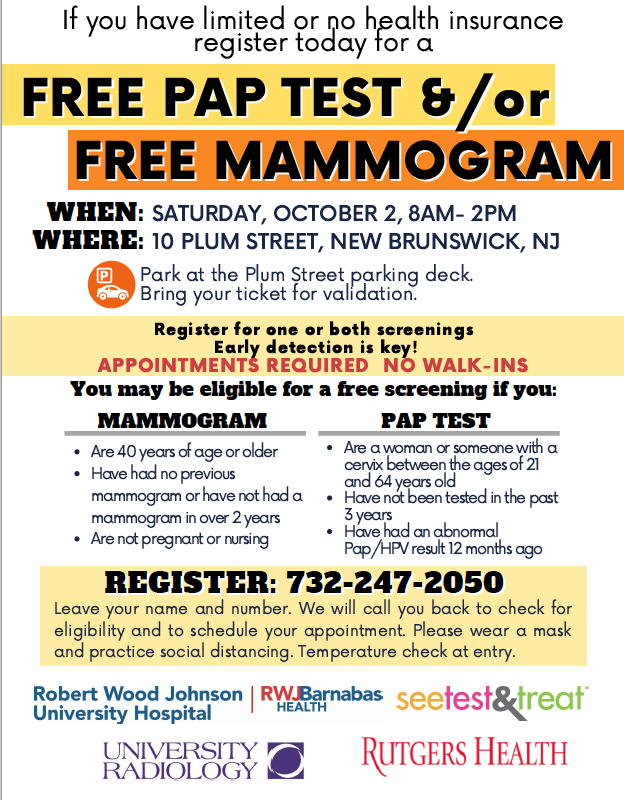 RWJUH Breast Care Connection: See, Test & Treat,
October 2nd from 8:00am - 2:00pm.
If you have limited or no health insurance register today for a FREE PAP TEST &/or FREE MAMMOGRAM.
Location: 10 Plum Street New Brunswick. Parking validation is available.
Appointments required, please call:732-247-2050.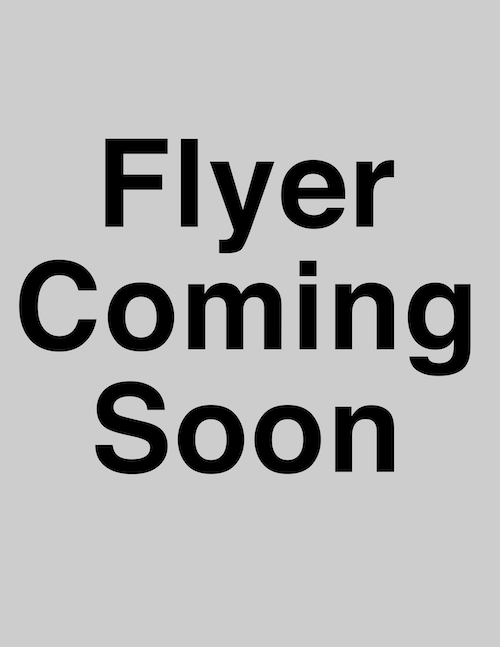 American Lung Association: 2021 LUNG FORCE Walk,
October 2 at 9:30am.
Join us in the fresh air at this year's LUNG FORCE Walk Bridgewater, the American Lung Association's signature event to support and promote lung health. Duke Island Park, Bridgewater. 
Click for more information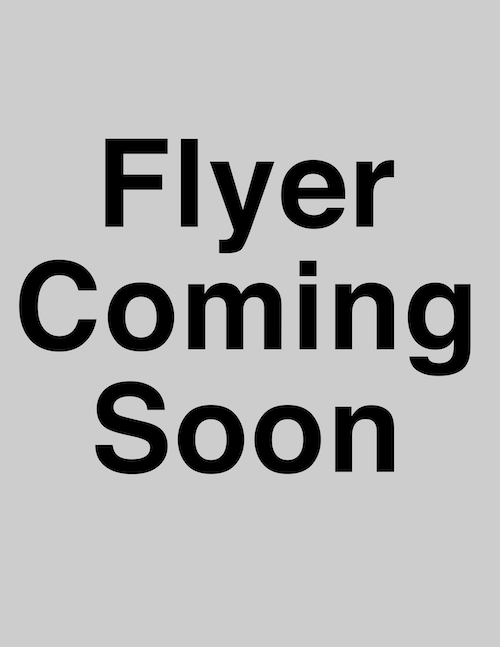 RWJBarnabas Rutgers Women's' Soccer,
October 10th at 12:00pm. Join us for a day of soccer and breast health. 
Location: Yurcak Field, Piscataway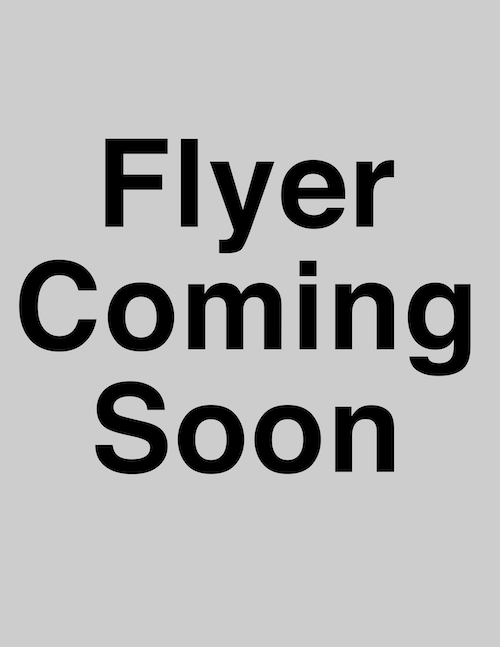 North Ward Family Success Center: Breast Health & Cooking Demo,
October 13th at 4:30pm.
Join us for this Spanish language breast health education event, includes a virtual cooking demo!
For more information please contact outreach@cinj.rutgers.edu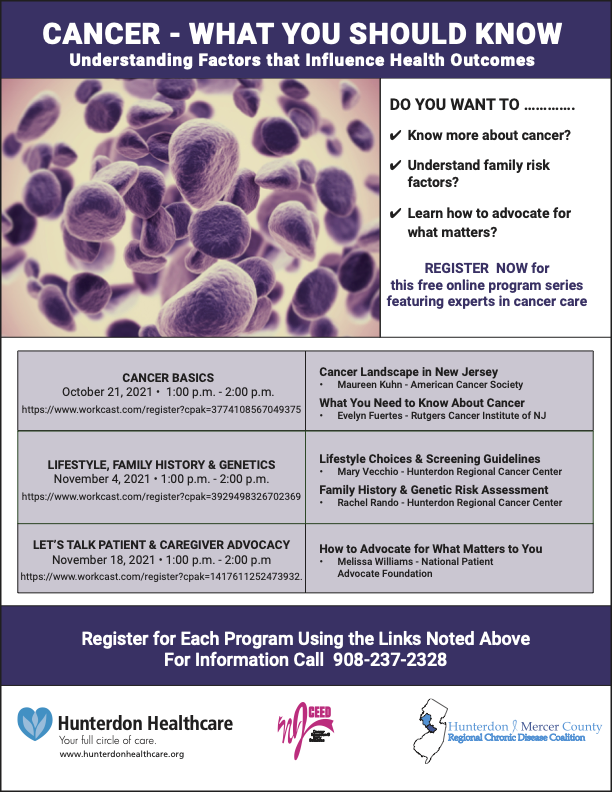 Hunterdon & Mercer County Regional Chronic Disease Coalition: Cancer Basics,
October 21st at 1:00pm. 
Cancer - What you should know. Understanding Factors that Influence Health Outcomes.
Click here to Register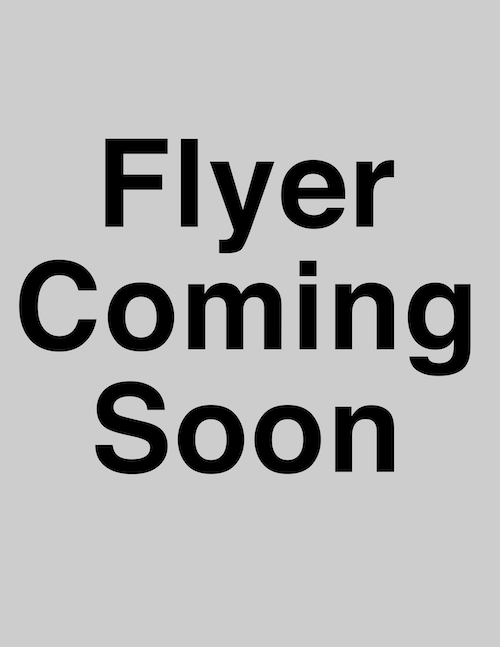 New Community Corporation: Community Health & Wellness Fair,
October 23rd from 11:00am - 3:00pm. 
Now is the perfect time to learn more about health and wellness! Join New Community and Rutgers Community Health Center for a Health and Wellness fair! 
For more information call 973-732-6040. Location: 274 South Orange Ave, Newark. Parking on Camden Street.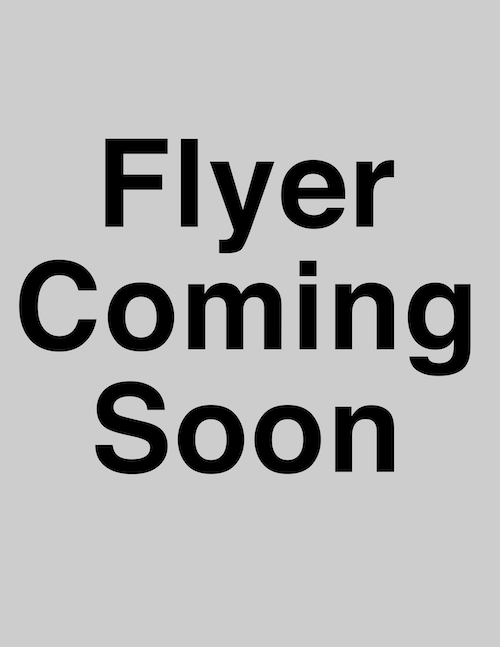 Phillipsburg Fall Festival: Harvest Fest and Prostate Cancer Awareness,
October 23rd from 10:00am - 2:00pm. 
Join us for fun and festivities, we will also provide information on Prostate Cancer Awareness. 
Location: Shappell Park, 353 S. Main Street, Phillipsburg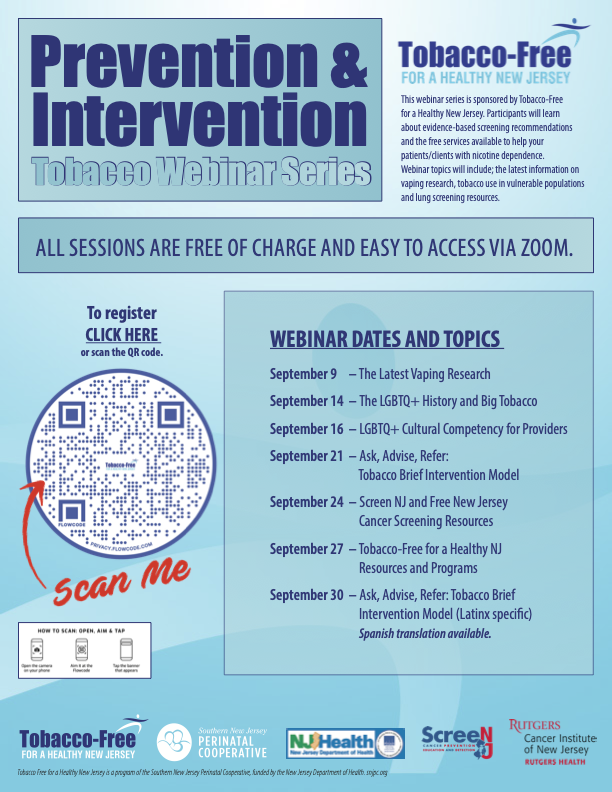 Prevention & Intervention Tobacco Webinar Series,
Begins September 9. 
This webinar series is sponsored by Tobacco-Free for a Healthy New Jersey. Participants will learn about evidence-based screening recommendations and the free services available to help your patients/clients with nicotine dependence. Webinar topics will include; the latest information on vaping research, tobacco use in vulnerable populations and lung screening resources. 
Click here to register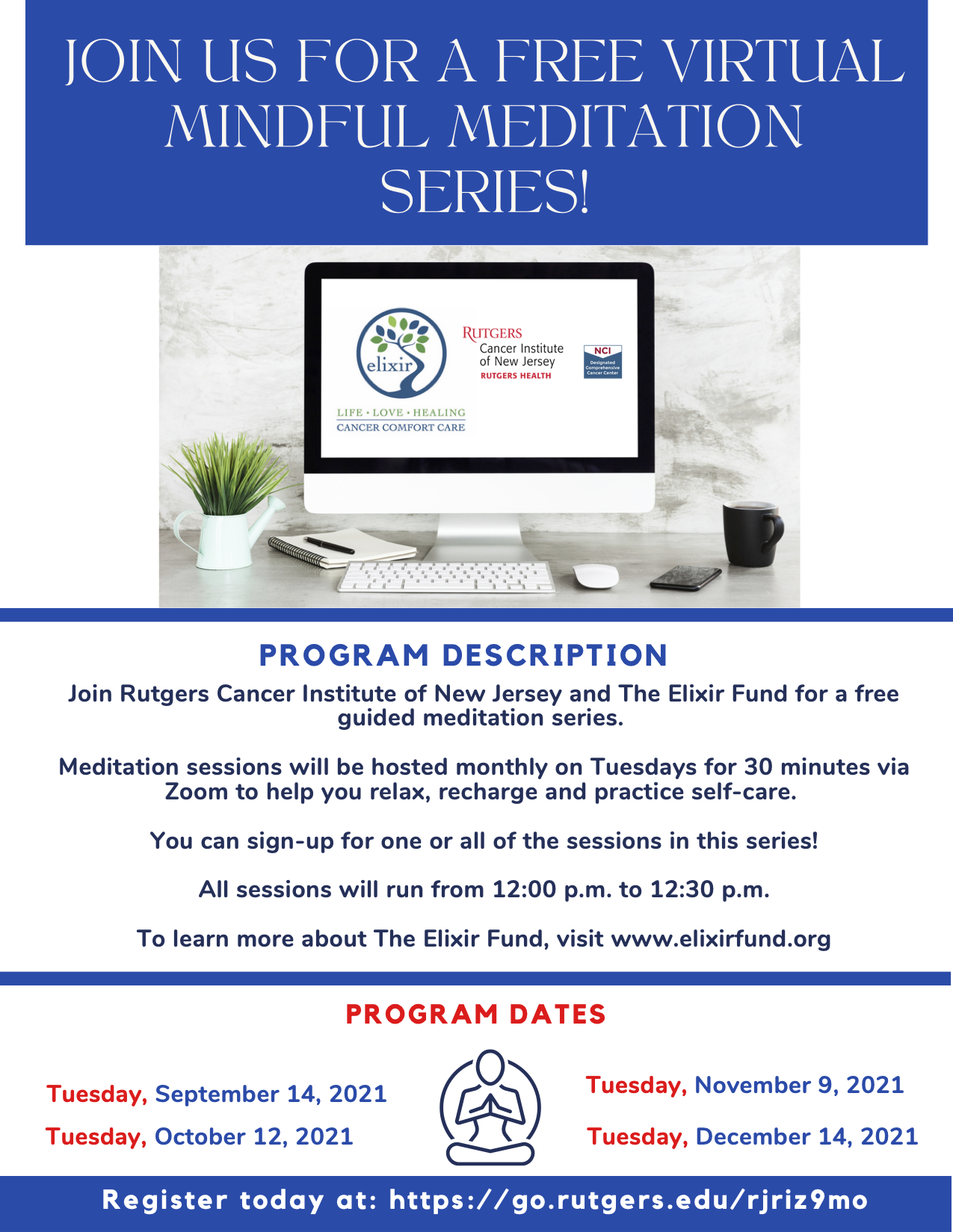 Elixir: Mindful Meditation Series,
Tuesdays at 12pm. 
Join Rutgers Cancer Institute of New Jersey and The Elixir Fund for a free guided meditation series. Meditation sessions will be hosted monthly on Tuesdays for 30 minutes via Zoom to help you relax, recharge and practice self-care. You can sign-up for one or all of the sessions in this series! All sessions will run from 12:00 p.m. to 12:30 p.m. To learn more about The Elixir Fund, visit elixirfund.org. 
Register today at: go.rutgers.edu/rjriz9mo
Professional Training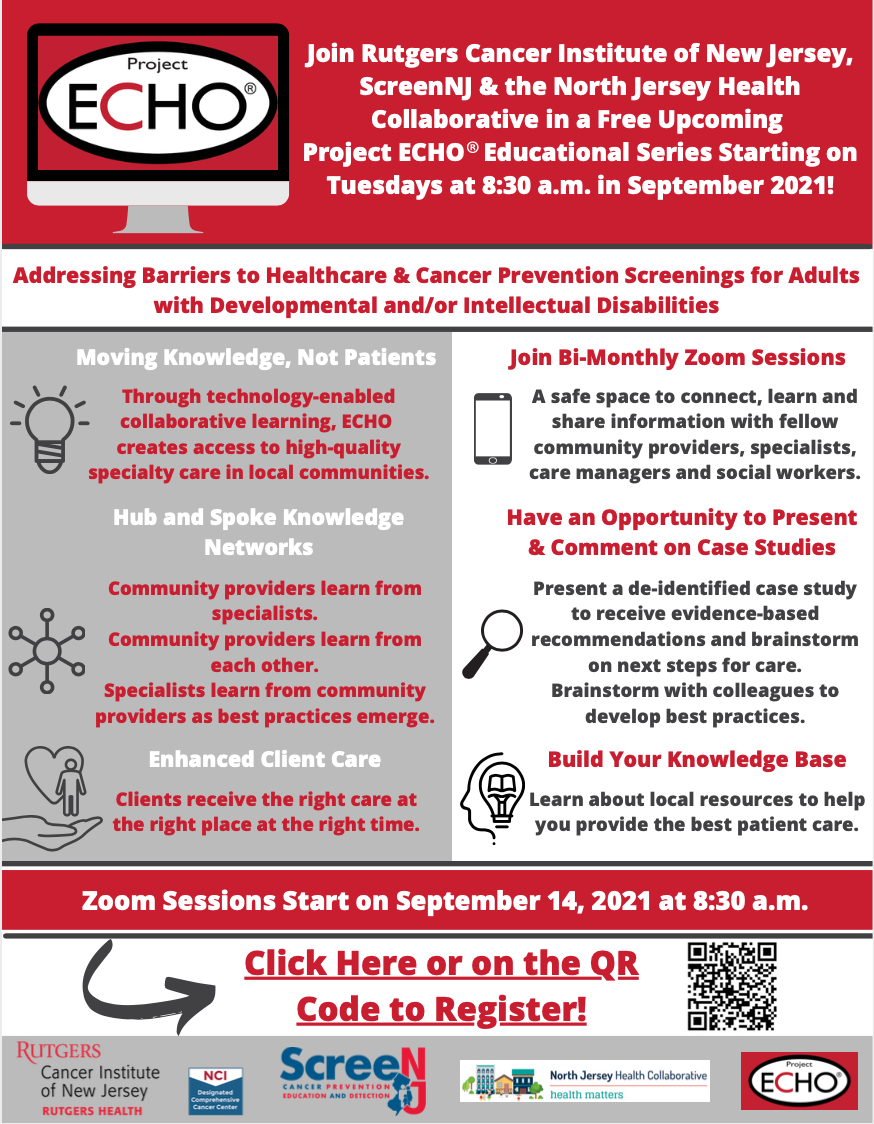 Rutgers Cancer Institute of New Jersey has teamed up with the North Jersey Health Collaborative to offer a free eight-week Project ECHO series on addressing barriers to health care and cancer prevention screenings for adults with developmental and/or intellectual disabilities. Project ECHO Zoom sessions are designed to connect community providers with specialists to share knowledge and develop best practices. The series will be held every Tuesday from 8:30 a.m. - 9:30 a.m. starting on September 14, 2021 with an incredible line-up of speakers. The sessions are open to everyone to join. Learn more & register
For more information on these and any other COE events please contact outreach@cinj.rutgers.edu