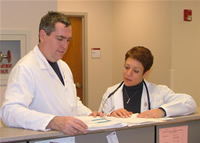 The Cancer Institute of New Jersey's Stacy Goldstein Breast Cancer Center provides comprehensive care for people with breast cancer. Mammography using state-of-the-art digital equipment as well as breast ultrasound and MRI is provided at the Women's Imaging Center at Robert Wood Johnson University Hospital, the flagship hospital of the Cancer Institute of New Jersey.
The Cancer Institute of New Jersey's compassionate breast cancer care team includes medical oncologists, surgical oncologists, radiation oncologists, breast radiologists, nurse practitioners, plastic and reconstructive surgeons, pathologists, social workers, oncology education specialists and clinical psychologists.
People who are beyond the active treatment phase of their care may have lingering or late appearing effects from their disease or treatment. As a result, cancer survivors need specialized healthcare services that include proper monitoring and health maintenance activities. The Survivorship Program is designed to meet the special needs of cancer survivors by addressing their unique health issues. The program strives to assist in maintaining and promoting an individual's best possible level of health and improve their overall quality of life.
Patients with concerns about hereditary breast cancer or other high-risk breast conditions are evaluated in the Cancer Institute of New Jersey's LIFE Center, where genetic counseling and testing is available. The LIFE Center is dedicated to teaching young women how to maintain breast health and reduce the factors that increase their risk of breast cancer.
Clinical Trials:

Useful Link From the Resource and Learning Center:
Staff of this Program:

Deborah L. Toppmeyer, MD, Director, Stacy Goldstein Breast Cancer Center and Medical Oncologist 
Thomas Kearney, MD, FACS, Director, Breast Care Services and Surgical Oncologist 
Nancy Chan, MD, Medical Oncologist
Shridar Ganesan, MD, PhD, Medical Oncologist
Sharad Goyal, MD, Radiation Oncologist
Bruce Haffty, MD, Chair, Radiation Oncology
Kim Hirshfield, MD, PhD, Medical Oncologist
Atif Khan, MD, Radiation Oncologist
Laurie Kirstein, MD, Surgical Oncologist
Serena Wong, MD, Medical Oncologist 
Elizabeth Berg, RN, MSN, APN-C, Advanced Practice Nurse
Janice Germain, MSN, ANP-BC, OCN, Advanced Practice Nurse
Jacquelyn Lauria, RN, MSN, APN-C, AOCNP, Advanced Practice Nurse
Hemanshu Patel, MSN, RN, APN-C, Advanced Practice Nurse
Dorothy Pierce, APN, OCN, CRN, CBCN, Advanced Practice Nurse
Susan Schwartz, MSN, RN, APN-C, OCN, Advanced Practice Nurse
Joan Quagliata, RN, OCN, Staff Nurse
Patricia Dennigan, BSN, RN, OCN, Nurse Clinician
Deborah Leif, MSW, LCSW, Social Worker
Sara Toth, MSW, LSW, Social Worker