Between 60 to 70 percent of patients with aggressive non-Hodgkin lymphoma are cured with initial chemotherapy and a significant percentage of patients who relapse are cured with a stem cell transplant using the patient's own cells. However, in patients whose disease becomes resistant to chemotherapy, the average survival is only six months. Until recently, those with B-cell lymphomas that did not respond to standard therapies had limited treatment options. With the approval of CAR T-cell therapy in 2017, these patients now have another alternative to fight their disease.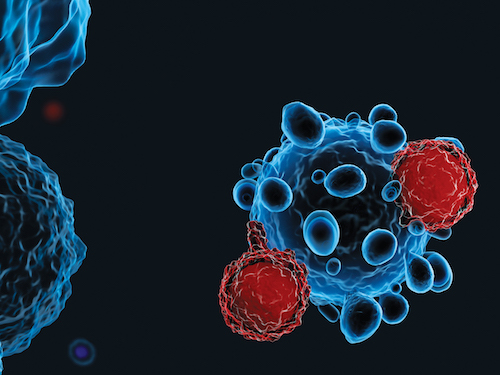 In New Jersey, Robert Wood Johnson University Hospital New Brunswick, an RWJBarnabas Health facility, in conjunction with Rutgers Cancer Institute of New Jersey is one of only two certified programs in the state to offer this form of immunotherapy for forms of B-cell lymphoma. "Having New Jersey's most comprehensive hematologic malignancies programs, which includes stem cell transplantation, it is imperative for Robert Wood Johnson University Hospital New Brunswick and Rutgers Cancer Institute to have CAR T-cell therapy in our arsenal for this particular patient population, as it is not widely available elsewhere," notes Rutgers Cancer Institute Director Steven K. Libutti, MD, FACS, who is also senior vice president of oncology services for RWJBarnabas Health. "The ability to offer this unique form of treatment is a testament to the partnership between the state's only National Cancer Institute-designated Comprehensive Cancer Center and RWJBarnabas Health."
Approximately half of patients with resistant diffuse large B-cell lymphoma who were treated with CAR T-cells were shown to have a complete response, and many of these patients remain in remission for more than a year (New England Journal of Medicine, American Society of Hematology meeting - December 2017).
The treatment involves collecting a patient's T cells (a type of white blood cell) and re-engineering them in the laboratory to produce special molecules known as chimeric antigen receptors (CARs). The CARs enable T cells to specifically recognize a target on the malignant cells. CAR T-cells are reinfused into the body to attack these targeted markers that are limited to the cancerous cells.
Given the unusual, sometimes severe side effects that require prompt recognition and treatment, CAR T-cell therapy is currently only offered at centers that perform stem cell transplants and have clinicians, nurses and other healthcare professionals who are FACT (Foundation for the Accreditation of Cellular Therapy) certified such as those at Robert Wood Johnson University Hospital and Rutgers Cancer Institute. This includes specially trained personnel in the outpatient hematology unit, inpatient bone marrow transplant unit and medical intensive care unit.
CAR T-cell therapy also is approved for children and young adults with resistant acute lymphoblastic leukemia (ALL) where the results have been even better than in aggressive lymphoma. It also shows promise in patients with multiple myeloma – all avenues being explored for future offerings at Robert Wood Johnson University Hospital and Rutgers Cancer Institute.
As an NCI-designated Comprehensive Cancer Center, Rutgers Cancer Institute is driving the development of next-generation CAR T-cell therapies through on-site research aimed at improving efficacy and reducing toxicity.  "Researchers anticipate accelerated progress in further understanding this immunotherapy approach and how it may be applied to other types of cancer – including solid tumors. As a leading healthcare system and only NCI-designated Comprehensive Cancer Center in the state, RWJBarnabas Health and Rutgers Cancer Institute are committed to advancing this knowledge and bringing the latest treatments to the people of New Jersey and beyond," adds Dr. Libutti.
For additional information on CAR T-cell therapy, call 732-235-2113 or visit cinj.org/patient-care/car-t-cell-therapy.