Story by Mary Ann Littell  •  Portraits by John O'Boyle      View the complete magazine | Subscribe to Cancer Connection
When you're in your twenties, with your whole world ahead of you, the last thing you worry about is being struck with life-threatening breast cancer. But it can happen. Youth doesn't protect you. Just ask Kelly Moyer.
Only 26 years old, her world changed one morning in November 2019, when she found a lump in her right breast. Still half asleep, she felt a mild jolt of shock.
"The lump was small. It was strange how it appeared out of nowhere," she says. "I was concerned, but it was inconceivable to me that I might have breast cancer. It just wasn't on my radar." She resolved to have the lump checked at her upcoming checkup with her gynecologist.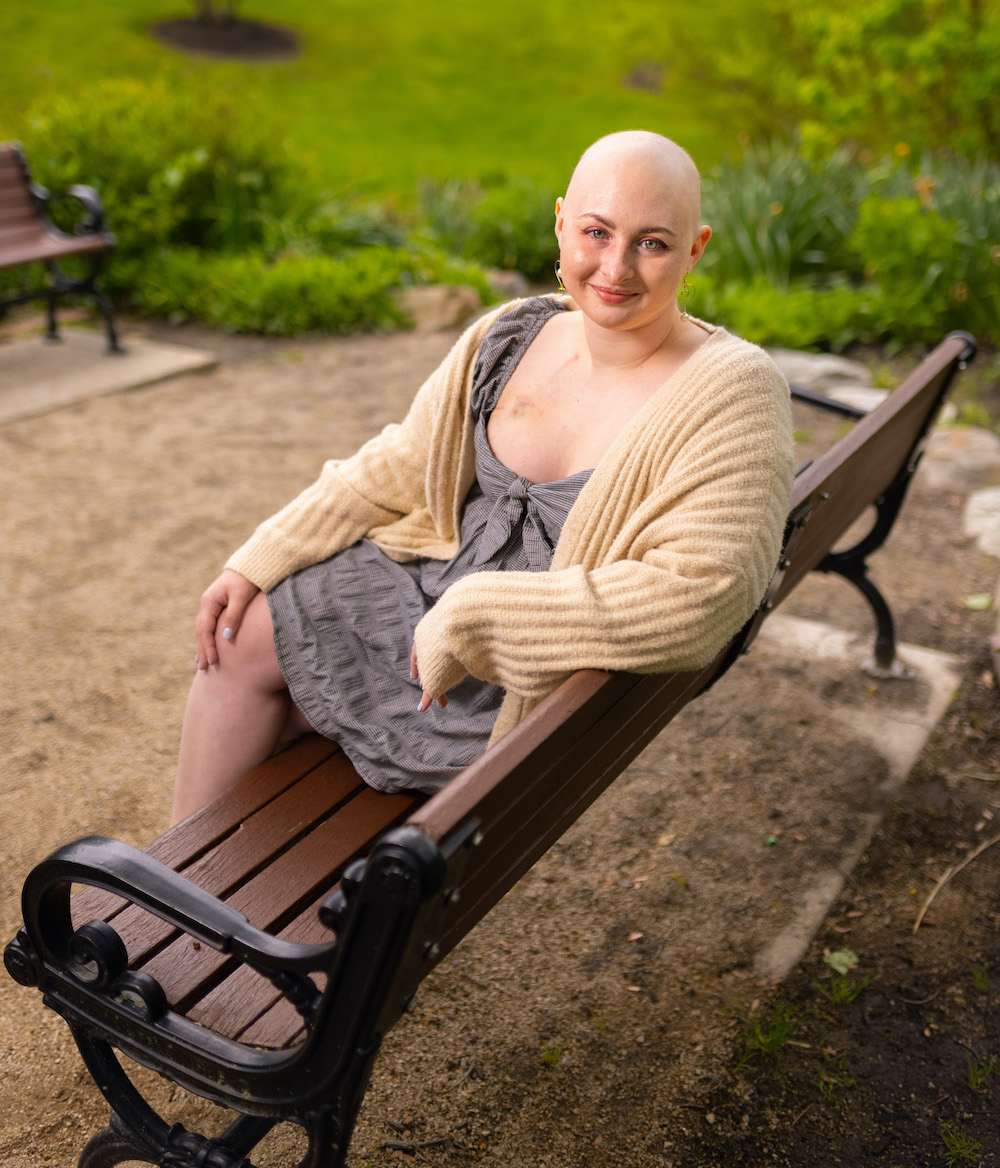 Kelly Moyer
A vibrant, active young woman, Moyer was focused on her future, on building a career, finding success, and exploring life's possibilities. With a degree in neuroscience from Rutgers, she was working two jobs as a physical therapy aide and direct support professional. She found the work rewarding, and had started looking into graduate programs in occupational therapy.
"No, I did not do regular breast self-examinations," says Moyer. "Most young women don't do them." That's not surprising when you consider that fewer than five percent of women under 40 are diagnosed yearly with breast cancer, according to the National Cancer Institute (NCI).
When Moyer saw her gynecologist in November, he said the lump looked like an fibroadenoma, a benign breast tumor, but needed further evaluation. He referred her to Firas Eladoumikdachi, MD, director of the Breast Cancer Program at Robert Wood Johnson University Hospital Hamilton, an RWJBarnabas facility, and breast surgical oncologist in the Stacy Goldstein Breast Cancer Center at Rutgers Cancer Institute of New Jersey.
On her way to the appointment, fate intervened. Her car was rear-ended by a careless driver. She had to wait around, talk to the police, and fill out a lot of paperwork. By the time she finished, it was evening. The doctor's office had closed for the day.
The holidays came and went, and COVID-19 loomed on the horizon. Gradually the lump faded from her consciousness. "I avoided thinking about it, trying to convince myself it was nothing," she says.
She rescheduled her appointment with Dr. Eladoumikdachi in February. "I liked him right away," she says. "He's very warm and caring. He said he didn't think it was cancer, but I needed a biopsy to be sure." Plans were made to schedule the biopsy, but the timing could not have been worse.
As COVID gained momentum, it affected health care systems everywhere, interrupting essential services. That spring, the world ground to a halt as people hunkered down to avoid exposure to the deadly virus. "COVID happened, the biopsy was delayed. That's when I started going into real denial," says Moyer. "I thought, 'The doctor said it's probably benign, so I'll just put it off.'"
By the summer, Moyer noticed that the lump had grown significantly. "Time to face reality," she says. "I scheduled the biopsy." Eladoumikdachi, who is also an assistant professor of surgery at Rutgers Robert Wood Johnson Medical School (RWJMS), performed the procedure in mid-August. The results indicated that she had triple-negative breast cancer, an aggressive disease with a high risk of recurrence and a worse prognosis than other invasive cancers. This cancer is more common in women younger than age 40 and in Black women.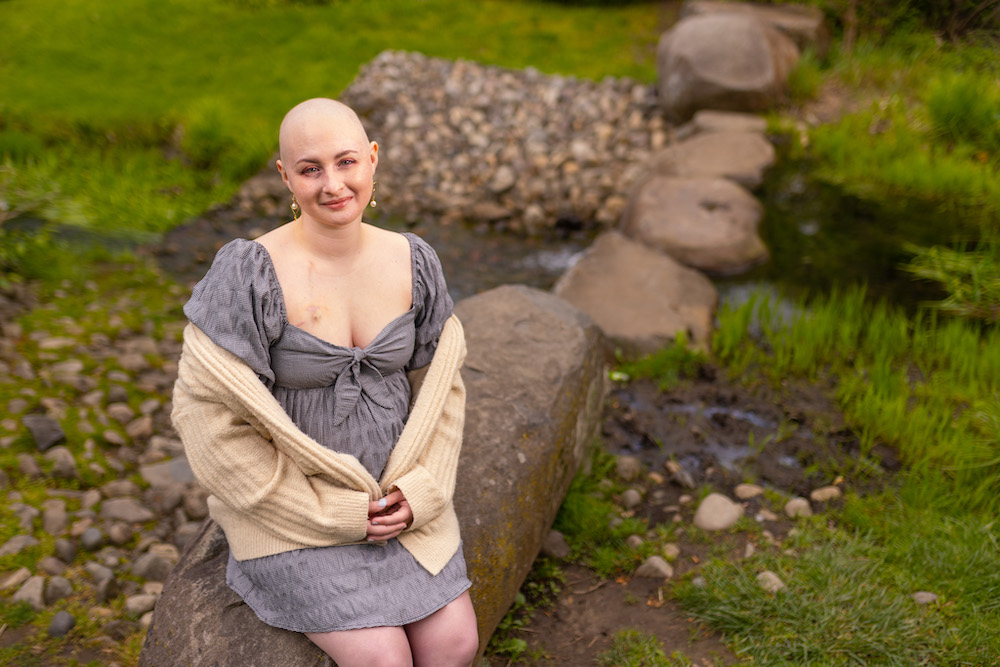 Kelly Moyer
In this type of cancer, the growth of malignant cells is not fueled by estrogen, progesterone, or the protein HER-2. This means that this cancer doesn't respond to hormonal therapy or therapies that target HER-2 receptors. So there are fewer treatment options for it, other than systemic chemotherapy.
"Triple-negative breast cancer is deadlier than others across all age groups," explains Eladoumikdachi. "Younger patients are not screened for breast cancer, and therefore they are at higher risk of recurrence and death from this cancer."
Shocked by her diagnosis, Moyer barely recalls Eladoumikdachi telling her she had cancer. "He tried to ease my anxiety. He said he'd treat it aggressively, and mentioned a clinical trial. He wasn't sure if they were still taking patients. Of course I was interested in anything that might help me beat this."
Through the partnership between Rutgers Cancer Institute and RWJBarnabas Health, Eladoumikdachi could offer Moyer NCI-level care close to home. He was able to enroll her in a clinical trial at Rutgers Cancer Institute specifically for triple-negative breast cancer. The phase 2 trial evaluates the combination of two chemotherapy drugs before surgery to assess the rate of complete response. This response is prognostic of long-term outcomes in patients with early-stage triple-negative breast cancer. This combination of chemotherapy is well tolerated by patients compared to current standard of care.
Moyer began the trial in September 2020 and received support from those around her, including her boyfriend Ryan, with whom she shares the top floor of a duplex apartment in Mercer County. Living in the ground floor apartment is their landlord, Joann Yuhaze, who is Ryan's grandmother. The three are close. "Joann's husband recently died after a long battle with cancer," says Moyer. "She has been so supportive and helpful, and Ryan too."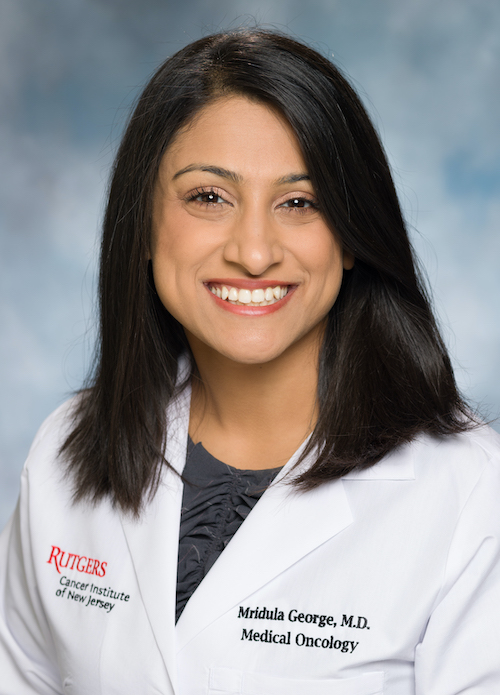 Kelly had minimal side effects from the treatment," says the clinical trial's principal investigator, Mridula George, MD, above. 
Moyer had minimal side effects from the treatment. "Our research staff at the Cancer Institute worked closely with Dr. Eladoumikdachi's team to coordinate procedures, imaging and surgery at RWJUH Hamilton while Kelly received her chemotherapy in New Brunswick," notes the trial's principal investigator, Mridula George, MD, medical oncologist at Rutgers Cancer Institute and assistant professor of medicine at RWJMS. "She tolerated the chemotherapy with no serious side effects and had an excellent tumor response."
"The tumor had disappeared," adds Eladoumikdachi. "We were all very happy. A minority of patients have such a successful response. These patients have a much better prognosis than those who do not respond as well." 
By giving chemo first to shrink tumors, physicians can offer patients the option of a lumpectomy rather than mastectomy. "Preserving the breasts is important at any age, but particularly for younger patients," says Eladoumikdachi. "Based on the results of many clinical trials, we know that overall survival is about the same for patients having lumpectomy versus mastectomy."
Moyer had been hoping to avoid a mastectomy. "I wasn't ready to lose my breasts," she says. Her lumpectomy was performed in February 2021 at RWJUH Hamilton and she came through the procedure with minimal discomfort. Tissue from her breast was sent for testing and was found to be cancer-free. Additionally, she had genetic testing done after the diagnosis and no mutations were found. 
A month later, she was back in New Brunswick for the second round of chemotherapy—the final phase of the clinical trial. This time there were more side effects. "As a young person with cancer, the body dysmorphia is brutal," she says. "While I didn't have nausea, I lost my hair. I gained a lot of weight from the medications, almost 30 pounds. My confidence has taken a hit, but it's coming back."
She continues, "For me, the hardest thing has been having to put my life on hold because of something I can't control. When you're young, it's your time to get ahead, find your way, and be successful. But cancer totally derails that."
Breast cancer in young women raises other issues as well, including the potential loss of fertility. "Patients who have chemotherapy face the risk of their ovaries shutting down," says Eladoumikdachi. "We work with specialists who help patients preserve their fertility, sometimes freezing the eggs so women can get pregnant later on."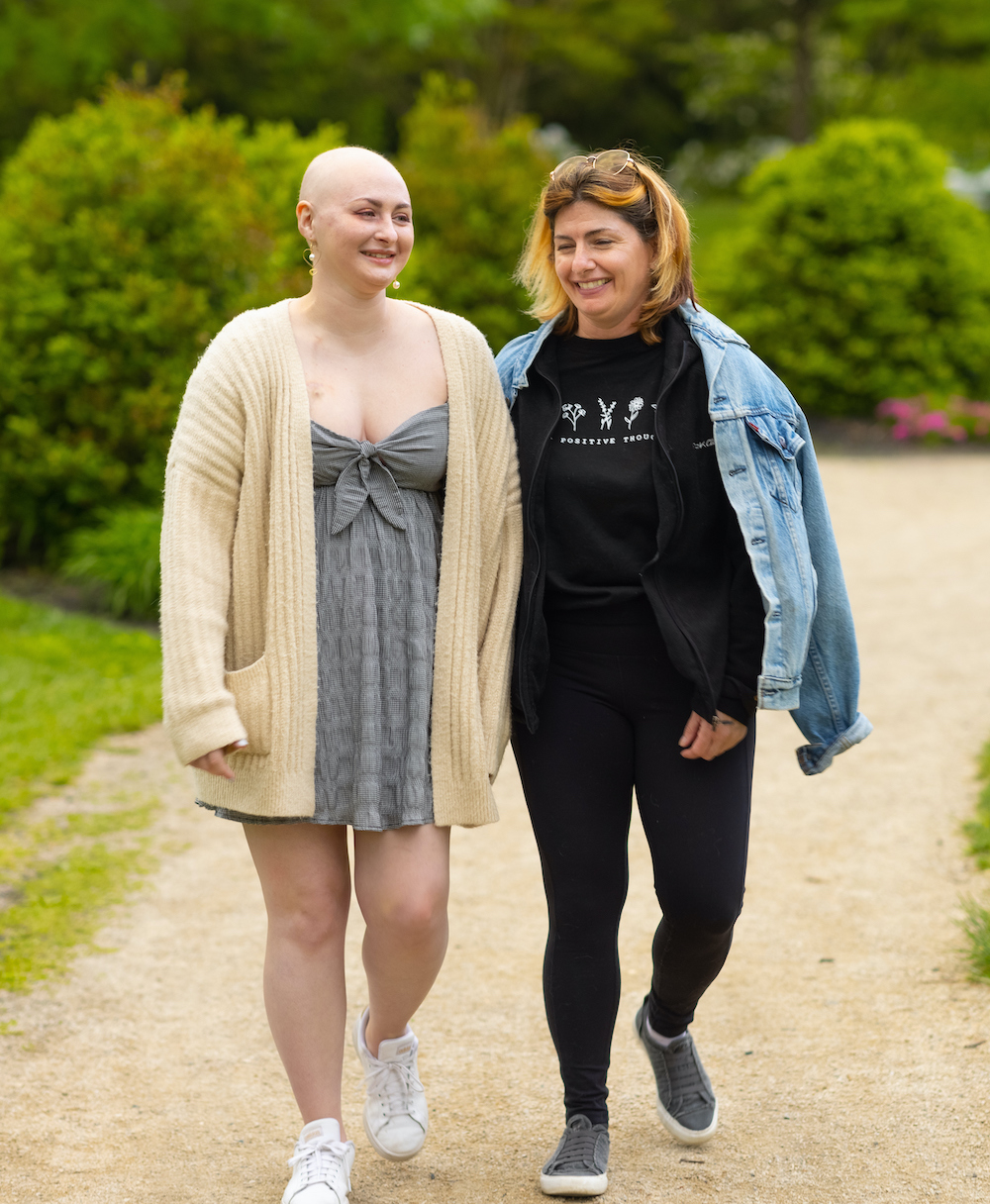 "In a way, I was very lucky – first, with the location of my tumor. It was by my armpit, so I was able to feel it. If it had been deep in my breast, I might not have been able to. Also, I was referred to an excellent physician. So I don't know if it's luck, but it sure feels like it. I've been very fortunate that things worked out the way they did," says Kelly Moyer, above with her mom, Susan Moyer.
"It's part of the comprehensive care we provide here in Hamilton," he continues. "We can offer patients all services necessary to manage breast disease, benign or malignant." He ticks off on his fingers: "We have genetic counseling and a high-risk clinic. We offer breast MRI, with plans to implement breast MRI biopsy. A multidisciplinary team meets weekly to brainstorm difficult cases. We have plastic surgeons who can do immediate reconstruction, and we do nipple sparing mastectomies. I do my own image-guided breast biopsies, a service not all breast surgeons provide. We have medical oncology, a state-of-the-art infusion center, and radiation therapy provided by radiation oncologists who are Cancer Institute faculty."
Dr. George adds that the RWJBarnabas Health-Rutgers Cancer Institute partnership offers patients throughout New Jersey access to state-of-the-art clinical trials sponsored by Rutgers Cancer Institute, the NCI, cooperative groups and industry. "We continue to improve access by opening breast trials at different RWJBarnabas health locations, including Saint Barnabas Medical Center,RWJUH Hamilton, Newark Beth Israel Medical Center, RWJUH Somerset and Jersey City Medical Center," she says.
Moyer, who is now 28 years old, continued with radiation therapy through the spring at RWJUH Hamilton, the standard of care following lumpectomy. Continuing with her plans for a career in occupational therapy, she starts graduate school in the fall. "I've always been fascinated by the brain and psychology, so I'm particularly interested in the connection between occupational therapy and mental health and well-being," she says.
She will be followed closely twice a year, including mammogram and MRI imaging. If there is no recurrence, after five years she will transition to once-a-year follow-ups.
"While COVID played a role in delaying Kelly's diagnosis, once we had one, we quickly moved forward with treatment," says Eladoumikdachi. "We were able to enroll her in a clinical trial that was life-saving. She's had an excellent result and should do very well. There is always a chance of cancer coming back, but her risk of recurrence is lower than if she had residual cancer after the chemotherapy." 
"In a way, I was very lucky—first, with the location of my tumor," says Moyer. "It was by my armpit, so I was able to feel it. If it had been deep in my breast, I might not have been able to. Also, I was referred to an excellent physician. So I don't know if it's luck, but it sure feels like it. I've been very fortunate that things worked out the way they did."
Identifying Potential Treatments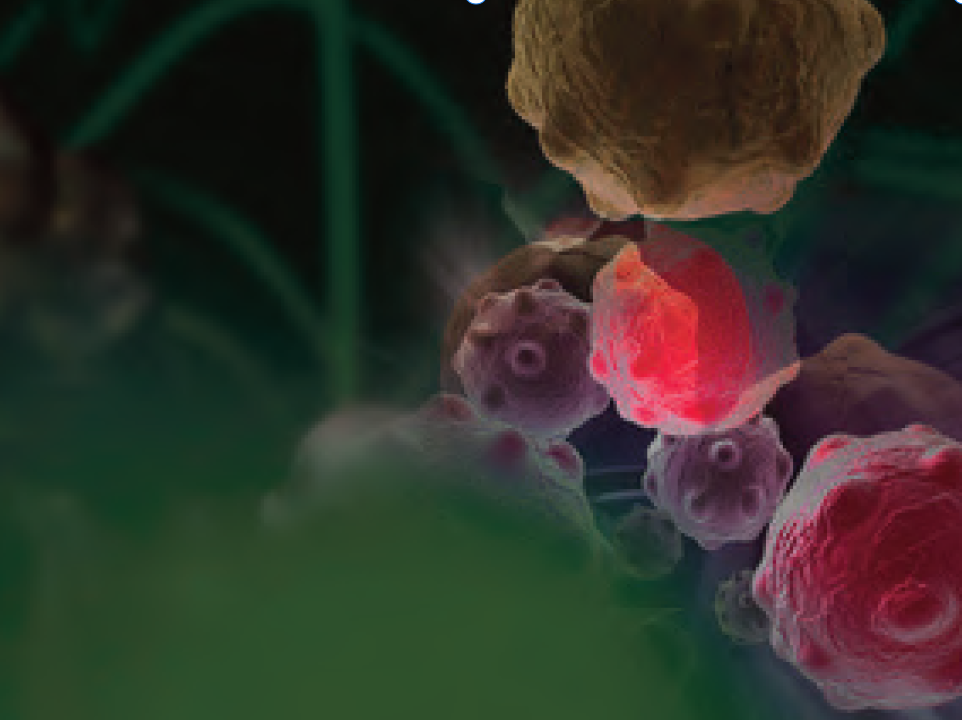 Investigators at Rutgers Cancer Institute of New Jersey and Rutgers New Jersey Medical School recently discovered a phage display-based approach to halt tumor growth that could be used to treat triple-negative breast cancer (TNBC) – the most aggressive type of breast cancer. In TNBC, cancer cells lack three proteins that are seen in most other breast cancer types. In the study, investigators discovered two molecules that can remove tumor-protective effects, thus halting tumor growth, by using a technology known as in vivo phage display. Using mouse models to grow human breast tumors, the team found that one of these molecules targets the vitamin D receptors on the cell surface of non-malignant TAM and can kill it. "This exciting work uncovers a potential functional role of immune cells in combating triple-negative breast cancer; if confirmed in future studies, targeted development of an immune-subversion mechanism based drug lead against this devastating disease might well be within reach," note the authors, which include Fernanda I. Staquicini, PhD, who conducted the work while a resident member of Rutgers Cancer Institute, and assistant professor of radiation oncology in the Division of Cancer Biology; Department of Radiation Oncology at Rutgers NJMS, senior author Wadih Arap, MD, PhD, the director of Rutgers Cancer Institute of New Jersey at University Hospital and chief of the Division of Hematology/Oncology at Rutgers New Jersey Medical School; and Renata Pasqualini, PhD, a resident member of Rutgers Cancer Institute and chief of the Division of Cancer Biology, Department of Radiation Oncology at Rutgers New Jersey Medical School.