Story by Mary Ann Littell  •  Portraits by John O'Boyle         View the complete magazine | Subscribe to Cancer Connection

An unusual presentation with a breast lump had Tina Baines seeking expert opinion as to whether she had cancer. This busy mother of five found answers at Rutgers Cancer Institute of New Jersey. .  
"I first noticed a lump in my breast in 2012," says 45-year-old Tina Baines. "At the time I didn't think anything of it. Of course, hindsight is 20/20. If I could go back in time I'd do things very differently."
The lump was in the lower part of her right breast, visible when she raised her arm. "It was smaller than a marble," she notes. "I thought it was a cyst." 
A It's a rare woman who ignores a lump in her breast. Baines attributes her initial lack of follow up to her busy lifestyle, happy-go-lucky nature, and optimistic outlook. "I'm a positive thinker," she says. "I try to avoid the negative. The lump was painless. It wasn't very large, making it easy to ignore. I have no family history of breast cancer, or any cancer. So I told myself it's probably nothing."
The mother of five grown children, Baines works nights as a learning and development trainer at Amazon's fulfillment center in Robbinsville, New Jersey. She's been divorced for six years. "What began as a part-time job morphed into full-time," she says with a laugh. She thrives on her busy schedule and likes the night work because it gives her quality time with her two kids still remaining at home: one a junior in high school, the other a Kean University student. 
"For years I've been focused on family and work, without much time left over for anything else," says Baines. "With five kids, you tend to put your own needs on the back burner."
Optimism aside, the lump remained in her breast, and in her mind, like a red flag. In November 2014 she went for a Pap test and checkup. Her physician sent her for a mammogram. The results were inconclusive, and she was advised to have another mammogram in six months. "2014 became 2016 in the blink of an eye," she says. "I noticed that the lump was larger. I had another mammogram and the radiologist advised me to have this checked out - get a biopsy."
Once again, life intruded, and the biopsy fell off her radar. Standing braless in front of a mirror several months later, she thought, 'Gosh, this lump is big.' "You didn't have to feel it - you could see it bulging." The sight of it pushed her into action. Going online, she began researching gynecologists in her area. "I realized I now had to be more consistent with my health care, so I sought out the best doctor I could find," she says. That was Gary Brickner, MD, an attending physician at Robert Wood Johnson University Hospital Hamilton, an RWJBarnabas Health facility.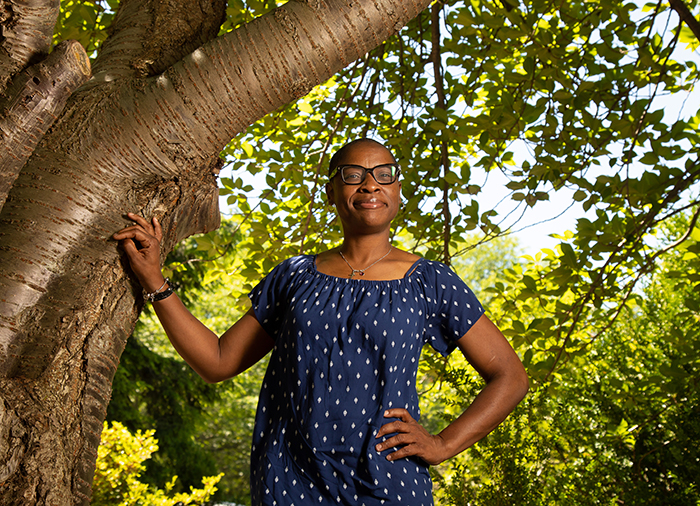 "The best thing I did was locate a very good doctor who is part of an outstanding health system. This gave me access to the best cancer specialists. Everything has gone like clockwork and now I'm in recovery," says Cotina Baines.
Dr. Brickner found cause for concern and told Baines she needed to see a breast cancer specialist without delay. She says, "He told me, 'This lump could be nothing, but we need to find out for sure. I know you're busy, but if you don't take care of yourself, who's going to take care of your kids?'" 
Baines was referred to Maria Kowzun, MD, a surgical oncologist at Rutgers Cancer Institute of New Jersey, who is a member of the Stacy Goldstein Breast Cancer Center. The center specializes in providing multidisciplinary care for routine, rare, and complex breast cancers.  Dr. Kowzun sees patients at Rutgers Cancer Institute in New Brunswick and at RWJUH Hamilton.
Kowzun, who's also an instructor of surgery at Rutgers Robert Wood Johnson Medical School, is a true product of Rutgers Cancer Institute, having completed a fellowship in breast surgery there in 2017. "After my training, I was fortunate to have the opportunity to remain here and practice," she says. Funded by the nonprofit organizations Breast Cancer Alliance and C.R. Bard Foundation, Inc., the breast cancer fellowship prepares the next generation of surgeons in the complexities of breast cancer care.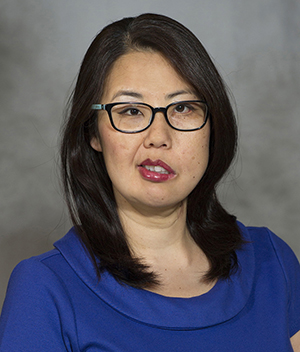 A surgical oncologist, Dr. Maria Kowzun cares for breast cancer patients at both Rutgers Cancer Institute and Robert Wood Johnson University Hospital Hamilton, an RWJBarnabas Health facility.
A native of Hawaii, she's well acquainted with the transformative effects of surgery. She was born with a cystic hygroma - a fluid-filled sac in the neck caused by a blockage in the lymphatic system. The cyst was excised when she was a month old, resulting in left facial palsy - a pronounced drooping. Through the years she's had several operations, including nerve and muscle grafts and eyelid surgery, to restore facial symmetry. "This experience is what motivated me to become a physician and help patients the way I was helped," she says. 
Baines first saw Kowzun in November 2017. "The lump was large and palpable, so we did a biopsy right away and it was negative," says the physician. Not convinced the lump was harmless, Kowzun discussed the findings with the radiologist. "In spite of the biopsy we agreed this lump was suspicious," she says. "The biopsy did not reflect what we saw on the images. We needed to do further tests to find out what was really there."
Physicians use a myriad of tests, procedures, and sophisticated technology to make a diagnosis. But other intangibles often come into play, like investigative skills. Doctors and detectives have quite a lot in common. In this patient's case, Kowzun's powers of deduction made a lifesaving difference. 
"Dr. Kowzun could not say for sure that I did not have breast cancer," says Baines. "She suggested removing the lump and doing another biopsy. I was very frightened, but she was so reassuring. She took the time to explain everything, even drawing pictures. I got home, went on my computer, and did some research. I thought about all my options and decided to proceed." 
The procedure was performed in January 2018 at RWJUH Hamilton. The results of the biopsy were positive: invasive lobular carcinoma and non-invasive ductal carcinoma in situ with two close margins. 
"This presentation was very unusual," observes Kowzun. "Thankfully we took the testing one step further with surgery. While the mass itself was benign, a small cancerous lesion was imbedded in it. This is a great demonstration of how collaboration among specialties results in better care for patients." She notes that needle biopsies, while less invasive, only remove a small sampling of tissue and may not always pick up cancer cells. Thus the process requires surgeons and radiologists to work together to decide if the results make sense.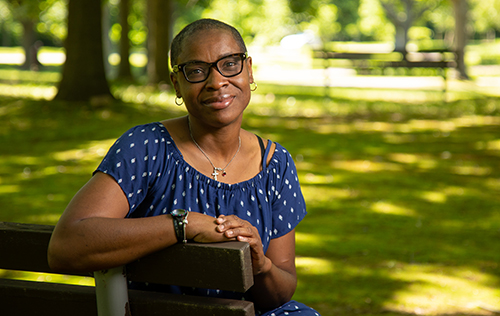 Cotina Baines
Baines met the criteria for genetic counseling and testing (personal history of breast cancer at or below age 45). She also underwent Oncotype DX genetic testing (see below), which analyzes a group of genes that can affect how a cancer is likely to behave. "As a National Cancer Institute-designated center, we are able to offer our patients the latest advances in testing," says Kowzun. "This test predicts the risk of recurrence and also helps us determine whether a patient will benefit from chemotherapy." Based on these results, Baines would not need chemotherapy.
Additional surgery was performed in March to re-excise the margins (removing the tissue surrounding the mass) in an effort to confirm there were no remaining cancer cells. A few lymph nodes were removed for examination, and a tissue marker was placed in the surgical site to allow for the delivery of highly focused radiation therapy. Explains Kowzun: "This 3D device is made of a biosynthetic material that is eventually resorbed by the body, with the exception of six titanium marker clips that remain to facilitate identification of the cavity for radiation therapy."
Baines' cancer was found to be stage 1, highly treatable but requiring immediate treatment. She met with Rutgers Cancer Institute physicians to plan her next steps: whole breast radiation with boost doses to the surgical cavity. She will also have tamoxifen oral therapy for ten years to reduce the risk of the cancer recurring.
Throughout all stages of treatment, Baines has tried to stay positive. "Every step of the way I would say, 'Ok, what's the next step? I can handle it.' I was very strong until we had the discussions about chemotherapy. That's when it hit me. I have cancer. This is not a bad dream; it's for real. It was the first time I cried." 
But she's not one to cry for long. Now navigating through radiation therapy, she's taking life one day at a time. "I'm soldiering through - hoping not to miss too much work. My employers have been so supportive. And I'm still there for my kids. They're young adults now, but they still need their mom." 
Fortunately for Baines, her specialist had her antennae up. "There are never any guarantees, but stage 1 is obviously the best prognosis," says Kowzun. "With radiation and hormonal therapy, the survival rate for patients like Tina Baines is very high. While it can vary based on the specifics, for many patients this is a curable cancer."   
"Yes, I had my head in the sand," admits Baines. "But the best thing I did was locate a very good doctor who is part of an outstanding health system. This gave me access to the best cancer specialists. From the moment of my diagnosis everything has gone like clockwork and now I'm in recovery."
She adds: "What I'd tell every woman is this: If you have something that looks like it doesn't belong there, don't leave it. Even if it seems like just a pimple – get it checked out. Hopefully it's nothing. But if it's not, get your game plan going." ■ 
TAILORing Treatment

A study published in June in the New England Journal of Medicine exploring Oncotype DX genetic testing suggests that chemotherapy may be avoided for more than two-thirds of women with the most common type of breast cancer. While not part of the specific clinical trial that was the focus of this study, Cotina Baines underwent Onctoype DX testing.
Findings from the groundbreaking Trial Assigning Individualized Options for Treatment (Rx), or TAILORx trial, show no benefit from chemotherapy for 70 percent of women with the most common type of breast cancer. The study found that for women with hormone receptor (HR)-positive, HER2-negative, axillary lymph node­–negative breast cancer, treatment with chemotherapy and hormone therapy after surgery is not more beneficial than treatment with hormone therapy alone.
Rutgers Cancer Institute of New Jersey Chief Medical Officer Deborah Toppmeyer, MD, who is the director of both the Stacy Goldstein Breast Cancer Center and LIFE Center at Rutgers Cancer Institute and a professor of medicine at Rutgers Robert Wood Johnson Medical School, was among the study collaborators.
The new data, released at the American Society of Clinical Oncology (ASCO) annual meeting in Chicago in June, will help inform treatment decisions for many women with early-stage breast cancer.
The trial was supported by the National Cancer Institute (NCI), part of the National Institutes of Health, and designed and led by the ECOG-ACRIN Cancer Research Group.
Portions of this text were originally published by the NCI.