Story by Mary Ann Littell  •  Portraits by John O'Boyle      View the complete magazine | Subscribe to Cancer Connection
At 85 Kelly Marx stared down liver cancer compounded by some complex cardiac issues that required surgical finesse. He found his medical 'dreamteam' at Rutgers Cancer Institute and Saint Barnabas Medical Center.
Kelly Marx is an ironman. At the age of 85, he has stared down cancer, and won. He credits his recovery to his own medical 'dream team,' highly skilled surgeons from Rutgers Cancer Institute of New Jersey and Saint Barnabas Medical Center, an RWJBarnabas Health facility. They devised a customized treatment plan, maneuvering around complex cardiac issues to cure him.
Looking at Marx, slim, elegant, and handsome, you'd never guess his age. "I feel young and I have a lot of energy," he says. He had a successful career running his own business, Clinton Milk Co., located in Newark, New Jersey, not far from his home in Short Hills. The company processed milk from Garden State dairy farms and distributed it to stores, restaurants, schools, and hospitals throughout the state.
In true ironman mode, Marx worked well beyond the age most people retire. A few years ago he sold the business and set out to enjoy retirement with his wife Nancy. "I no longer had to stress about getting the milk trucks out for deliveries in snowstorms," he says. "I used to worry every time it snowed."
Retirement also gave Marx more time to support a cause that's dear to him: the nonprofit organization Cerebral Palsy of North Jersey.
Marx and his wife are a close, fun couple. They banter back and forth and laugh a lot, in spite of what they've been through. Both enjoy staying active: he works out daily on a treadmill, while she plays tennis, usually followed by a spin class. They share a love of travel too, spending part of every winter in their "happy place," St. Bart's in the Caribbean. That trip was put on hold this past winter.
Kelly Marx
In August 2018 Marx saw a gastroenterologist for a minor problem he'd been having with irregularity. "I had an MRI and the radiologist found a little 'blip' on my liver," he says. "That's what started this ball rolling." He had a liver biopsy and was shocked to learn he had cancer.
"I'd had no discomfort. I felt terrific," Marx notes. "My doctor said, 'In six months to a year, you probably would've had a lot of pain.'"
An estimated 42,000 people in the United States are expected to be diagnosed with liver cancer this year, according to the American Cancer Society. The incidence is on the rise as more Americans are diagnosed with conditions affecting the liver, including hepatitis C and fatty liver disease. This cancer is frequently a result of excessive alcohol consumption causing cirrhosis or other liver damage. However, Marx has never been a drinker. "I drank milk all my life!" he quips.
He was referred to surgical oncologist Russell Langan, MD, at Saint Barnabas Medical Center in Livingston. Dr. Langan is a member of Rutgers Cancer Institute's Gastrointestinal Oncology Program. Through the partnership between Rutgers Cancer Institute and RWJBarnabas Health, he sees patients in Livingston and New Brunswick.
Marx and Langan discovered they share an alma mater, Cornell University. "Dr. Langan and I went off topic, talking about our college experiences," says Marx. "It created a nice bond. I knew right away I was in excellent hands. He explained everything clearly, even drawing a diagram. He said removing the cancer offered my best chance for a full recovery. I wanted to do whatever I could to beat this."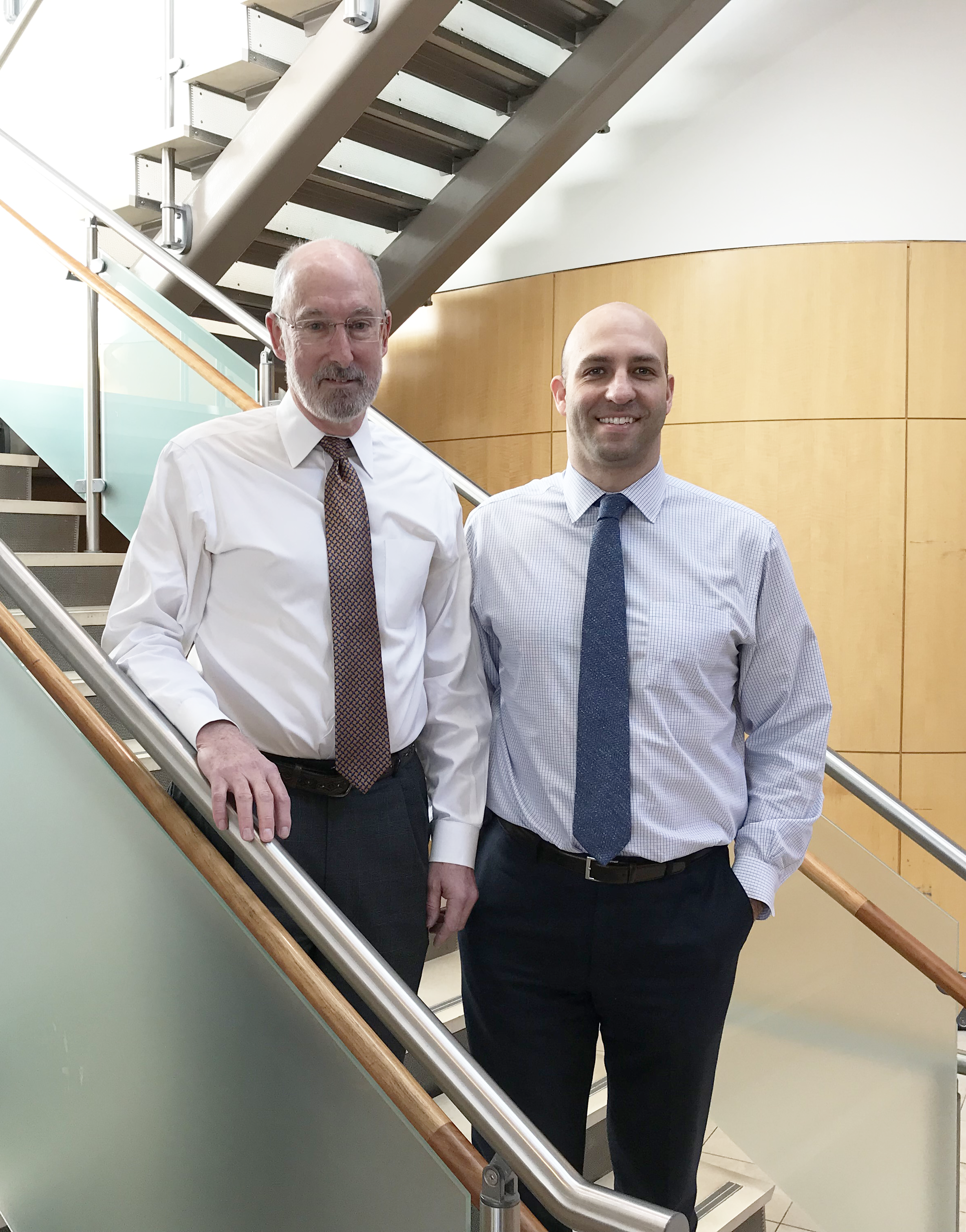 "I knew right away I was in excellent hands," says Kelly Marx of his surgical 'dream team:' H. Richard Alexander, Jr., MD, FACS (left) and Russell Langan, MD (right).
While there was nothing particularly unusual about Marx's cancer, a new health issue had popped up, making his case very complex. His doctor had been monitoring his heart, and new tests showed he had developed coronary artery disease: plaque blocking some of his arteries. Operating on such a patient poses many risks. So before Marx could have his tumor removed, he would need treatment for his cardiovascular problems and sought out the team at Saint Barnabas Medical Center.
In a perfect world, cancer surgery is performed immediately, because time is of the essence when you're treating this disease. But in this case, that wasn't possible. Langan began thinking of strategies that would allow Marx to get the treatment he needed for his cardiac condition prior to having the cancer surgery. Additionally, Marx would need about a month of recovery time following the cardiac surgery. But with a large tumor in his liver, that delay could be dangerous, allowing his cancer to spread.
There was also the age factor to consider. Advancing age is the most powerful risk factor for developing cancer, according to the National Cancer Institute (NCI). Americans 65 years of age and older account for more than half of new cancer cases and 70 percent of cancer deaths.
"As an NCI-designated Comprehensive Cancer Center, we try to personalize care for all of our patients, many in their 70s and 80s," says Langan, who is also an assistant professor of surgery at Rutgers Robert Wood Johnson Medical School. "That's what we did here - developed a customized, three-step treatment plan that fit well for his age and addressed all his health issues."
The first step in Langan's plan was transarterial chemoembolization, or TACE, a bridging therapy commonly used in those awaiting liver transplantation. TACE slows a tumor's growth while the patient waits for a liver to become available. The second step, cardiac revascularization, would clear the blocked arteries. Once he recuperated, Marx would have the third step: surgery to remove the tumor.
Pondering his options, Marx sought a second opinion from H. Richard Alexander, Jr., MD, chief surgical officer and division chief of surgical oncology. After many years guiding cancer research at the National Institutes of Health, Dr. Alexander had been recruited to Rutgers Cancer Institute to share his wealth of experience in treating complex cancers.
"Meeting Mr. Marx, I was impressed by how active and vital he is," notes Alexander, who is also a professor of surgery at Rutgers Robert Wood Johnson Medical School. "I didn't think we should compromise our approach based on his cardiac condition."
Using bridging therapies was a 'think outside the box' approach that would suit Marx's situation well. "Bridging therapies are designed to impact the growth of the tumor: not necessarily obliterate it completely, but keep it from progressing," Alexander adds.  "The data are very clear that bridging can be effective in slowing a tumor's growth for a period of up to four months. This would give Mr. Marx the opportunity to have his cardiac issue addressed, then move on to surgery when it was safe."
With two fellowship-trained surgeons guiding his care, Marx was ready to proceed. In early October he underwent TACE, in which a catheter is used to deliver chemotherapy right to the tumor. Blood vessels feeding the tumor are embolized, blocking blood flow.
"TACE did exactly what it was supposed to do, buying time so we could move on to the rest of his treatment," says Langan.
A few weeks later, Marx had cardiac revascularization. Three stents were placed in his arteries. He'd be taking blood thinners for a month, so no surgery could be performed until he was off them.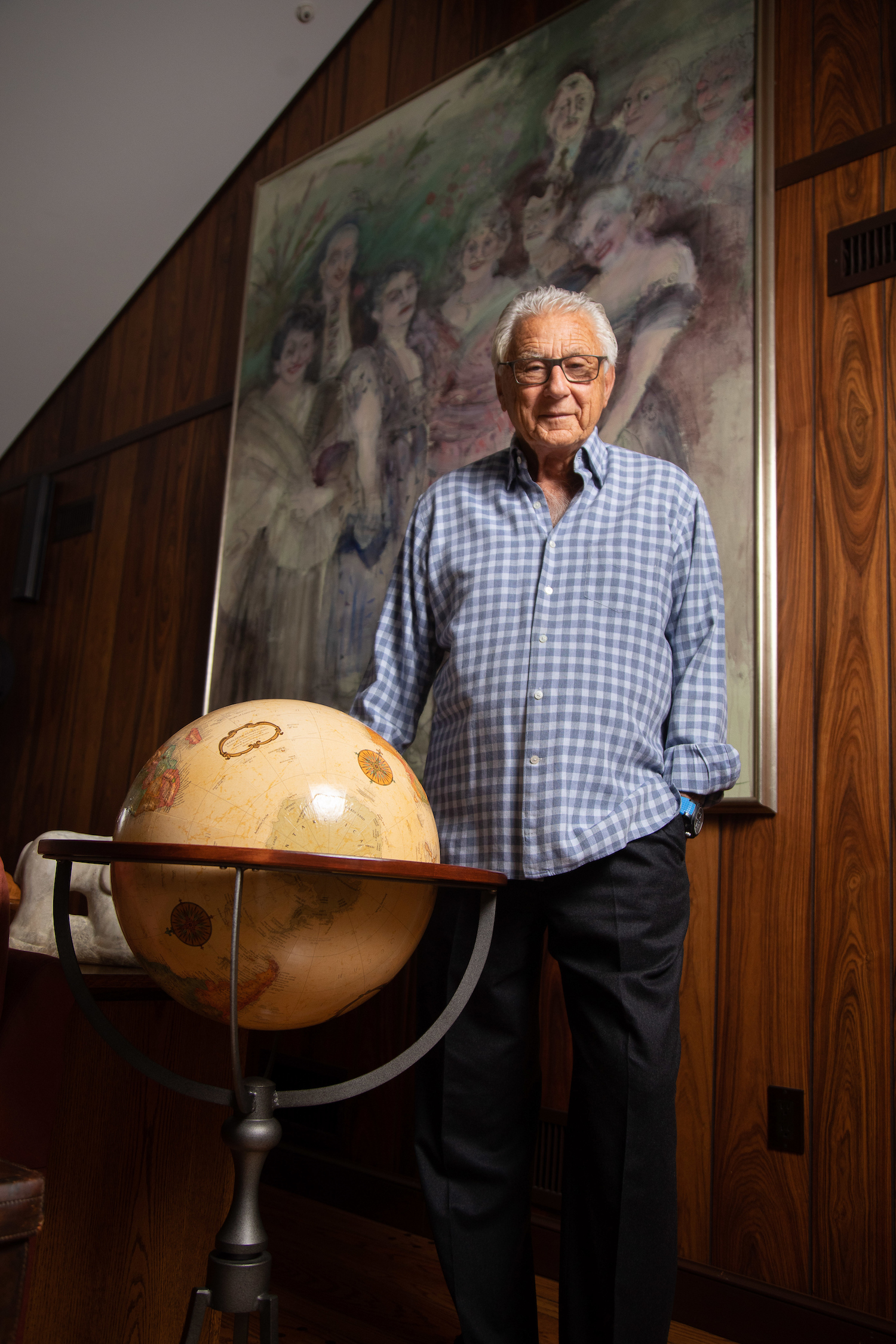 "With all that he has faced, he's come through like a champ—as if he'd had nothing more than a shot in the arm. Ironman, Miracle Man—whatever you want to call him, he's ver strong," says Nancy Marx of her husband, Kelly Marx (above).
The Marx family celebrated Thanksgiving with family and friends. A week later, Marx's tumor was removed using a highly specialized procedure called parenchymal sparing surgery. Langan performed the procedure at Saint Barnabas Medical Center, with Alexander assisting.
"A liver cancer surgeon's two goals are somewhat in conflict: removing the tumor cleanly, with a margin of healthy tissue around the tumor; while sparing as much of the healthy liver as possible," says Alexander. "Parenchymal sparing surgery accomplishes both." Because of the high level of training and skill required, this procedure is only offered at specialized academic centers offering cutting-edge therapies, such as ours."
Langan explains that the traditional surgical approach is to excise the section of the liver that contains the tumor. This often results in removing large portions of the liver, increasing the risk of complications.
"While the liver is able to regenerate, the more you remove, the greater the risk to the patient," says Langan. "Using more modern techniques, the liver is approached three-dimensionally. With ultrasound we precisely map out the tumor's location, as well as the location of major blood vessels and bile ducts. We essentially split the liver into three planes to remove the tumor. In Mr. Marx's case, we got all the tumor and a clear margin, with only removing 20 to 30 percent of his liver."
Marx came through the surgery well. Discharged after eight days in the hospital, he recovered quickly at home. Soon he was back on the treadmill. The couple had taken a wait-and-see approach to travel, but they were able to go to St. Bart's in March.
Marx was pleased that he could have all his surgery at Saint Barnabas, enabling him to get state-of-the-art care close to home. "We're fortunate to have such great doctors right here in New Jersey," he says. "The way they work together as a team is amazing."
"With all my husband has faced, he's come through like a champ - as if he'd had nothing more than a shot in the arm," adds Nancy Marx. "Ironman, Miracle Man - whatever you want to call him, he's very strong."
She adds: "When Dr. Langan used the words 'cancer free,' that was the most wonderful thing we could hear."
"He came through very well," says Langan. "He'll be monitored for the next five years. If anything recurs, we'll come up with a plan that fits his recurrence. There are a number of different therapies in the armamentarium for liver cancer."
"This care required a multidisciplinary team including liver surgeons, cardiologists, interventional radiologists, anesthesiologists and other specialists, working in concert to provide the best outcomes," notes Alexander. "The success of this approach relies on effective communication and coordination of care between multiple specialists across different hospital campuses. This added value is something we are able to offer all our patients."