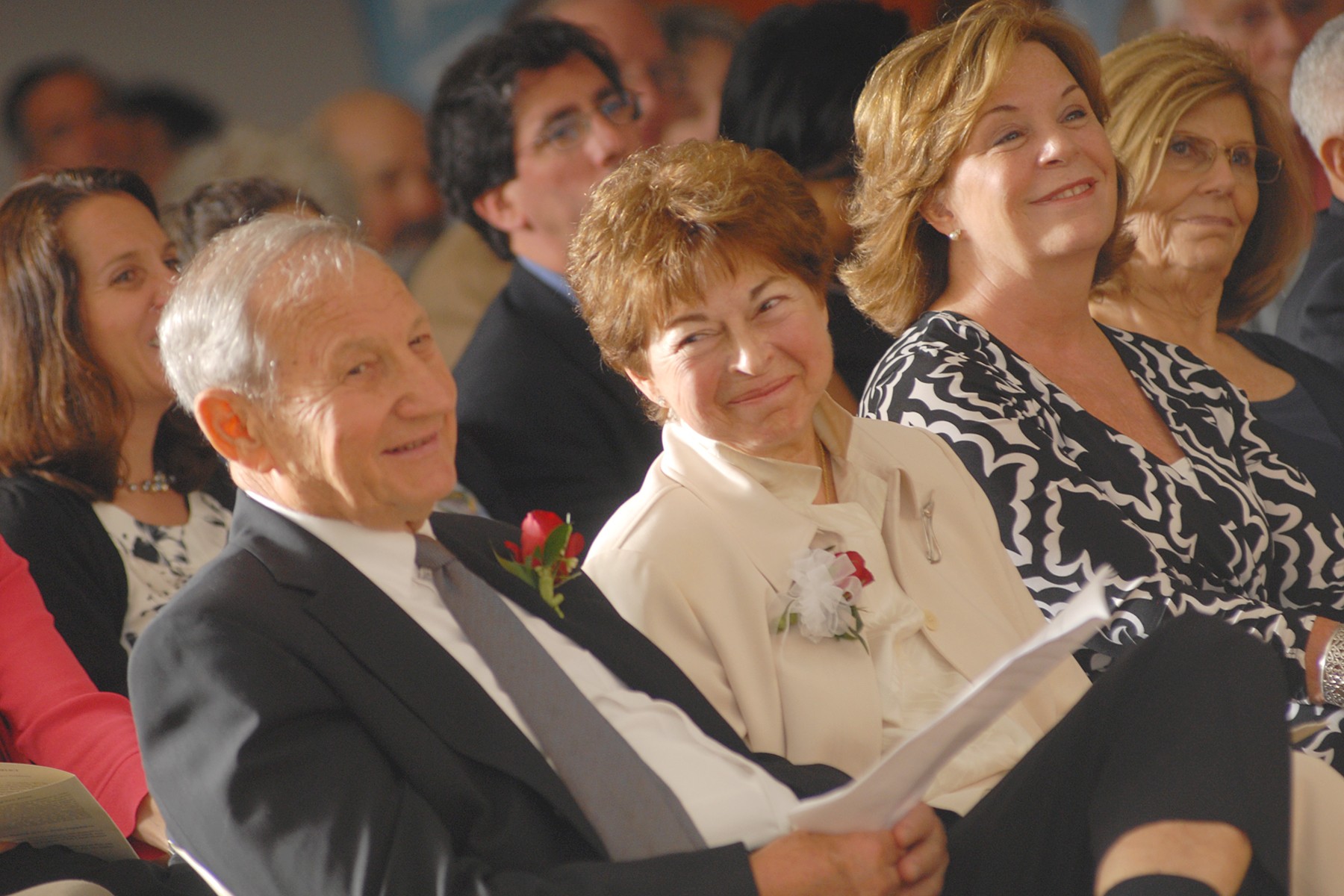 New Jersey resident Sue Goldstein (center) warmly looks over at her husband Ed during a special reception announcing the naming of the "Stacy Goldstein Breast Cancer Center" at The Rutgers Cancer Institute of New Jersey. The couple has given a $5 million gift to the Rutgers Cancer Institute to support research and treatment at the facility in honor of their daughter Stacy, who died of breast cancer.
Credit: Linz Photography
Recognizing a great need to arm scientists with the tools they need to unlock the mysteries of cancer, a Warren Township couple active in supporting cancer programs after having lost two daughters to the disease is contributing $5 million to support research and treatment at Rutgers Cancer Institute of New Jersey. In honor of the gift, Rutgers Cancer Institute has named its breast center the "Stacy Goldstein Breast Cancer Center" after one of those daughters.
Ed and Sue Goldstein are well known as founders of The Valerie Fund, named for their nine-year-old daughter who died in 1976 from Ewing's sarcoma, a form of bone cancer. The Maplewood-based non-profit organization provides resources to create pediatric cancer and blood disorder programs in hospitals throughout New Jersey. The couple established The Valerie Fund as a way to help other families cope and to support pediatric cancer treatment in the state.
The Goldsteins' mission only grew stronger, when in 2001 they lost their 37-year old daughter Stacy to breast cancer, which according to the American Cancer Society, has impacted approximately 279,000 American women this year.
This is not the couple's first connection with the Rutgers Cancer Institute. Ed and Sue Goldstein have also funded the Stacy Goldstein Breast Oncology Fellowship Award, which enabled two medical oncologists at Rutgers Cancer Institute to launch their young careers through the biological study of breast cancer. A portion of this latest gift provides continued support of the fellowship.
Ed Goldstein notes the decision to support the Rutgers Cancer Institute in a larger fashion was a simple one, "We have seen the tremendous advances made in breast cancer research by the two doctors funded through the fellowship grants, but we recognize there is still a great need in this area. By providing these additional resources, we hope to help Rutgers Cancer Institute advance cancer research in a way that will help bring an end to this terrible disease. And by having Stacy's name on the wall of the breast center, Sue and I are hopeful that the women, men and their families who come through here will realize they are not alone in their fight."