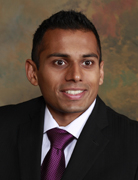 Rahul R. Parikh, MD
Medical Director, Laurie Proton Therapy Center
Radiation Oncologist
As a Board-certified Radiation Oncologist, I am an Associate Professor in the Department of Radiation Oncology at the Rutgers Cancer Institute of New Jersey and Rutgers Robert Wood Johnson Medical School (RWJMS). I graduated Magna Cum Laude from an accelerated physician-scientist (BS/MD) program from Rensselaer Polytechnic Institute. I then went on to receive my medical degree from Albany Medical College in Albany, New York where I graduated with a distinction in research. Soon after, I returned to my home state of New Jersey and went on to complete my internship in Internal Medicine at Robert Wood Johnson Medical School. I continued my residency in Radiation Oncology at Robert Wood Johnson Medical School / Cancer Institute of New Jersey where I held the title of Chief Resident Physician. 
Prior to joining the faculty at Rutgers Cancer Institute of New Jersey, I served as the Director of Proton Therapy at the Icahn School of Medicine at Mount Sinai in New York City, where I specialized in the treatment of Lymphoma / Hematologic Malignancies and Adult and Pediatric Brain tumors.
I have had the opportunity to conduct several clinical trials and present and co-author numerous clinical and translational papers in the oncology literature. My clinical and academic interests are to integrate patient reported outcomes to improve cancer care delivery and the health-related quality of life of cancer patients. I strive to optimize the use of intensity-modulated radiation therapy (IMRT), stereotactic radiosurgery (SRS), stereotactic body radiotherapy (SBRT), as well as proton beam therapy (PBT) in the management of my cancer patients.
Currently, I serve as Director of Proton Beam Therapy at the Laurie Proton Therapy Center with Robert Wood Johnson University Hospital in partnership with the Rutgers Cancer Institute of New Jersey. With this position, I have helped to integrate the use of proton therapy into the multidisciplinary oncology treatment programs within the cancer center and across the Robert Wood Johnson Barnabas Health System. At Rutgers Cancer Institute of New Jersey, my primary research and clinical focus is in pediatric cancers, lymphoma / hematologic malignancies, genitourinary malignancies and several disease sites using proton beam therapy (including pediatrics, skull base tumors, brain tumors-benign and malignant). I have a strong research interest in the outcomes of patients treated with advanced radiotherapy modalities. I am also the Fellowship Director for the Precision Radiation Oncology training program, aimed to provide specialty training for international radiation oncology graduates.
In addition to my clinical and academic practice at Rutgers Cancer Institute of New Jersey, I hold several national and international leadership roles within committees in ASTRO (American Society for Therapeutic Radiation Oncology), steering committee member of the International Lymphoma Radiation Oncology Group (ILROG), and on several committees of the Particle Therapy Co-Operative Group (PTCOG), American Society for Clinical Oncology (ASCO), and American Radium Society (ARS).  I am also an active member of several co-operative groups including: Radiation Therapy Oncology Group (RTOG), Proton Collaborative Group (PCG), and Children's Oncology Group (COG). I also serve as an active peer reviewer and on the editorial board for several oncology focused journals, including the Journal of Clinical Oncology and International Journal of Radiation Oncology, Biology, and Physics. 
The multidisciplinary teams that are found at programs within the National Cancer Institute-designated Comprehensive Cancer Center allow for the most advanced care for our cancer patients.
Clinical Expertise
Pediatric cancers, Hodgkin Lymphoma, Non-Hodgkin Lymphoma, Myeloma, Leukemia, Prostate cancer, Bladder Cancer, Testicular Cancer, Intensity-modulated Radiation Therapy (IMRT), Tomotherapy, Image-guided Radiation Therapy (IGRT), Proton Beam Therapy (PBT), Stereotactic Radiosurgery (SRS), Stereotactic Body Radiotherapy (SBRT).
Honors
Moderator, Lymphoma Scientific Session, ASTRO (American Society for Therapeutic Radiation Oncology), September 2019
Grant Award PI: Precision Radiation Oncology Fellowship for International Fellows, July 2018
American Board of Radiology (ABR), written and oral board examiner, 2018 - current
Chair, Cancer Committee of Robert Wood Johnson University Hospital/Rutgers-CINJ, 2016 - current
Rutgers Robert Wood Johnson Medical School, Admissions Committee, Appointed Membership, 2016 - current
Moderator, Lymphoma Scientific Session, ASTRO (American Society for Therapeutic Radiation Oncology), October 2015
Clinical Research Award Travel Grant, ASTRO Travel Grant to 57th Annual Meeting, San Antonio, TX. October 2015
Moderator, Lymphoma Session, ARS (American Radium Society), May 2015
Best Publication by Resident In-Training, June 2013
UMDNJ/RWJMS Dean's Research Award, May 2011
National Roentgen Resident/Fellow Research Award, June 2010
1st Place Award for Commission on Cancer (COC), 2009 Cancer Paper Competition, American College of Surgeons, May 2009
Best Publication by Resident In-Training, UMDNJ/RWJMS Dean's Research Award, May 2009
Resident Appreciation Award, Arnold P. Gold Humanism in Medicine Foundation, May 2009
Travel Grant, American Radium Society, Annual Meeting, Vancouver, CA, April 2009