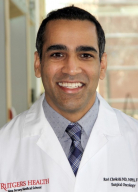 Ravi J. Chokshi, MD, MPH, FACS
Surgical Oncologist
University Hospital Newark
Dr. Chokshi is the Chief of Surgical Oncology and is an Associate Professor of Surgery at Rutgers New Jersey Medical School. He is committed to providing the highest level of care for his patients with a wide range of tumors focusing on gastrointestinal cancers (pancreas, liver, esophagus, stomach) and peritoneal malignancies.  He combines his surgical oncology expertise with state-of-the-art cancer care, including robotic surgery, to offer treatment to patients in need of complex cancer care and those considered "untreatable" at other institutions.
Dr. Chokshi completed his General Surgery training at Seton Hall's program.  He went on to complete two additional fellowships; the first in Minimally Invasive Surgical Oncology at Geisinger Medical Center and a second in Surgical Oncology at James Cancer Hospital at The Ohio State University.
Dr. Chokshi is a fellow of the American College of Surgeons, a member of the Americas Hepato-Pancreato-Biliary Association, the Association of Academic Surgery, the Society of American Gastrointestinal Endoscopic Surgeons, and the Society of Surgical Oncology. His research focuses on biliary structures with underlying malignancies, cancer care disparities, and cost-effectiveness of cancer treatment. He is also involved with Clinical/Basic science research and has been part of a group that has obtained NIH and Rutgers Foundation grant funding for basic science research.
Clinical Expertise
Surgery of the liver, pancreas and biliary system; gastro-intestinal malignancies; peritoneal malignancies; endocrine