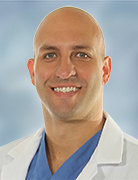 Russell C. Langan, MD
Surgical Oncologist
Chief of Surgical Oncology & Hepatopancreatobiliary Surgery, Cooperman Barnabas Medical Center
I joined the Rutgers Cancer Institute of New Jersey in a dual appointment with RWJBarnabas Health and am also an Assistant Professor of Surgery within the Rutgers Robert Wood Johnson Medical School. As a surgical oncologist whose practice primarily focuses on the management for tumors of the pancreas, liver, bile ducts, gallbladder and intestinal tract, I provide hope to my patients where many might find it lost.  I strive to provide the highest level of expertise and precision with unwavering compassion, and optimism  for my patients and their families.   
Prior to joining Rutgers Cancer Institute, I completed my general surgery residency training at Georgetown University Hospital followed by fellowships in tumor immunotherapy and surgical oncology within the Surgery Branch under Dr. Steven Rosenberg at the National Cancer Institute, National Institutes of Health. Most recently, I completed a fellowship in complex general surgical oncology at Memorial Sloan Kettering Cancer Center where I received specialized training in the surgical management of hepatobiliary, pancreas and intestinal cancers. 
As a member of the Gastrointestinal/Hepatobiliary Oncology Program at Rutgers Cancer Institute, I work in close collaboration with members of the multidisciplinary disease management teams including medical oncologists, radiation oncologists, gastroenterologists, radiologists, pathologists, genetic counselors and dietitians to ensure my patients receive the highest level of evidence-based care including clinical trials. 
I see patients at Rutgers Cancer Institute in New Brunswick, Jersey City Medical Center, and Cooperman Barnabas Medical Center in Livingston where I plan on expanding access for patients to clinical trials .  As such, I am an appointed member of the Institutional Review Board (IRB) at Cooperman Barnabas Medical Center and am the co-chair for research at that institution. I also serve as the Chief of Surgical Oncology & Hepatopancreatobiliary Surgery. I am passionate about advancing the field of surgical oncology by improving patient clinical outcomes and survival rates through the use of novel peri-operative multi-disciplinary treatment strategies. 
I have authored more than 30 peer-reviewed articles and seven book chapters dedicated to surgical oncology.  Within this field, I have lectured and presented nationally and while at the NCII was an associate investigator on numerous clinical trials.  I am a member of the American College of Surgeons, Society of Surgical Oncology, American Hepatopancreatobiliary Association, the Association for Academic Surgery and Society for Surgery of the Alimentary Tract.  I have received awards from the National Institutes of Health, Health and Human Services, Georgetown University Hospital, the District of Columbia Chapter of the American College of Surgeons, the Society of Black Academic Surgeons, the Marquis Who's Who award in 2015 and the Top Doctor Award for surgical oncology in New York, New York for 2016.
Dr. Langan sees patients at Rutgers Cancer Institute, Cooperman Barnabas Medical Center, and Jersey City Medical Center.
Clinical Expertise
Pancreatic Cancer and Cysts; Liver Cancer; Metastatic Colorectal Cancer to the Liver; Gallbladder & Bile Duct Cancers; Gastrointestinal Neuroendocrine Tumors; Gastric Cancer; Minimally Invasive / Robotic Surgery and clinical trials