Dr. Eileen White is one of 25 scientists from around the world to join the 2021 class of fellows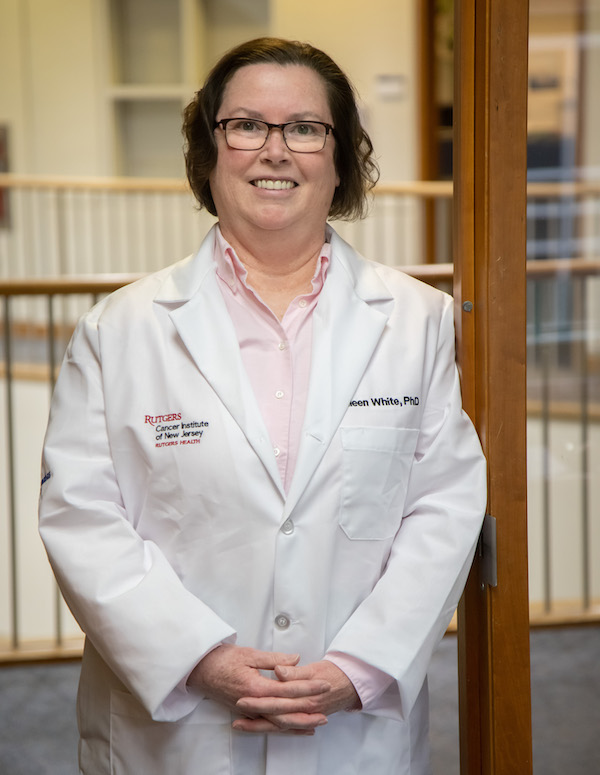 New Brunswick, N.J., March 29, 2021 – Rutgers Cancer Institute of New Jersey Deputy Director, Chief Scientific Officer, and Associate Director for Basic Research Eileen White, PhD, has been elected to the 2021 class of Fellows of the American Association for Cancer Research (AACR) Academy. This prestigious accolade is offered only to individuals whose work has had a significant and enduring impact on cancer research. 
The mission of the AACR Academy is to recognize and honor distinguished scientists whose scientific contributions have propelled significant innovation and progress against cancer. Fellows of the AACR Academy serve as a global brain trust in the cancer field, helping to advance the mission of the AACR to prevent and cure all cancers through research, education, communication, collaboration, science policy and advocacy, and funding for cancer research.
Dr. White, an expert in cancer metabolism, has made numerous landmark contributions to her field. The White Laboratory at Rutgers Cancer Institute focuses on translational research modulating the apoptosis pathway for cancer therapy and on the role of cellular metabolism in cancer progression and treatment. White discovered and identified critical metabolic pathways through which cancer cells survive, reproduce, and evade immune responses, paving new ways to inhibit tumor growth and improve anti-cancer immune responses.
"As New Jersey's only National Cancer Institute-designated Comprehensive Cancer Center, Rutgers Cancer Institute is distinguished by the cutting-edge research put forth by our team – including the groundbreaking discoveries led by Dr. Eileen White. By discovering and analyzing the inner mechanisms of tumor cell growth, survival, and proliferation, and in turn learning how to manipulate these mechanisms, Dr. White has significantly contributed to the collective body of knowledge that is improving current solid tumor therapies and laying the groundwork for novel therapies to come," shares Rutgers Cancer Institute Director Steven K. Libutti, MD, FACS, senior vice president, oncology services, RWJBarnabas Health. 
"I deeply admire the collective efforts of the AACR Academy to improve cancer research that has fundamentally altered the ways in which we study, prevent, diagnose and treat all cancers. I am delighted to now be part of this effort and I am humbled to be recognized by my peers in this way," notes White, who is also a distinguished professor of molecular biology and biochemistry in the School of Arts and Sciences at Rutgers University and the co-director of the Cancer Immunology and Metabolism Center of Excellence at Rutgers Cancer Institute.  
White completed her undergraduate work at Rensselaer Polytechnic Institute and a PhD in Biology from SUNY Stony Brook. She was a Damon Runyon Postdoctoral fellow in the laboratory of Dr. Bruce Stillman at Cold Spring Harbor Laboratory. She served on the Board of Scientific Counselors of the National Cancer Institute and the Board of Directors of the American Association for Cancer Research. White has received a MERIT Award from the National Cancer Institute, an investigatorship from the Howard Hughes Medical Institute, and the Red Smith Award from the Damon Runyon Cancer Research Foundation. 
She is also an elected Fellow of the American Society of Microbiology and of the American Association for the Advancement of Science. White has served as a member of the Scientific Review Boards for the Starr Cancer Consortium and the Cancer Prevention Research Institute of Texas, and currently serves on the Board of Scientific Advisors for the National Cancer Institute.
About Rutgers Cancer Institute of New Jersey
As New Jersey's only National Cancer Institute-designated Comprehensive Cancer Center, Rutgers Cancer Institute, together with RWJBarnabas Health, offers the most advanced cancer treatment options including bone marrow transplantation, proton therapy, CAR T-cell therapy and complex surgical procedures.  Along with clinical trials and novel therapeutics such as precision medicine and immunotherapy – many of which are not widely available – patients have access to these cutting-edge therapies at Rutgers Cancer Institute of New Jersey in New Brunswick, Rutgers Cancer Institute of New Jersey at University Hospital in Newark, as well as through RWJBarnabas Health facilities. To make a tax-deductible gift to support the Cancer Institute of New Jersey, call 848-932-8013 or visit www.cinj.org/giving.
###
For journalists – contact:
Krista Didzbalis 
Media Relations Assistant 
908-812-6114
krista.didzbalis@rutgers.edu
 For patient appointments/inquiries – contact:
844-CANCERNJ (844-226-2376)