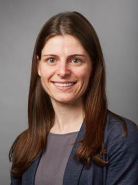 Sarah Weiss, MD
Director, Melanoma/Cutaneous Oncology Program
Medical Oncologist
Associate Professor of Medicine, Division of Medical Oncology
As a native New Jerseyan, it is a privilege to join the faculty of the Rutgers Cancer Institute as the Director of the Melanoma/Cutaneous Oncology Program. I am a medical oncologist with clinical expertise in the treatment of advanced melanoma and other cutaneous malignancies (merkel cell, basal cell, and squamous cell carcinomas). My primary research interests are focused on developing innovative immunotherapeutic strategies to treat advanced skin cancers, particularly for those patients who have not responded to standard of care therapies. I have a passion for clinical research and am committed to providing the most personalized and up-to-date treatment for my patients, particularly in the form of clinical trials. Through this research, I aim to better understand why some patients' tumors are resistant to certain therapies, and how we can overcome this resistance.
Prior to joining Rutgers, I was on the faculty at Yale Cancer Center where I treated patients with advanced melanoma and other skin cancers and conducted clinical and translational research. I received my undergraduate degree from the Rutgers College Honors Program at Rutgers University and my medical degree from the Albert Einstein College of Medicine, where I graduated with distinction in Oncology Research. I then completed my Internal Medicine residency at Montefiore Medical Center and a fellowship in Hematology and Medical Oncology at New York University School of Medicine, where I stayed on for an additional year of training to focus on melanoma translational research.
At Rutgers Cancer Institute of New Jersey, New Jersey's only NCI-designated cancer center, I have the opportunity to work collaboratively with my colleagues in the Melanoma and Soft Tissue Oncology Program to provide comprehensive, coordinated, and multidisciplinary care for all of our skin cancer patients and to offer the opportunity for participation in clinical trials whenever possible.
Clinical Expertise
Melanoma, merkel cell carcinoma, advanced skin cancers, immunotherapy, targeted therapy, clinical trials