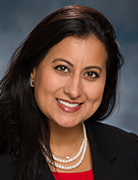 Shicha Kumar, MD, FACS
I am a surgical oncologist dedicated to the care of patients with breast cancer.  A diagnosis of breast cancer can be one of the scariest times in a patient's life.  As a fellowship-trained breast surgeon at Rutgers Cancer Institute of New Jersey, my goal is to help patients understand the options in their cancer care and choose a path that fits them and their family.  Patient education and shared decision making are critical to me in my practice and I spend the necessary amount of time to make sure my patients are comfortable with their plan. 
After completing my breast-specific training at Memorial Sloan-Kettering Cancer Center in NYC, I moved upstate to Buffalo, New York.  I established a busy clinical practice at Roswell Park Cancer Institute, where I helped build and lead the breast program, acting as its Clinical Chief my last few years there.  I also directed the breast surgery training programs at Roswell Park Cancer Institute, to ensure tomorrow's surgeons are well-trained to deliver compassionate and evidence-based cancer care.
As a New Jersey native, I am excited to be back and especially excited to be a part of a comprehensive and cutting-edge team at Rutgers Cancer Institute of New Jersey.  I believe the management of breast cancer should not only be individualized and personalized, but also needs the expertise of a multidisciplinary team, including medical, surgical and radiation oncologists, radiologists, pathologists, genetics, nursing, social workers and many others, who specifically focus on this disease.  Here at Rutgers Cancer Institute, the team-based approach is emphasized as is patient centered care, providing patients with the highest quality and most advanced treatment options in a compassionate environment. 
In addition to taking care of my patients, I also engage in clinical research, which I think is necessary to advance our knowledge of this disease.  In the past, I have worked on projects involving DCIS, bilateral breast cancer, novel ways to localize cancer, breast cancer in men, and certain types of rare breast cancers.  I have specific interests in understanding the challenges young women with breast cancer face, as well as those who do not have breast cancer, but are at high risk for developing it, such as BRCA gene mutation carriers.  I also participate in local, regional, and national professional organizations.  
Clinical Expertise
Breast cancer; breast conservation; oncoplastic techniques; nipple-sparing mastectomy; ductal carcinoma-in-situ (DCIS); breast cancer in men; and clinical trials.