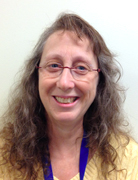 Susan Murphy, MD
Director, Pediatric Thrombosis and Hemostasis
Pediatric Hematologist/Oncologist
I have been at Rutgers Cancer Institute of New Jersey since 2007. With a focus on pediatric hematology/oncology I completed my residency and a fellowship at Schneider Children's Hospital of Long Island Jewish Medical Center. I am Board Certified in Pediatrics, Pediatric Hematology/Oncology and Hospice and Palliative Medicine.
While I have a clinical focus on pediatric cancers, I also evaluate patients with blood disorders. Along with assistance from the multidisciplinary teams within the Pediatric Hematology/Oncology Programs, I help educate patients and families on their treatment options so that they can make an informed decision. 
I am an Associate member of the Children's Oncology Group, elected member of the Pediatric Hematology/Oncology Network of New Jersey, an elected member of the American Society of Pediatric Hematology/Oncology, an elected member of the American Society of Hematology and a member of the Hemophilia Research Society and serve as a member of the New Jersey Regional Hemophilia Program Advisory Board.
Clinical Expertise
Pediatric cancers, blood disorders including thrombosis and hemophilia, and pediatric palliative care.
Honors
2012 Humanitarian Award, Hemophilia Association of NJ, April 2012
Best Doctors in America (Database), 2005–2006
America's Top Physicians, Consumers' Research Council of America, 2004-2005
Best Doctors in America (Database), 2001–2002