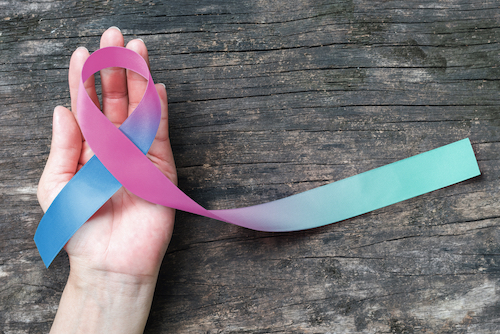 New Brunswick, N.J., September 21, 2020– One of the most common and treatable cancers in the United States is thyroid cancer. The thyroid is a key part of the endocrine system, a small gland at the base of your neck that produces a hormone that helps control your body's metabolism.
The American Cancer Society estimates approximately 52,890 new cases of thyroid cancer in 2020. While thyroid cancers are common, it typically presents as a lump in the middle part of the neck with very few other symptoms. There are four main types of thyroid cancer (papillary, follicular, medullary and anaplastic). Luckily, most types of thyroid cancer are very treatable and survivors live long, healthy lives. Toni Beninato, MD, MS, FACS, endocrine surgeon at Rutgers Cancer Institute of New Jersey and assistant professor of surgery at Rutgers Robert Wood Johnson Medical School, discusses research and treatment for thyroid cancer.

Are there any recommendations for early detection of thyroid cancer?
Thyroid cancer is most often detected on an ultrasound of the neck done to examine the thyroid gland.  It can also be detected on imaging studies such as CT scans or MRIs that are done on the neck for other reasons. Alternatively, patients may notice a lump on their neck which is then further evaluated with ultrasound. Thyroid nodules are actually very common, with up to 50% of the population having one or more thyroid nodules. Thankfully, most thyroid nodules are benign.  Based on the appearance of the nodule on ultrasound, a decision can be made as to whether the nodule meets criteria for a fine needle biopsy, which is ultimately required for the diagnosis of thyroid cancer.

What have been some major treatment advancements for thyroid cancer within the last few years?
In the past few years, major advances have allowed us to identify patients who may qualify for less extensive treatment of their thyroid cancer. The most common subtypes of thyroid cancer are papillary thyroid cancer and follicular thyroid cancer. Due to advances in imaging, these cancers are often identified at a very early stage. Recent guidelines published by the American Thyroid Association have shifted towards less aggressive treatments for these early stage thyroid cancers,  while traditionally, removal of the entire thyroid gland was necessary for patients with thyroid cancer followed by radioactive iodine therapy (RAI). We can now offer removal of only half of the thyroid gland to certain patients without the RAI treatment. This allows for less extensive surgery and also offers the potential to avoid taking a thyroid hormone replacement postoperatively, which would be required if the entire thyroid was removed. Additional research has shown that certain patients with small papillary thyroid cancers less than 1 centimeter in size can undergo active surveillance of their cancer and may only need surgery if there is growth of the tumor. These advances allow us to offer patients an individualized approach to surgery and the potential for less aggressive treatment strategies in appropriate individuals.

What research for thyroid cancer is currently underway at Rutgers Cancer Institute?
The focus of my research is in disparities in care for patients with thyroid cancer. Research has shown that the best outcomes in patients with thyroid cancer come when patients are seen by high volume surgeons, such as those we have here at Rutgers Cancer Institute. It is my goal to identify the cause of these disparities and improve access to high quality care for patients with thyroid cancer regardless of gender, race, education, income level, or insurance status.     
 
For journalists – contact:
Krista Didzbalis 
Media Relations Assistant 
908-812-6114
krista.didzbalis@rutgers.edu

For patient appointments/inquiries – contact:
844-CANCERNJ (844-226-2376)