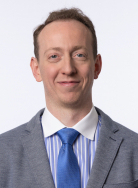 Vadim Koshenkov, MD
As a physician daily entrusted with the lives of my patients, I am committed to compassion, attentiveness, knowledge, efficiency, and candor. Surgical oncologists are uniquely positioned in the fight to eradicate cancer, facing many delicate challenges beyond the successful removal of tumors. Productive partnerships within a multidisciplinary team that understands how to maximize the chance for cure are central to a surgical oncologist's success. It is a privilege then to join the outstanding team at the Rutgers Cancer Institute of New Jersey, a National Cancer Institute-designated Comprehensive Cancer Center, where over the past two decades, an experienced group of dedicated physicians, nurses and support personnel has been assembled. We offer a comprehensive approach to patients with unique surgical and non-surgical treatments, as well as an availability of multiple clinical trials.
My primary interest lies in Melanoma, Soft Tissue Sarcoma, and other advanced cutaneous malignancies. I completed my general surgery training at Morristown Medical Center, a surgical oncology fellowship at the University of Miami, and joined Rutgers Cancer Institute of New Jersey in 2013. A particular focus of mine has been to study thin early stage cutaneous melanomas and certain high-risk features that would warrant lymph node mapping in this group of patients. Since the majority of patients with melanoma of the skin have thin lesions, it will continue to be an important issue to address, as it impacts an ever-growing proportion of the population in the United States.
The application of minimally invasive surgery to the field of surgical oncology is a strong secondary interest. I have published on the topics of sentinel lymph node biopsy and complex laparoscopic surgery. Minimally invasive surgery has the proven benefits of a faster patient recovery and quicker discharge from the hospital. I believe that surgical oncology patients stand to gain as much from this approach as the patients in other surgical disciplines, where minimally invasive surgery has become the standard.
I am a board-certified surgeon and a member of several surgical societies. I have presented at multiple national society meetings and am a recipient of several awards. 
Clinical Expertise
Melanoma, soft tissue sarcoma, and minimally invasive surgery
Honors
Honorable Mention for a Scientific Paper by a Resident, Society of Laparoendoscopic Surgeons, 2011
1st Place for Resident Presentation, Oncology Society of New Jersey, 2011
1st Place for Surgical Jeopardy, New Jersey Chapter of the American College of Surgeons, 2010
Best Resident Paper, Society of Laparoendoscopic Surgeons, 2010