(Princeton, NJ) – The American Cancer Society, the largest non-government, not-for-profit funding source of cancer research in the United States, has approved funding for 75 research and training grants totaling $38,422,250 in the second of two grant cycles for 2019. The grants will fund investigators at 57 institutions across the United States. The grants include three new Research Professorships, the most prestigious research grants made by the program.  Researchers are selected for ACS professorships based on their history of pioneering, influential work that's continuing to change the direction of cancer research and on their track record of mentoring people who have become successful in cancer research.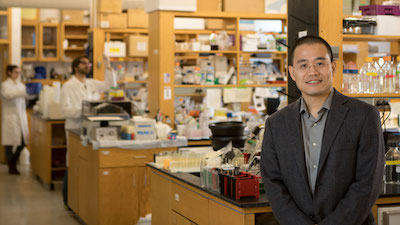 Photo credit: Denise Applewhite, Princeton University
Yibin Kang, Ph.D, the Warner-Lambert/Parke Davis Professor of Molecular Biology at Princeton University and the Associate Director for Consortium Research of Rutgers Cancer Institute of New Jersey, has been awarded an American Cancer Society Research Professorship, receiving a lifelong designation accompanied by a five-year $400,000 commitment.
Dr. Kang's team focuses on the molecular mechanisms driving breast cancer metastasis, in particular exploring how the body's connective tissue cells, or stromal cells, provide cellular "niches" that allow cancer cells to metastasize. The new grant will build on the team's study of tumor-stromal interactions in breast cancer bone metastasis and is expected to have important implications in improving the treatment of metastatic breast cancer.
"Research remains at the heart of our mission. Dr. Kang's research specifically focused on metastasis is crucial to find answers into new or improved treatments and therapies," said Arnold Baskies, MD, American Cancer Society Past Chairman of the National Board of Directors.
As of January 1, 2019, there were more than 3.8 million women with a history of breast cancer living in the United States. This estimate includes more than 150,000 women living with metastatic disease, three-quarters of whom were originally diagnosed with stage I, II, or III breast cancer.
"Laboratory research and clinical experience have repeatedly highlighted the importance of the stromal cells in the development and treatment response of metastatic cancers.  Our research focuses on identifying the key components and molecular interactions that are critical for breast cancer metastasis. Our findings will facilitate the development of novel therapeutics to reduce the risk of metastatic recurrence or improve the survival of patients with metastatic diseases" said Kang.
 "This lifetime recognition by the American Cancer Society of Yibin Kang's outstanding research accomplishments highlights the importance of the ongoing collaboration between researchers such as Dr. Kang, who studies the fundamental mechanisms behind cancer, and the translational researchers and clinicians at the Rutgers Cancer Institute of New Jersey," said Princeton University Dean for Research Pablo Debenedetti. "The support from ACS is an important contribution to collaborative research with the potential to have tremendous impact on the prevention and treatment of this disease."
"Rutgers Cancer Institute and Princeton University, our National Cancer Institute-approved research consortium partner, have worked collaboratively for many years to address the cancer burden. As a result of this partnership and Dr. Kang's leadership of this consortium, essential scientific discoveries in the areas of cancer metabolism, metastasis and genomics have been translated into clinical application," notes Eileen White, PhD, deputy director, chief scientific officer and associate director for basic research at Rutgers Cancer Institute of New Jersey.  
The American Cancer Society Extramural Research program currently supports research and training in a wide range of cancer-related disciplines at more than 200 institutions. With an investment of more than $4.9 billion since 1946, the ACS is the largest private, nonprofit source of cancer research funds in the United States and has funded 49 researchers who have gone on to be awarded the Nobel Prize. The program primarily funds early career investigators through the ACS Research Scholar Award Program, giving the best and the brightest a chance to explore cutting-edge ideas at a time when they might not find funding elsewhere.  Dr. Kang was a recipient of the 2005 ACS Research Scholar Award after he started his independent career at Princeton University as an Assistant Professor in 2004.
###
About the American Cancer Society
The American Cancer Society is a global grassroots force of 1.5 million volunteers dedicated to saving lives, celebrating lives, and leading the fight for a world without cancer. From breakthrough research, to free lodging near treatment, a 24/7/365 live helpline, free rides to treatment, and convening powerful activists to create awareness and impact, the Society is the only organization attacking cancer from every angle. For more information go to www.cancer.org.
 
About Princeton University
Princeton University is a vibrant community of scholarship, research, and teaching that stands in the nation's service and the service of humanity. As a global research university with world-class excellence across the arts and humanities, the social sciences, the natural sciences, and engineering, the University is home to more than 1,200 faculty members who share a commitment to innovation, free inquiry, and the discovery and transmission of knowledge and new ideas. Princeton combines its strengths in research with a distinctive emphasis on undergraduate and doctoral education, preparing its 5,200 undergraduates and 2,800 graduate students for positions of leadership and lives of service.
About Rutgers Cancer Institute of New Jersey
As New Jersey's only National Cancer Institute-designated Comprehensive Cancer Center, Rutgers Cancer Institute, along with its partner RWJBarnabas Health, offers the most advanced cancer treatment options including bone marrow transplantation, proton therapy, CAR T-cell therapy and complex robotic surgery.  Along with clinical trials and novel therapeutics such as precision medicine and immunotherapy – many of which are not widely available – patients have access to these cutting-edge therapies at Rutgers Cancer Institute of New Jersey in New Brunswick, Rutgers Cancer Institute of New Jersey at University Hospital in Newark, as well as through RWJBarnabas Health facilities.
Along with world-class treatment, which is often fueled by on-site research conducted in Rutgers Cancer Institute laboratories, patients and their families also can seek cancer preventative services and education resources throughout the Rutgers Cancer Institute and RWJBarnabas Health footprint statewide. To make a tax-deductible gift to support the Cancer Institute of New Jersey, call 848-932-8013 or visit www.cinj.org/giving.
CONTACT:
Catherine Zandonella, Communications Manager
Office of the Dean for Research
Princeton University
czandone@princeton.edu
Michele Fisher, Public Relations Manager
Rutgers Cancer Institute of New Jersey
Michele.Fisher@Rutgers.edu
Desiree Berenguer Carton, Director Communications
American Cancer Society
Desiree.Carton@cancer.org