Story by Maryann Brinley                                                         View the complete magazine | Subscribe to Cancer Connection
Munson McLeod, Sherryann Glasgow, Rick Kamdar, Gary Chiarello and Mark Coville share a survivor's path not even the most adventurous thrill-seeker would willingly choose. Yet, each looks back on their separate journeys through the Blood and Marrow Transplant Program at Rutgers Cancer Institute of New Jersey and Robert Wood Johnson University Hospital (RWJ) in awe, respectful of where they went and how their lives changed as a result. The best news, of course, is that they are here to tell their cancer stories.
"Our program started in 1995," explains Roger Strair, MD, PhD, chief of hematologic malignancies and director of the program, "and the very first transplant patient had relapsed non-Hodgkin's lymphoma. The only potential cure for him was high-dose chemotherapy that would have irreparably destroyed his bone marrow so we removed his bone marrow cells and stored them while he got chemotherapy. After the chemo washed out of his system, we put the bone marrow cells back in and he recovered." Known as an autologous stem cell transplant, Munson McLeod's experience was a first for the Cancer Institute of New Jersey and as Dr. Strair says, "He set the right tone."
The university-wide, multi-disciplinary team of surgeons, oncologists, nurses, scientists, transplant coordinators and social workers ⎯ many have been with the program from the beginning ⎯ treated its 1,000th patient last spring (see a list of team members). "This by itself is amazing," says Strair. "It speaks to the camaraderie and collaborative nature of all the people here. You can't do this by the books. There has to be flexibility and exceptional dedication to treat these patients."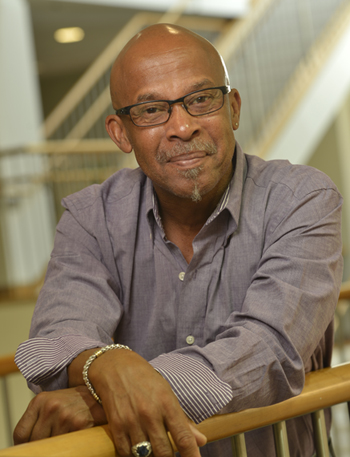 Munson McLeod   (Photo by Nick Romanenko)
Glass Half Full
McLeod agrees. "Everyone puts so much care and attention into a patient's well-being. This is not a death sentence," he says. In 1994, he was told he had six months to live and when his girlfriend Kim, now his wife, cried, he said, "I am not going to die from this. The easiest thing in the world would be to give up but I intend to go through the worst to get better." And he did. Shaking his head remembering those dark days, McLeod is a 60-year-old business owner with a contagiously optimistic spirit. He recalls joking with Jacqueline Manago, RN, BSN, OCN, his nurse-clinician, during eight rounds of chemo, radiation and the transplant, "Can we do this without needles?"
McLeod credits Kim for pushing him into support group sessions. "I learned they were looking for a candidate for the first bone marrow transplant." As a single father, McLeod raised a son who donated platelets towards his recovery. "I lost him in 1999 at 26. A great kid, he was best man at my wedding but he never got over his mother walking out." His second marriage to Kim was a celebration that included the Cancer Institute team. "Dr. Strair, Jackie… they were all there," he says. "We had more than just a patient relationship. We were friends. Roger Strair would call me day or night to ask how I was."
Tackling the "Root" of the Problem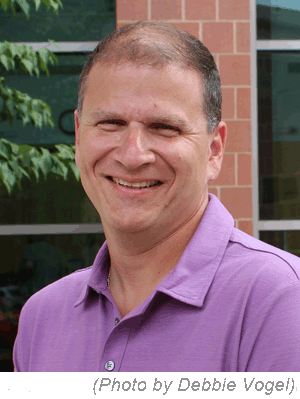 When diagnosed with stage IV lymphoma in early 2004 at age 36, Gary Chiarello never would have imagined that his battle with the disease would help result in more than a million dollars being raised to help scientists further unlock the mysteries of this and other blood cancers. While his brother Ralph was his donor for an allogeneic stem cell transplant, it was his other brother Guy, who along with friend Guy DelGrande, spearheaded the Guys Golf charity golf event to support research initiatives in the Hematologic Malignancies/Blood and Marrow Transplant Program at Rutgers Cancer Institute of New Jersey.
Gary Chiarello's journey began with chest pains that led to an x-ray showing a mass next to his lung. After enduring seven rounds of chemotherapy over six months to shrink the tumor, he met with Roger Strair, MD, PhD, at the Cancer Institute of New Jersey to discuss the possibility of having a transplant. His three children were small at the time (5, 6 and 9) and he remembered "having thoughts of never seeing them grow up and sharing in the special moments in their lives."
Believing a transplant was his best chance for survival Chiarello went ahead with the procedure and was out of the hospital in 22 days without much complication. (A typical post-transplant stay could be up to 45 days). Chiarello did experience graft versus host disease (a common post-transplant condition where the donor cells start to attack the patient's organs) in the months following, but he notes because of the comprehensive care he received, he continued to improve and was even able to go back to work within a few months.
In 2010 the Guys Golf event kicked off, having raised more than a million dollars since its inception. Chiarello says it is his family's way of "giving back," and he credits both his brother Guy and Guy DelGrande for a successful event year after year. "I am thrilled they are able to give back to an entity that gave me so much and that I am still here to witness it," says Chiarello.
Thanks to the support given through Guys Golf, investigators at the Cancer Institute have been able to learn more about tackling leukemia and lymphoma. One research initiative led to the identification of some lymphoma subsets that form a unique population of cells resistant to standard chemotherapy. These particular cells remain dormant until all of the surrounding cells are killed by treatment. Just like the roots of a weed, these cells then grow back and result in relapse. Identification of these cells has led to new targeted treatment opportunities through clinical trials.
Another clinical trial under development will measure these rogue cells in patients undergoing chemotherapy and will determine how effective new types of chemotherapy and immunotherapy are in killing these cells. "The ability to monitor these cell populations during treatment will allow the development of 'personalized' therapies. The generosity of Guy Chiarello, Guy DelGrande, their families and all supporters of the Guys Golf event makes this possible, and we are grateful for their continued support in helping to advance these discoveries," notes Dr. Strair.
Other laboratory and clinical studies also have been funded in part thanks to Guys Golf. Results obtained through Guys Golf-funded studies have been published in the journals 'Hematologica' and 'Plos One.' Additional philanthropic funding for Strair's research includes support from the Century for the Cure bike ride. ■
With fertility compromised by chemo, McLeod and his wife adopted a baby. "I get to do this parenting all over." Son Daniel is 11, loves playing baseball as well as his dad's trumpet. Today, McLeod feels great though he has no sense of smell and his skin peels. "People worry about unimportant things. I don't. I get what life is all about: being happy and communicating that happiness. Most of us are stuck in a box. This is a big world. If you want to be happy and successful, you've got to step out of that box."
"I've been here since that first transplant," Manago reports. "We really do become part of our patients' lives. What keeps us going are the success stories." Transplant coordinator Mary Kate McGrath, MSN, RN, APN-C, a 10-year veteran, concurs, "We are a tight-knit group with the utmost respect for everyone. That's why we come to work here and never leave."
"This camaraderie goes back to Dr. Strair," Manago adds. Strair chose his specialty because "There is nothing more diverse or powerful than the immune system." Author of more than 55 publications, he has led his team into numerous investigator-initiated treatments currently in clinical trials at the Cancer Institute. "Every year there are major improvements," Manago says. "We get our optimism from this as well as from each other." Oncology "incorporates different areas: internal medicine, surgery, radiation," Strair, professor of medicine at Rutgers Robert Wood Johnson Medical School and an attending hematologist/oncologist at RWJ, explains. "It allows us to have a lot of continuity," getting to know patients as people.
Take Sherryann Glasgow, "a smart, articulate person," he says, who required a more complicated transplant than McLeod's. The feelings between this doctor and patient are mutual. "Dr. Strair is super cool," she says. "He would come by my bed at 6 a.m. and I'd wonder what time he left his house!"
Be Patient Present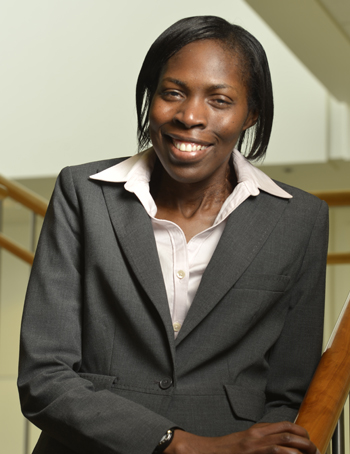 Sherryann Glasgow (Photo by Nick Romanenko)
Diagnosed with adult T-cell lymphoma in 2003, Glasgow, 34, had an allogeneic transplant, where the source of the cells is a donor. Strair explains, "This can create problems because the benefit comes from the donor's cells as they develop in the host, recognize cancer cells, and kill them. But they can also attack normal cells and cause graft versus host syndrome." Donors can be matched siblings, matched unrelated people, or cells can come from umbilical cord blood. Glasgow had matched with her sister. But, "Sherryann required several infusions to boost her immune system. Otherwise, it would have been uncontrollable lymphoma," Strair recalls.
Her mother and another sister weren't as fortunate and died from lymphoma. Glasgow's last treatment was in 2006 but she admits, "The recovery phase is where my battle has been because of setbacks." Her lungs and vision are affected and she has trouble swallowing. Undeterred, she completed a master's degree in public health education online and stays positive by meditating, listening to music, reading, praying and urging other patients to stay busy. "You can't allow your mind to idle or you set yourself up for negativity." Faith, family, friends and what she calls "patient presence" also help. "You need to be present in your own battle, involved every step of the journey."
She laughs about her memoir, Shaken But Not Stirred, where she writes: "Hearing the news, a million thoughts raced through my mind. The devil presented me with an idea. 'Why don't you celebrate at a bar?' When the bartender asked, 'What can I get you?' I replied, 'Chemotherapy followed by radiation on the rocks, and rounds of shots of side effects.'"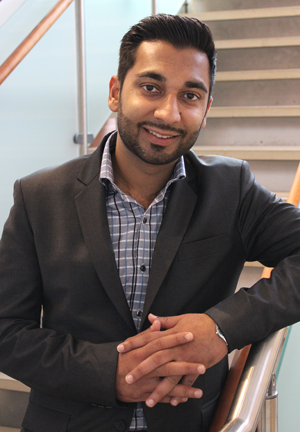 Rick Kamdar           (Photo by Debbie Vogel)
If I can do this…
Rick Kamdar's story begins in 2004 at age 19. "I'm the baby of my family and everyone around me was trying to stay calm but I could see worry on their faces," he says. "Something was definitely wrong because I'd had a dramatic weight loss." A biopsy was taken "but no one was telling me anything. So I turned to my brother who blurted it out, 'It's Hodgkin's.' And I said, 'Good, it's not cancer.' Then he said, 'But that is cancer.'"
Kamdar's first transplant was autologous but when he relapsed in 2005, a matched unrelated donor was found. In remission for seven years now, he took time off from college to recover and later graduated from Pace University. Working in his family's international business for five years, he has "traveled the world meeting amazing people on every continent except Antarctica." He recalls "the shock of cancer. It comes out of nowhere and is an experience you wouldn't wish on your worst enemy but one that can bring out your most positive traits. You go through hell, feeling miserable."
His family as well as Phi Sigma Kappa fraternity brothers helped him survive. "It brought my family closer," he says. "When I was going through it, I made a deal with life that if I ever got out, I would make sure not to ruin it. Things I used to think were big deals are not. I live a happy, busy life." Whenever he is at the hospital, he heads up to the bone marrow unit to talk to any patients going through difficult times. "I say, 'Look at me, if I can do it, so can you.'"
Avoiding Information Overload
The Cancer Institute team believes that making complicated medical decisions is never easy. According to Strair, some patients find the process "straightforward." Others need a different "set of tools or approach to communication and education."
Patients like Mark Coville, 56, who had an allogeneic transplant for acute myeloid leukemia in April, think too much information can be "overwhelming." A successful executive with BlackRock, he finds the "wild ride of the financial markets" easier to navigate than the roller-coaster timeline he weathered this past year. Exhausted last Thanksgiving with a cough "that came not from my lungs but deep down in my stomach, I had no energy and could hardly drive home from work." Between November and January, he went to his doctor seven times, misdiagnosed until a blood test on Jan. 13 confirmed leukemia. "It was pretty shocking." But "I purposely didn't read anything online." He left that to his wife, Lynda, who researched for countless hours. "To tell the truth, she was my caregiver and partner in all this. I couldn't have done it without her. But for a patient, I think too much information can be confusing and I didn't want to add more stress. I'd ask questions, of course, but I wanted to buy in one hundred percent to what my oncologist was telling me so I could say, 'Okay, tell me what to do and I'll do it.'"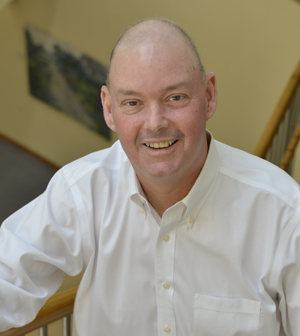 Mark Coville        (Photo by Nick Romanenko)
On Jan. 15, Coville was told to go to the Emergency Department at Robert Wood Johnson University Hospital. That was a Wednesday. "My wife drove me and I thought I'd be there overnight," he recalls. "They told me 30 days but it turned into 45." Luckily, his sister would be a perfect match for the transplant once the cancer cells were destroyed. By Friday, he started chemo. "What I didn't know then was that my body had been 95 percent leukemic. My chest had begun to turn septic." After a first round, a biopsy indicated the need for more chemo, "which was hard to take physically," he says. "I definitely had chemo brain, couldn't focus for more than a few minutes and slept a lot." Discharged in February, Coville laughs that his Cancer Institute medical oncologist Vimal Patel, MD, assistant professor of medicine at Robert Wood Johnson Medical School and an attending medical oncologist at RWJ, told him that Lynda "became his eyes and ears at home" monitoring his health. Then, he was back for the transplant in early April.
Still recovering, he feels lucky that his doctors and nurses were so professional and caring, especially Patel and Joseph Aisner, MD, co-director of the Cancer Institute's Thoracic Oncology Program, professor of medicine at Robert Wood Johnson Medical School and an attending medical oncologist at RWJ. Anxious to dive back into work and life, Coville has been cautioned to go slow. Aisner warned, "You may want to push this envelope but you don't want to do anything to compromise your health." Coville agrees, "My bone marrow is infantile, like a young child's." So, he avoids sun, wears a mask, hat and gloves outside, stays away from crowds and public places, and washes his hands, "15 to 20 times a day. I did play 13 holes of golf with Lynda last Sunday."
Coville admits, "My wife and children, Candace and David, were always beside me. I am so lucky." His own father died at 49 of multiple myeloma and he lost his mother to breast cancer on March 24. "I am glad I got to say goodbye and attend her funeral. So many people showed tremendous interest in me. I am more emotional now and a different person after all this." At Merrill Lynch for 25 years and BlackRock for five, he used to think people were defined by their jobs. "I no longer believe that. There are other things in life more important."
Scientific advancement over the past two decades and the promise of precision medicine – matching targeted therapies to genomic alterations in the body to create 'personalized' treatments for cancer patients – leave Strair optimistic. "In 2004, it cost $100 million to sequence one person's genome. Now it costs less than $10,000 and this decrease reflects an explosive growth in technology that translates into a better understanding of cancer." Munson McLeod, Sherryann Glasgow, Rick Kamdar and Mark Coville know this truth up-close and personally. ■