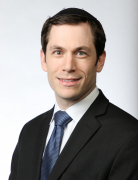 Joshua Kra, MD
I joined the faculty of Rutgers Cancer Institute of New Jersey and the Division of Hematology/Medical Oncology at Rutgers New Jersey Medical School in 2018. Previously, I had completed my fellowship in Hematology and Medical Oncology at the Cancer Institute of New Jersey. Prior to my fellowship, I attended medical school at the Albert Einstein College of Medicine in the Bronx and completed my Internal Medicine residency at Mount Sinai Beth Israel in New York City, where I also was honored to serve as chief resident. Currently, I see patients at Rutgers Cancer Institute of New Jersey at University Hospital in Newark.
Being trained in both hematology and medical oncology, I am able to treat a variety of different conditions within the field providing comprehensive multidisciplinary, individualized treatment plans for the community we serve.  As part of the team at Rutgers Cancer Institute of New Jersey at University Hospital, I work closely with my colleagues to ensure patients have access to NCI-designated cancer care close to home.
In addition to clinical work, I am interested in working collaboratively with my colleagues to develop clinical trials for our patient population. Furthermore, having served as chief resident and chief fellow during my training, I have a particular interest in medical education, with the goal of developing the next generation of educated, skilled, and compassionate physicians.
Clinical Expertise
Blood disorders, clotting disorders, lymphoma, myeloma, lung cancer, and clinical trials