Home | Services | Equipment | Service Request Form
Director: Edmund C. Lattime, PhD
The Flow Cytometry and Cell Sorting shared resource (Flow) provides investigators with rapid and precise multiparametric analysis of cells and particles. The overall purpose of the shared resource is to provide access to high-end technologies and expert assistance with various techniques in flow cytometry and cell sorting to members of Rutgers Cancer Institute of New Jersey.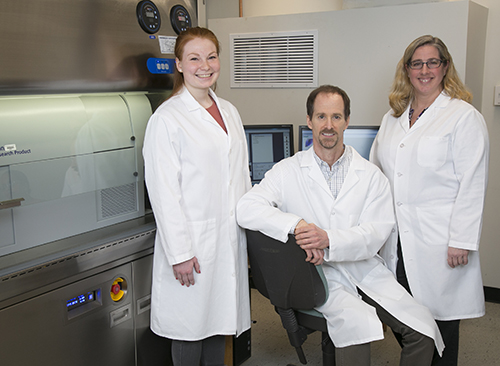 Under the leadership of Dr. Edmund C. Lattime, Flow provides:
Rutgers Cancer Institute members with an array of powerful flow cytometry and cell sorting instrumentation and techniques, expert consultation for detailed protocols and experimental design to optimize data generation, and expert consultation in data analysis, presentation, and publication.
State-of-the-art digital instrumentation which is maintained to the highest standards. 
Researchers with the capability to sort cells at high efficiency and purity under the proper conditions and/or to run analytical experiments with as many as 17 different fluorochromes simultaneously. 
Outstanding service and training for their scientific members. 
Convenient cost-effective service that continues to generate important and impactful scientific results.
Flow is an ever-evolving mainstay of research at Rutgers Cancer Institute of New Jersey, originating with the Rutgers facility established in 1986. Today, Flow has full-service sites at both Rutgers in New Brunswick, and at Princeton University, and is used extensively by Rutgers Cancer Center members.
PUBLICATION ACKNOWLEDGEMENT 
"Services, results and/or products in support of the research project were generated by the Rutgers Cancer Institute of New Jersey Flow Cytometry and Cell Sorting Shared Resource, supported, in part, with funding from NCI-CCSG P30CA072720-5921."
Please consider including the names of individuals from the shared resource if they provided any intellectual input or additional effort.
NIH Public Access Policy: Publications that result from services provided by this Shared Resource must be compliant with the NIH Public Access policy by submitting your paper to PubMed Central. Go to: https://publicaccess.nih.gov/submit_process.htm for PubMed Central's methods submission instructions.  
If you require additional guidance on how to properly acknowledge a single shared resource or multiple shared resources you may contact Janet Bandoy, Shared Resource Coordinator.
Last updated 06/08/2020