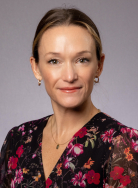 Ruth D. Stephenson, DO, FACOG
I feel it is an honor to care for women with gynecologic malignancies and I am passionate about maximizing their quality of life during and supporting them in their transitions between the various phases of treatment, from diagnosis to surgery and active treatment and into survivorship. My decision to specialize in gynecologic oncology was strongly impacted by the experience of caring for women during a crucial point in their lives. During my fellowship at the University of California- Davis, I trained to perform complex and minimally invasive robotic surgeries, radical cytoreductive surgery, and to integrate and manage adjuvant therapy for gynecologic malignancies. I have participated in both clinical and basic science research projects and spent a year in a nanotechonology lab investigating novel therapeutics for ovarian cancer. My areas of expertise are in minimally invasive approaches to gynecologic malignancies, including advanced laparoscopic and robotic techniques, novel intra operative chemotherapy administration, and sentinel lymph node techniques. I have developed an enhanced recovery program in collaboration with the hospital's anesthesiology department, to allow our surgical patients to return to baseline function more rapidly after cancer surgery. I am also interested in developing clinical trials and work closely with a dedicated clinical trials team to increase therapies available to our gynecologic cancer patients, helping to guide them through the process.
As a member of the Gynecologic Oncology Program at Rutgers Cancer Institute of New Jersey, I work collaboratively with other members of our multidisciplinary team including medical oncologists, radiation oncologists, gynecologists, radiologists, pathologists, genetic counselors, nutritionists, social workers, and nurses to help educate patients about their disease and help them navigate their treatment options.
I am dedicated to providing excellent and individualized treatment for my patients as part of a dedicated team that provides the most advanced treatment options as well as the support services women with cancer deserve. 
Dr. Stephenson sees patients at Rutgers Cancer Institute and Robert Wood Johnson University Hospital Somerset. 
Clinical Expertise
Ovarian Cancer, endometrial cancer, cervical cancer, gynecologic cancers, vulvar cancer, minimally invasive surgery, and clinical trials