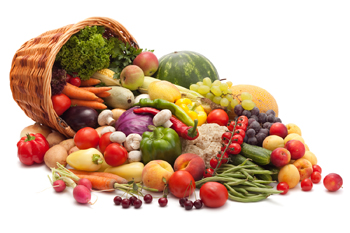 By Kristin Waldron, RD, CSO
The summer season is finally here, and an array of fresh, juicy fruits and vegetables are in abundance. Our own Garden State is known for growing a wide variety of fresh produce that is available throughout the season such as blueberries, tomatoes, cherries, peaches, spinach, and bell peppers, just to name a few.
Along with being delicious, fruits and vegetables can play a key role in good health because they are nutrient-rich and low in calories.  According to the American Institute for Cancer Research (AICR), the nutrient combinations of vitamins, minerals, and phytochemicals found in fruits and vegetables can help aid in cancer prevention.  Making fresh produce the main focus of each summer meal can help reduce and maintain a healthy body weight – an AICR guideline that can also decrease the risk of cancer.  Many fruits and vegetables are also good sources of dietary fiber.  A diet that includes foods high in fiber has been shown to help lower the risk for colorectal cancer. 
A number of fruits and vegetables contain phytochemicals.  These phytochemicals have antioxidant and anticancer properties.  Blueberries, strawberries, and raspberries are rich sources of ellagic acid.  Research has shown that this phytochemical can help prevent against cancers of the bladder, breast, esophagus, lung, and skin.  Watermelon, red bell peppers, and tomatoes contain a powerful antioxidant called lycopene.  Many studies have found that lycopene helps protect against prostate cancer.  Cherries contain anthocyanin, which has demonstrated the ability to destroy the growth of cancer cells without affecting healthy cells.  Spinach and kale contain carotenoids, such as lutein and zeaxanthin, which help prevent against cancers of the mouth, pharynx, and larynx.  Polyphenol compounds that are found in peaches and plums are currently being studied for their ability to destroy breast cancer cells.  There are an abundant amount of different phytochemicals that are naturally occurring in fruits and vegetables that provide us with various health benefits.
Support your community by browsing the selection of fresh produce at your local farmer's market.  Many even remain open into the fall. While you're trying new dishes featuring New Jersey's freshest produce this summer, remember that you will also be aiding your body in cancer prevention!
Kristin Waldron, RD, CSO, is a clinical dietitian at Rutgers Cancer Institute of New Jersey.