Story by Mary Ann Littell  •  Portraits by John O'Boyle         View the complete magazine | Subscribe to Cancer Connection

Treating stage 4 cancer is challenging, often requiring multiple modalities. For Christine Hearn, it meant finding a care team with expertise in all of them. She found that care at Rutgers Cancer Institute.  
Some individuals are fortunate to have a best friend for life. Others have a partner or spouse for life. And others may find their dream job for life. Christine Hearn has something else too: an oncologist for life. 
Hearn, now 67, was diagnosed with cancer in 2015. Not just cancer in a single organ, but stage 4 disease that spread throughout her body, leaving her sicker than she had ever imagined. "I've had so many doctors I can't even begin to tell you," she says. "There were days I didn't think I'd make it." 
After starting treatment at a community hospital, she was referred to Rutgers Cancer Institute of New Jersey. There, medical oncologist Usha Malhotra, MD, keeps the cancer at bay with the help of a multidisciplinary team. "Traditionally stage 4 disease meant chemotherapy for life," says Dr. Malhotra. "But now we are able to offer patients like Christine the full range of treatments, from surgery, which years ago was unthinkable for stage 4 cancer, to highly specialized chemotherapy, stereotactic radiation, and a clinical trial based on precision medicine." 
Facing such aggressive cancer, and the treatment that accompanies it, has required every bit of Hearn's resilience. "It's been a journey and three things got me through it," she notes. "First: the support of friends and family. Second: my faith in God. And third was the way I was raised, to never give up. You face your obstacles and keep moving forward."
Hearn has always derived great satisfaction from her faith. Raised in a family that was "religious, but not overly so," she entered the Sisters of Mercy in Merion, Pennsylvania, after high school, contemplating becoming a sister. Teaching called to her and she followed that path instead. For years she's taught theology at Immaculata High School in Somerville, New Jersey, near her home in Hillsborough. It's work she truly enjoys.
She'd been healthy all her life. But one morning in the fall of 2014 she noticed blood when she went to the bathroom. "I didn't pay attention-just got dressed and went to school," she says. "By the time I arrived I felt nauseous. I had more bleeding too." She saw a gastroenterologist who did her colonoscopy a few years back, but he didn't find anything wrong. 
Over the next few months she had more bouts of nausea, vomiting, and diarrhea. While tests were inconclusive, she knew something wasn't right. She would feel really sick, and then it would pass. "I was also concerned that I was losing weight rather quickly," she adds. "A pound here, a pound there, and it started to add up." 
In March 2015 Hearn became seriously ill with abdominal pain, nausea and vomiting. She was admitted to a local hospital for exploratory laparoscopic surgery. A large tumor was found on her small intestine, "entwined so tightly that no CT scan would have picked it up," says Hearn. In a major procedure, the surgeon removed the tumor and reconstructed her bowel. Unfortunately, the diagnosis was grim: stage 4 mucinous small bowel adenocarcinoma. 
The surgeon broke this news to Hearn's longtime friend and partner, Mary Ellen Lilly, in the hospital cafeteria. The two were shocked by the diagnosis. "But at least I now knew what it was," Hearn says. According to the National Cancer Institute, small bowel cancers are uncommon, affecting about 11,000 people a year. About 30 percent of patients present with stage 4 disease, says Malhotra. The pattern of spread tends to be throughout the abdominal cavity, and sometimes to the liver and to the lungs, making it very difficult to treat.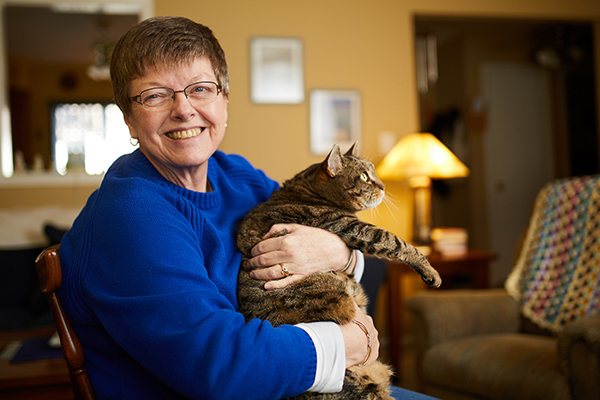 "I've gained more of an appreciation for the little things," says Christine Hearn. "After going through this I don't take anything for granted."
Hearn had several months of chemotherapy and close monitoring at the community hospital. All seemed well, but in November she received more bad news. There were two small tumors on her lungs and others in her peritoneal cavity. Another large mass on her ovary was particularly worrisome and needed to be removed. "I was upset, and even a bit angry," Hearn admits. "After all that chemo, how could I still have cancer?" She was referred to Rutgers Cancer Institute of New Jersey for specialized treatment. 
"The fact that this patient's lesions grew while she was on chemotherapy shows this cancer's aggressiveness," says Malhotra, who is also an assistant professor of medicine at Rutgers Robert Wood Johnson Medical School. "However, the outlook for stage 4 cancer has improved tremendously. Our cancer specialists work together to come up with the right treatments in the right sequence. It's like fitting the pieces of a puzzle together. If you don't get that first piece right, none of the other pieces will fit." 
For Hearn, the first piece of the puzzle would be surgery. Surgeons from the Gynecologic Oncology and the Gastrointestinal Oncology Programs at Rutgers Cancer Institute teamed up for what Hearn calls the 'Big Operation:' cytoreductive surgery and hyperthermic intraperitoneal chemotherapy - otherwise  known as CRS-HIPEC (see sidebar). This strategy involves the removal of as much of the cancer as possible, followed by heated chemotherapy pumped directly into the abdomen to target any remaining cancer cells. The idea is that placing chemotherapy directly on tumor cells is more effective in some instances than chemotherapy administered through the bloodstream.
The nine-hour procedure was performed in March 2016 by Rutgers Cancer Institute surgical oncologist Timothy J. Kennedy, MD, MBA at Robert Wood Johnson University Hospital, an RWJBarnabas Health facility. After doing a total hysterectomy the surgical team scrutinized the abdominal cavity, painstakingly removing other lesions from the liver, pancreas, diaphragm and near the lymph nodes. Then HIPEC was applied. "This chemotherapy requires a high level of training and technical skill, so it's not widely available. It's primarily in the domain of academic centers specializing in cutting-edge cancer therapies, such as Rutgers Cancer Institute" says Malhotra. 
The patient's belly must be gently rocked for the duration of therapy to spread the chemo to every nook and cranny. Peter Dellatore, SAS '13, a 2017 graduate of Rutgers Robert Wood Johnson Medical School, had volunteered to assist with the surgery, and was tasked with belly rocking under the supervision of the surgical team. "He's a former student of mine," marvels Hearn. "I couldn't believe the coincidence! I saw other former students at the hospital too. It made me feel good."
The 'Big Operation' kept Hearn alive but took a tremendous toll. With little appetite, she lost more weight. She needed physical therapy to walk again. "I spent two months in a recliner watching reruns of The Rifleman with my cat Peaches on my lap," she recalls. "My sisters Lorraine and Carole were so supportive, as were other family and friends, members of our church, just everyone. And I don't know what I would have done without Mary Ellen. If not for her, I don't think I'd be here."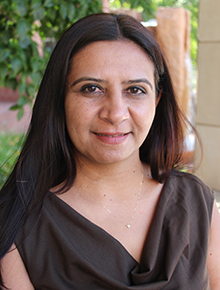 "Traditionally stage 4 disease meant chemotherapy for life," says Usha Malhotra, MD, Christine Hearn's medical oncologist. "But now we are able to offer the full range of treatments, from surgery to highly specialized chemotherapy, stereotactic radiation, and a clinical trial based on precision medicine."
Tissue samples from Hearn's tumors had been sent for genomic profiling to identify mutations in her cancer that could be targeted with specific drugs. While Hearn was not a candidate for any immunotherapies approved by the U.S. Food and Drug Administration, the results indicated that her cancer could respond to a combination of targeted therapy and an immunotherapy drug currently being tested at cancer centers, including Rutgers Cancer Institute. 
"Cancer is smart," explains Malhotra. "It masks itself so the immune system does not recognize it. The idea behind immunotherapy is to reactivate your immune system so it can attack the cancer. This is the direction cancer treatment is headed and we have a number of clinical trials underway at Rutgers Cancer Institute. Access to these treatments is another advantage of going to a National Cancer Institute-designated center like ours. " 
As Hearn regained her strength, she considered the clinical trial, seeking a second opinion from another oncologist, who endorsed the treatment plan. In June 2016 she entered the trial, conducted as part of the Institute's Phase I/Investigational Therapeutics Program. It is a combined therapy of the immunotherapy drug durvalumab and another targeted agent. 
She did well initially. However, in August 2017 she had to stop the trial because imaging studies showed the two lesions in her lungs had grown. One lesion was surgically removed; the second was treated with radiation therapy. This care was seamlessly provided by the Institute's Lung Cancer/Thoracic Oncology Program and the Department of Radiation Oncology. 
"It's a great illustration of how our specialized programs work together to provide the best outcomes," says Malhotra. "Whatever comes up, we look at all options as a group to plan the next phase of care. We know patients with stage 4 cancer rarely achieve a complete cure, but our goal is to get them back to their daily activities with a good quality of life." 
For now, Hearn's cancer is not showing any active growth and she feels good. She and her doctors were thrilled when her last PET scans showed no new cancers. Retired from Immaculata, she is teaching at Gwynedd Mercy University, her alma mater, two mornings a week. She swims twice a week, enjoys reading and day trips, and cheered on her beloved Philadelphia Eagles as they won the Super Bowl. "I've gained more of an appreciation for the little things," says Hearn. "After going through this I don't take anything for granted."
She'll see her oncologist regularly. If the cancer returns, Malhotra says she can participate in other clinical trials. "But right now her health is stable and there is no new cancer," notes the physician. "She's back to work, living her life, doing things she enjoys. I feel she's done very well. And whatever the next steps are, we'll be ready." ■
Christine Hearn (right) is thankful to have had longtime friend and partner, Mary Ellen Lilly (left), as well as other friends and family by her side throughout her journey.