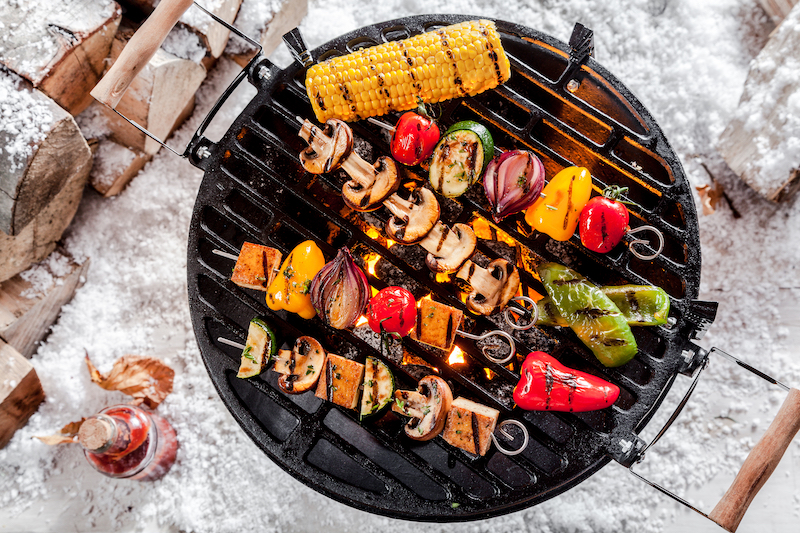 Summer is finally in full swing! What better way to enjoy the season than by hosting a barbeque. When planning your next barbeque, try to think of healthy food options. As delicious as hamburgers and hot dogs may taste, they are very high in fat and sodium. Plan on preparing leaner protein options such as chicken breasts, chicken sausage, turkey tenders, seafood, or veggie burgers. You can even try grilling Portobello mushroom burgers as a healthy alternative to meat. Try grilling up your favorite vegetables as a delicious side dish for your grilled meats. You can even make the perfect dessert for your barbeque by grilling your fresh fruit and making grilled fruit kabobs.
When grilling, make every effort to avoid cooking meats at very high temperatures for a long period of time. High temperatures from grilling react with substances in animal proteins to form carcinogenic compounds called heterocyclic amines (HCAs). To help lower HCA levels, avoid blackening your meats, flip food frequently while cooking, and use healthy, flavorful marinades on your meats such as fresh salsa, citrus juices or spices.
Summer is a prime time to find many of your favorite fruits and vegetables fresh and in season. Be sure to browse the selection of fresh produce available at your local farmer's market. Keep fresh veggies in the refrigerator for a quick snack or to make a nutritious, colorful salad to go along with your dinner. You can also try to escape the summer heat by enjoying a fruit smoothie made with fresh fruits of the season. 
Along with being delicious, fruit and vegetable consumption plays a key role in your health as well. A diet high in fruit and vegetable consumption has been known to reduce the risk of some cancers. According to the American Institute for Cancer Research (AICR), the combination of vitamins, minerals, and phytochemicals found in fruits and vegetables helps aid in cancer prevention. So while you're enjoying amazing dishes this summer, know that by following these tips you're also engaging in good health!  
Kristin Waldron, RD, CSO, is a registered dietitian at Rutgers Cancer Institute of New Jersey.