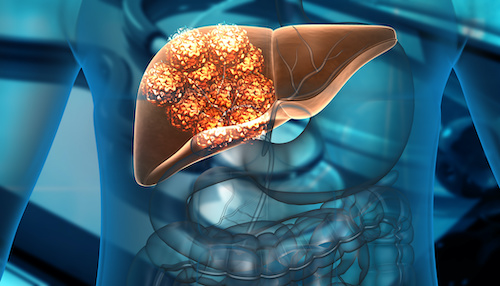 New Brunswick, N.J., October 1, 2021 – The liver, which is located in the right upper side of the abdomen, is one of the most important organs in the body. It removes toxins from the blood and regulates the levels of chemicals. It excretes a product called bile which helps you digest fat. The liver also makes clotting factors and stores sugar that the body uses for energy. When cancer develops in the liver, it destroys liver cells and can interfere with the ability of the liver to function normally. It is important to be familiar with liver cancer and steps that can be taken to prevent it.
Liver cancer is the growth and spread of abnormal and invasive cells in the liver. According to the American Cancer Society, liver cancer incidence rates have more than tripled since 1980, with an estimated 42,230 new cases to be diagnosed in 2021 in the United States. More than 800,000 people are diagnosed with liver cancer each year throughout the world.
There are several types of liver cancer. The most common type of liver cancer is called hepatocellular carcinoma. Liver cancer can also affect the bile ducts, which carry the bile made by the liver into the intestine and is called cholangiocarcinoma. Cancers in other parts of the body can also spread to the liver.
Several factors can raise a person's risk of developing liver cancer. The main risk for liver cancer in the U.S. is cirrhosis, which can be caused by alcohol abuse, viral hepatitis or fatty liver, and develops when liver cells are damaged and replaced by scar tissue. Other risk factors include obesity (which often leads to nonalcoholic fatty liver disease), chronic viral hepatitis, being male, older age and some environmental factors such as exposure to certain chemicals. People with certain autoimmune diseases and metabolic diseases are also at higher risk.
If you think you're at risk for liver cancer, talk with your doctor for more information about your personal risk of cancer. Though there is no proven way to completely prevent liver cancer, you may be able to lower your risk by following established guidelines for good health, such as not smoking, drinking alcohol in moderation, maintaining a healthy weight, eating a balanced diet and participating in moderate physical activity. Cirrhosis can be avoided by not abusing alcohol and viral hepatitis can be prevented by vaccine. People with cirrhosis should get regular screening for liver cancer.
At Rutgers Cancer Institute, New Jersey's only National Cancer Institute (NCI) – designated Comprehensive Cancer Center, in partnership with RWJBarnabas Health, the Liver Cancer and Bile Duct Cancer Program is the state's only multidisciplinary health care group focused on liver and bile duct tumors. Learn more about our Liver Cancer and Bile Duct Cancer Program.
Mariam F. Eskander, MD, MPH, is a surgical oncologist at Rutgers Cancer Institute of New Jersey and assistant professor of surgery at Rutgers Robert Wood Johnson Medical School with a clinical expertise in pancreatic tumors and liver tumors including colorectal liver metastasis, bile duct cancer, gallbladder cancer and gastric tumors.
For journalists – contact:
Krista Didzbalis 
Media Relations Assistant 
732-507-8307
krista.didzbalis@rutgers.edu
For patient appointments/inquiries – contact:
844-CANCERNJ (844-226-2376)