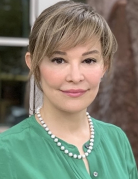 Bahar Dasgeb, MD
Associate Professor of Surgery, Dermatology/Oncology
Division of Surgical Oncology, Section of Melanoma and Soft Tissue Oncology
I am a dermato-oncologist and the clinical anchor of my practice is complex and advanced skin carcinomas as well as the management of skin side effects of treatments in oncology patients. Although my clinic encompasses the medical and surgical care for patients with all skin tumors, I am specialized in care of complex patients as follows; those, who are no longer candidates for surgical cure due to locally or systemically advanced disease, had recurrence after surgery, present with numerous tumors, develop skin malignancies on background of immune-deficiency and inheritable conditions/syndromes, or develop skin side effects of treatments given for any underlying malignancies. 
Identifying and providing the surveillance and the preventive measures to patients at high risk to develop skin malignancies is the cornerstone of my clinical endeavor. Additionally, managing the skin side effects is of high importance in my clinical efforts because timely and effective care of such adverse events would allow patients to continue the lifesaving treatments and/or the clinical trials. 
On the research front, I am focused on the interface between the inherent/genetic susceptibility for complex and advanced skin tumor and the clinical presentation/phenotype. This aim has led to a distinctive tissue bank of complex, advanced, and rare skin carcinomas at Rutgers Cancer Institute of New Jersey, that I am responsible for. In parallel, I am also interested in serological or genetic biomarkers in patients with serious and/or life threatening cutaneous adverse events due to systemic oncology treatments, which can play a substantial role in precision medicine. 
I received my MD from Shiraz University of Medical Sciences in Shiraz, Iran. Right after, I came to the United States and did dual residency training. I completed my dermatology residency at Wayne State University during which I received a grant to spent my third years of training at National Cancer Institute at NIH. I also completed nuclear medicine-molecular imaging residency at University of Maryland, where I met Dr. Richard Alexander with whom I worked closely as a trainee and looked up to him as a mentor. 
I further focused and specialized in dermato-oncology during my fellowship at Memorial Sloan Kettering, NY, where I came on board as a faculty after completion of my fellowship. I went on to join Thomas Jefferson University with dual appointment in Departments of Dermatology and Medical Oncology and met my mentors Drs. Jouni Uitto and Adam Berger. I am excited to have joined the multidisciplinary Melanoma and Soft Tissue Oncology Program at the Rutgers Cancer Institute of New Jersey and reunited with Drs. Richard Alexander and Adam Berger. 
In our multidisciplinary team, we provide a personalized patient-oriented care, that is also nurturing the academic endeavor of our team to best address the current clinical gaps that can serve the wellbeing of our patients. In this effort, we have bridged between the disciplines of dermatology, medical oncology, surgical oncology, radiation oncology, and imaging technologies as well as basic scientists to bring forth a comprehensive care form prevention and early detection to treatment of complex and advanced skin malignancies.
Clinical Expertise
Basal Cell Carcinoma; Squamous Cell Carcinoma; Advanced and Complex BCC and SCC; Melanoma; Merkel Cell Carcinoma; Skin Adverse Events of Systemic and Radiation Treatments; Rare or High Risk Skin Tumors in Background of Immune-deficiency, Organ transplant, and Inherent/Genetic Condition/Syndrome