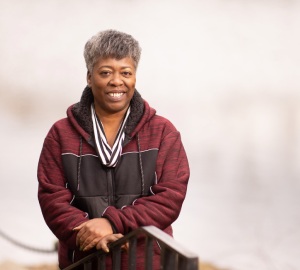 Clinical trials are research studies in which patients can choose to participate. Rutgers Cancer Institute of New Jersey uses clinical trials to find better ways to prevent, diagnose, and treat cancer. Physician-scientists are engaged in innovative clinical trials, investigating a broad spectrum of new therapies, diagnostics, preventive options, and cancer survivorship strategies. As an NCI-designated Comprehensive Cancer Center, Rutgers Cancer Institute provides patients with access to innovative and advanced treatment options that are often not available elsewhere.
As a Comprehensive Cancer Center designated by the National Cancer Institute, Rutgers Cancer Institute receives distinct resources and support to lead and participate in cutting-edge, high-impact clinical trials. Our designation sets us apart from other healthcare organizations, allowing us to provide our patients with access to novel treatments that are not yet available through standard clinical practice. Rutgers Cancer Institute is committed to providing the most advanced, targeted treatment options for cancer patients through our clinical trials.
Today, cancer survivors are living longer and cancer patients are benefitting from breakthrough therapies and treatments that are the result of past clinical trials. We enroll approximately 17% of adult cancer patients, and 70% of pediatric cancer patients, in clinical trials. The national rate of clinical trial enrollment for adult cancer patients is fewer than 5%. Clinical trials form the cornerstone of the development of new cancer treatments, giving patients hope that even greater discoveries are on the horizon.
To learn more about participating in a clinical trial, visit the National Institute of Health's website NIH Clinical Research Trials and You.