New Brunswick, N.J., November 1, 2023 — According to the American Cancer Society, lung cancer is the second most common cancer (not counting skin cancer). When lung cancer is found early, before it has spread to other parts of the body, patients usually have surgery to remove the tumor. Richard Lazzaro, MD, chief of Thoracic Surgery for the RWJBarnabas Health Southern Region and Rutgers Cancer Institute of New Jersey, the state's leading cancer center and only National Cancer Institute-designated Comprehensive Cancer Center, shares more on the advances in lung surgery for cancer patients. 
For many years, the standard of surgical care for such patients has been to remove the entire large section, or lobe, of the lung that contains the tumor. This required large incisions and sometimes removing a rib to reach the affected lung. Patients would also require substantial recovery time both in and out of the hospital, and this traditional approach frequently led to many postsurgical complications.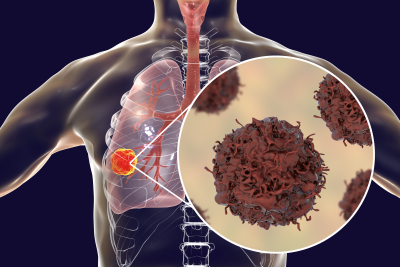 In the 2000s, video-assisted thoracic surgery (VATS) revolutionized lung cancer surgery. VATS is a surgical technique that involves insertion of a thorascope; a long, thin tube with a camera attached on the end, through a small chest incision called a port. The thorascope allows the surgeon to visualize inside the chest cavity and to perform surgery using small surgical instruments inserted through one or two additional ports. For more extensive operations such as lung resection for cancer, an additional incision measuring about 6-8 centimeters is made for the removal of the lung tissue.
Now, newer techniques allow for even smaller incisions and faster healing times for patients. This includes robotic thoracic surgery. This is an even newer surgical approach which greatly enhances the surgeon's visualization of the operative field, precision, and control compared to the traditional "open" surgery approach. With robotic thoracic surgery, the surgeon makes small 1 centimeter incisions to perform a lobectomy without spreading or cutting the breastbone or ribs, thereby minimizing blood loss, pain and scarring. The surgeon controls the robot's movements. The robot is equipped with high definition 3D imaging capabilities enabling surgeons to perform thoracic surgery through small 1-2 centimeter incisions.
These newer surgical techniques enhance a patient's comfort and well-being. Common benefits include fewer days in the hospital, shorter recovery time, less pain, minimized blood loss and lower risk of complications.
For more information on thoracic surgery at RWJBarnabas Health, visit: https://www.rwjbh.org/treatment-care/surgery/thoracic-surgery/meet-our-thoracic-surgery-team/
Learn more about Rutgers Cancer Institute's Lung/Thoracic Oncology Program: https://www.cinj.org/patient-care/adult/lung 
 
###
For journalists – contact:
Krista Didzbalis 
Media Relations Assistant 
732-507-8307
krista.didzbalis@rutgers.edu
For patient appointments/inquiries – contact:
844-CANCERNJ (844-226-2376)