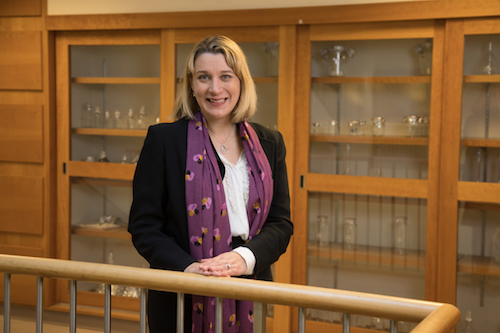 New Brunswick, N.J. - As researchers further elucidate the mechanisms behind immunotherapy for cancer treatment, they're seeing advances with a class of drugs known as 'checkpoint inhibitors' that use the body's own defenses to fight disease. In order to initiate this response, the immune system uses molecules (checkpoints) on certain cells to activate (or deactivate) an immune response so that it is only attacking foreign cells and not healthy ones. Cancer cells can sometimes use these checkpoints to remain undetected and avoid attack by the immune system. A protein known as PD-L1 and a cell receptor known as PD-1 have the ability to interfere with the immune system's ability to kill cancer cells. Checkpoint inhibitor drugs that target PD-L1 and PD-1 are found to block this action and are showing positive results in treating certain types of cancer.
Janice M. Mehnert, MD, director of the Phase I/Investigational Therapeutics Program at Rutgers Cancer Institute of New Jersey, is among the investigators collaborating on research examining the anti-PD-1 therapy drug pembrolizumab in small cell lung cancer. The work is being presented at the American Association for Cancer Research Annual Meeting being held this week in Atlanta. Dr. Mehnert, who is also a medical oncologist in the Melanoma and Soft Tissue Oncology Program at Rutgers Cancer Institute and an associate professor at Rutgers Robert Wood Johnson Medical School, shares more about the work in a phase 1b and phase 2 clinical trial.
Q: What prompted you and your colleagues to focus on small cell lung cancer?
A: While only 10 to 15 percent of all lung cancer cases are small cell lung cancer (SCLC), it is an aggressive form of this disease. For most patients with SCLC, current treatments do not result in a cure. Since pembrolizumab has shown anti-tumor activity in other advanced malignancies, including melanoma and non-small cell lung cancer, our team of global collaborators wanted to explore its safety and efficacy for SCLC with an aim of identifying another treatment alternative for this population.
Q:  How was the study conducted?
A: At the time our abstract was submitted, 83 patients (median age: 62 years) with advanced disease who received two or more lines of prior therapy were analyzed from both studies. Median follow-up was 7.7 months. Those in the Phase 1b trial were required to have PD-L1 positive tumors. PD-L1 expression was not required for those in the Phase 2 study. Participants in the phase 1b study received 10 mg/kg of pembrolizumab every two weeks  and participants in the phase 2 study received 200 mg of pembrolizumab every three weeks  for two years or until disease progression, intolerable toxicity or study withdrawal. Radiographic scans were taken every eight weeks for the first six months (phase 1b) and every nine weeks for the first year (phase 2), then every 12 weeks thereafter for both groups. Safety, tolerability and response were assessed.
Q:  What did you find?
A: At the time the abstract was submitted, the overall response rate was 19.3 percent. Two patients had a complete response and 14 had a partial response. Of the 16 patients who responded, 14 were PD-L1 positive. A median duration of response was not reached (range, 4.1 – 35.8 [ongoing] months). Kaplan-Meier analysis showed 61 percent of patients were estimated to have a response duration of 18-months or longer. Median progression-free survival was two months and median overall survival was 7.7 months. Overall survival rates at 12 and 24 months were 34 percent and 21 percent, respectively. Responses were durable and toxicity was manageable.
Q:  What do these results mean for advancing cancer treatment with this class of drugs?
A: Based on these data, the Food and Drug Administration (FDA) has accepted and granted priority review for a new supplemental Biologics License Application (sBLA) for pembrolizumab, which could result in widespread availability of this drug as an effective treatment option for this population.
Other authors on the work are: Hyun Cheol Chung, Yonsei University College of Medicine, Seoul, Republic of Korea; Sarina A. Phia-Paul, The University of Texas MD Anderson Cancer Center; Jose Lopez-Martin, Hospital Universitario 12 de Octubre, Spain; Jan H.M. Schellens, Netherlands Cancer Institute; Steven Kao, Chris O'Brien Lifehouse, Australia, Wilson H. Miller, Jr., McGill University, Canada; Jean-Pierre Delord, Universitaire du Cancer-Oncopole, France; Bo Gao, Blacktown Hospital, Australia; Aurelien Marabelle, Université Paris-Saclay, France; Maya Gottfried, Meir Medical Center, Israel; Alona Zer, Rabin Medical Center, Israel; Shadida I. Jalal, Indiana University, Simon Cancer Center; Nicolas Pepel, Centre Oscar Lambret, France; Elena Elez, Vall d'Hebron Institute of Oncology (Spain); Jaafar Bennouna, Institut de Cancérologie de l'Ouest, France; Dong-Wan Kim, Seoul National University Hospital, Republic of Korea; Lei Xu, Suba Krihsnan and Kevin Norwood, Merck & Co., Inc.; Patrick A. Ott, Dana-Farber Cancer Institute.
Funding for this research was provided by Merck & Co., Inc. Author disclosures and other information can be found at: https://www.abstractsonline.com/pp8/#!/6812/presentation/9832.
###
For journalists – contact:
Michele Fisher, Public Relations Manager
732-235-9872
For patient appointments/inquiries – contact:
732-235-8515